Even though augmented reality (AR) seems to be popping up everywhere – seemingly out of nowhere – it's actually been around since the late 80's.  At its most basic definition, AR is the connecting, overlaying or enhancing of the physical world with digital or virtual information.  (Note: AR is not virtual reality which is complete submersion into a digital realm -> The movie TRON is an example of virtual reality and I've now given you an excuse to watch its awesome trailer.) 
While the term augmented reality was coined in 1990, its recent explosion into the mainstream is due to the simultaneous advent of smarthphones and other devices with touchscreen, gps capabilities and built-in cameras.  Companies like Layar also allow developers to build their own AR apps on existing platforms, making it easier than ever for companies, institutions and brands to provide their digital information to consumers at a physical point of need.
Augmented Reality is often easier to understand once experienced.  Check out some of the links below to see how different companies are implementing AR into their services and marketing:
Starbucks has a new AR app which allows you to bring your Christmas drink cup to life.
[youtube http://www.youtube.com/watch?v=RWwQXi9RG0w?feature=player_embedded]
Google Goggles isn't as real-time AR as other applications, but it still allows you to connect digital content to your physical location.
[youtube http://www.youtube.com/watch?v=Hhgfz0zPmH4]
iOnRoad turns your Andriod mobile device into a collision warning system when mounted in your car.
[youtube http://www.youtube.com/watch?v=hEKe4wR262I&w=560&h=315]
Yelp has a great AR feature called Monocle.  Hold up your phone's camera to the street and discover Yelp reviewed places.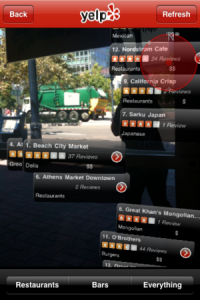 And finally, in a tough job market it's important to stand out.  What better way than AR-enhanced business cards?
[youtube http://www.youtube.com/watch?v=humqD4PR2f8&w=420&h=315]