To close out 2012, we asked library staff members to write lists–of anything they want. Today we feature Kim Medema's top albums of 2012 that feature the banjo.
Kim is the Monograph Acquisitions Associate and resident banjo enthusiast at Cudahy Library.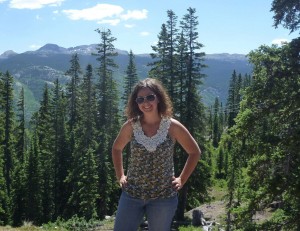 Kim's Top Albums of 2012 That Feature The Banjo (And Two That Don't)
Love it or hate it, you've heard banjo music this year. You know how I know? Because Mumford & Sons is everywhere. But plenty of other bands are also featuring the banjo these days–and they don't all sound like Winston Marshall thrashing his banjo a la that Buzzfeed "one gif" article. Here is my list of the top albums of the year that feature the banjo–and two that don't, but still fit into the realm of awesome acoustic music that you should check out.
1. Punch Brothers – Who's Feeling Young Now?
Skokie native Noam Pikelny learned to play banjo at the Old Town School of Folk Music. Mandolinist Chris Thile (who won a 2012 MacArthur Genius Grant for his mando playing,) hand-picked Noam and three other young musical virtuosos to form Punch Brothers. Together, these five musicians gave us Who's Feeling Young Now?, my favorite album of 2012.
Who's Feeling Young Now? is groundbreaking, beautiful, complex—everything you'd expect of Punch Brothers. Which is to say, you really can't expect anything, because they defy the laws that govern the rest of the universe. Do you like Radiohead? There's a song for you. Do you like furious banjo breaks? Noam's got you covered. Is your favorite part of a Punch Brothers show getting to shout "OH BOY!" during "Rye Whiskey"? Guess what? This album offers a new crowd shout-along! Do yourself a favor and listen to this album right now.
Also of note: Noam's solo album, Beat the Devil and Carry a Rail, which was produced by Punch Brothers' fiddle player, is nominated for a 2013 Grammy for Best Bluegrass Album. One of Chris Thile's projects, The Goat Rodeo Sessions, is also nominated for a Grammy for Best Folk Album.
Song to check out: "New York City"
Bonus banjo: Noam Pikelny and Friends playing "Manchicken"
2. Langhorne Slim & the Law – The Way We Move
I've been on the Langhorne train for years now. But I don't really listen to their albums, because they fall so flat relative to the live experience. The Way We Move finally comes close to capturing that live energy in the studio. That was really the selling point for me. The songs are great and I'm so proud to hear how the band has evolved as songwriters and performers, but mostly I was excited to feel the energy coming through the music. The title track is a fun way to kick off the album. "Fire" and "Past Lives" are amazing, especially live. "Coffee Cups" is gorgeous. Really, you could randomly select any track from this album and land on a gem.
Song to check out: "Past Lives"
3. Old Crow Medicine Show – Carry Me Back
Do you remember when Michael Jordan announced his return to basketball with two words: "I'm back." That's what this album is for OCMS. They are back. They are so, so back. The hiatus is over, Critter is with them again, and the result is pure fiddle-blazing, foot-stomping goodness. This album transports you back in time with old timey Appalachian sounds and yet is totally at home here in 2012. If all you know of OCMS is "Wagon Wheel," you owe it to yourself to give this one a listen.
Song to check out: "Carry Me Back"
4. The Avett Brothers – The Carpenter
The Avett Brothers have been together as a band since 2001. Their earlier albums are raw, unbridled energy spilling out of the record player and into your ears. There is a lot of banjo. It is often out of tune, but played with such passion that you don't care. The Carpenter is a refined version of this spirit. The band's songwriting has grown more personal and introspective, and their composition more lush as they've migrated to different instrumentations over the years. This album features what I think is one of the best songs they've ever written, "February Seven." Give The Carpenter a listen. It is beautiful.
Song to check out: "Live And Die"
Bonus banjo: Scott Avett playing clawhammer banjo on "The New Love Song"
5. The Get Down Boys – Girls
I know of this bluegrass band from LA entirely due to my desire to attend the LA Bluegrass Situation, a bluegrass fest created by Ed Helms–who also plays the banjo! These guys are a favorite of The Bluegrass Situation blog. They remind me of Chicago's Henhouse Prowlers—playing lots of local shows and weekly residencies at little clubs around town to a small but dedicated fanbase. I am in love with this album. It is straight-up no-nonsense bluegrass. There's even flatfooting!
Song to check out: "Flatfoot Alice"
6. Punch Brothers – Ahoy! EP
Two Punch Brothers releases in one year!! This EP is just five songs long, but they're five of my favorites. I am so thrilled Punch Brothers finally set their cover of Josh Ritter's "Another New World" to an official recording. "Down Along The Dixie Line" is another of their sped-up Gillian Welch covers, which they always do so well. "Moonshiner" is a hauntingly beautiful traditional tune. "Squirrel of Possibility" is an original instrumental piece. "Icarus Smicarus" is another cover that was long overdue to be officially released. And one of my favorite artists, Matthew Diffee, drew the cover art.
Song to check out: "Another New World"
7. Josh Ritter – Bringing in the Darlings EP
This is one of the two non-banjo albums that is just too good to be left off of the list. Josh Ritter is a singer-songwriter who writes some of the most narrative songs I have ever heard. The six songs on this EP are so sweet and beautiful and perfectly-formed. The album is uplifting and melancholic at the same time.
Josh is also a published author. We have his book available at Cudahy Library. Check it out!
Song to check out: "Love Is Making Its Way Back Home"
8. The Lumineers – The Lumineers
This is the other non-banjo album that I had to include on my list. But it features the mandolin, so it's close enough! The Lumineers burst onto the scene in a way that I first worried was going to make them overplayed and too big for their britches. But this debut album is wonderful and I don't tire of it, even though pretty much every band trying to break into the indie/Americana/folk scene is imitating them in some way. The songs are simple yet rich, and totally fun to sing or play along to. You've probably heard "Ho Hey" or "Stubborn Love" a million times, but give "Dead Sea" a listen if you still don't think you know this band's music.
Song to check out: "Dead Sea"
9. Mumford & Sons – Babel
After what felt like a million years, Mumford finally released their sophomore album. I listened to Babel pretty much nonstop when it came out and it still gets frequent rotation in my daily listening. I adore the flow from "Ghosts That We Knew" to "Lover of the Light" to "Lover's Eyes." And I love all of the banjo rock-outs and massive builds. One of my favorite songs on the album is actually one of the bonus tracks: "For Those Below," which features Winston on lead vocals. It's a nice contrast to always hearing Marcus sing lead, and I hope it's something the band pursues more often in the future.
Song to check out: "Lover of the Light"
10. Steep Canyon Rangers – Nobody Knows You
You may know the Steep Canyon Rangers as Steve Martin's band. Technically, not the case–although he often tours with them in the summers, so watch for that when Ravinia or the Old Town School of Folk Music announce their 2013 schedules. This SCR album is progressive bluegrass at its finest. From the opening track to the last note, there isn't a song in the mix that won't get you tapping your toes.
Song to check out: "Nobody Knows You"
Honorable Mentions:
Trampled By Turtles – Stars and Satellites
Andrew Bird – Break It Yourself and Hands of Glory (no banjo, but great albums worthy of your time)
The Infamous Stringdusters – Silver Sky