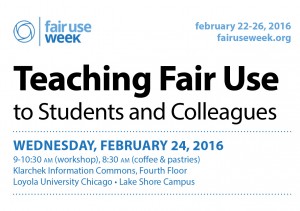 Teaching Fair Use to Students and Colleagues
Wednesday, February 24, 2016
9-10:30 AM (workshop), 8:30 AM (coffee & pastries)
Klarchek Information Commons, Fourth Floor
Loyola University Chicago • Lake Shore Campus
Fair use is a powerful tool in the hands of librarians, teachers, and students. As anyone who has attempted to explain copyright law knows, fair use is also surrounded by misconceptions. This 90 minute workshop will review copyright and the fair use exception as it applies to academic institutions while providing a framework for participants to teach it to students and colleagues. This workshop is intended for participants who are already familiar with the copyright system in the United States. Participants seeking to refresh their knowledge of copyright prior to the workshop may wish to consult some of the materials listed at anaenriquez.wordpress.com/blog (January 12, 2016 post).
About the workshop instructor: Ana Enriquez is a copyright lawyer who focuses on the issues facing libraries, universities, and other cultural institutions. She has taught copyright and internet law in several contexts, including as the Head Teaching Fellow for the online course CopyrightX from 2013 to 2015. She is a member of the Illinois and Massachusetts bars and is a graduate of Berkeley Law and Harvard College.
RSVP to LibraryPrograms@luc.edu is appreciated, but not necessary.
View Loyola campus maps at luc.edu/visit.
Learn more about Fair Use Week at ARL Policy Notes.
Sponsored by Loyola University Chicago Copyright Committee and the University Libraries' Scholarly Communication Committee