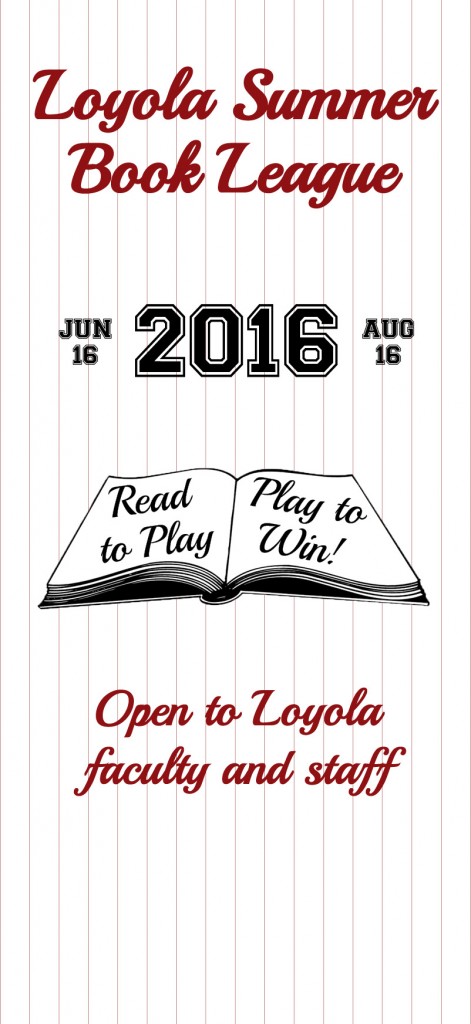 2016 LOYOLA SUMMER BOOK LEAGUE
READ TO PLAY, PLAY TO WIN!
JUNE 16 – AUGUST 16, 2016
Sponsored by Loyola University Chicago Libraries
Welcome to the 2016 Loyola Summer Book League! The Book League is a reading competition for Loyola faculty and staff. Keep track of the pages you read this summer between June 16 & August 16. Participants will compete individually, but it's more fun with more people! Be sure to encourage your colleagues to participate and find out what they're reading. We want this to be a fun and social summer, so we plan to have a few in-person gatherings as well (more information forthcoming). Check out the details below to see what's new for 2016. Thanks for playing!
2016 Summer Book League Details:
Open to Loyola staff & faculty
Only count pages read between June 16 and August 16, 2016
Submit pages at libraries.LUC.edu/summerreading. *If you make a mistake in your submission, please contact us at LUClibraries@gmail.com. We will make the correction as soon as possible.
Leaderboard: See where you stand against other participants! Your username & pages will be displayed on a public leaderboard online.
Username: This can be your actual name or a nickname, but it will be shared publicly. *Make sure to enter the same username every time you submit pages.
Submit pages as you read! This will help keep the leaderboard up-to-date. You can add pages as often as you like. *Only include pages read since your last update. We'll keep track of your totals.
E-books and audiobooks can be included. Find page counts at Amazon.com.
Book Reviews: We love to hear about what you're reading! On the submission form you'll have the opportunity to tell us about the books you're reading and/or write reviews of the books you've read. We'll share some of these entries on our blog, social media, and e-mail updates.
Prizes: The top three individual readers will win prizes!
Raffle Prizes: The more you read, the more chances you have to win! As you reach higher page counts, you'll get more entries for the raffle prizes.

250+ pages read = 1 entry
1,000+ pages read = 2 entries
2,000+ pages read = 3 entries

This is all based on the honor system, so please play fair and have fun! Happy reading!
Questions? Contact us at LUClibraries@gmail.com.
Stay connected! Catch up with library news & events on our blog and follow us on social media:
Twitter @LUClibraries
Facebook @LUClibraries
Instagram @librariesLUC
Snapchat LUClibraries