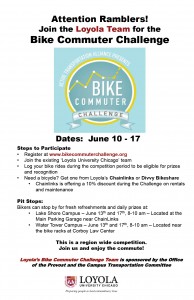 Join Team Loyola June 10-17, 2016 for the Bike Commuter Challenge!

Steps to Participate:
Register at www.bikecommuterchallenge.org
Join the existing 'Loyola University Chicago' team
Log your bike rides during the competition period to be eligible for prizes and recognition
Need a bicycle? Get one from Loyola's Chainlinks or Divvy Bikeshare
Chainlinks is offering a 10% discount during the Challenge on rentals and maintenance
Pit Stops:
Bikers can stop by for fresh refreshments and daily prizes at:
Lake Shore Campus – June 13th & 17th, 8-10 am – Located at the Main Parking Garage near ChainLinks
Water Tower Campus – June 13th & 17th, 8-10 am – Located near the bike racks at Corboy Law Center
This is a region wide competition. Join us and enjoy the commute!
Loyola's Bike Commuter Challenge Team is sponsored by the Office of the Provost and the Campus Transportation Committee