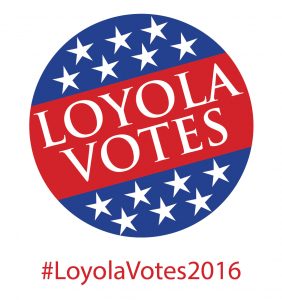 Please join the Libraries for a series of events & workshops leading up to Election Day on November 8, 2016. Check out the events below and find more information at libraries.LUC.edu/election. Have more questions about the election? Start with this helpful Elections Research Guide. #LoyolaVotes2016
Presidential Debate Watch Party
Monday, September 26 • 7:30-9:30PM • IC Fourth Floor
Watch the first 2016 Presidential Debate at the Libraries! The debate begins at 8PM. Stop by any time to register to vote, learn about upcoming election workshops, and pick up a "Loyola Votes" button.
National Voter Registration Day
Tuesday, September 27 • 10AM-4PM • IC First Floor
Have your voice heard this election and register to vote! Stop by the IC to register or confirm your voter registration. Library staff will be on hand to answer questions. Take a photo and share it online with #LoyolaVotes2016. A few campus celebrities may even make an appearance!
Election Research Workshop (VoxGov)
Tuesday, September 27 • 4-4:30PM • IC Room 120
Saturday, October 1 • 4-4:30PM • IC Room 120
VoxGov is an incredibly powerful aggregator of political information, combining legislative information, official press releases, and even social media postings for the US government. This workshop will show how to use VoxGov for election research, how to learn what the candidates are saying, how it compares to their records, and how to follow candidates in the long haul.
Negative Political Ads: Flash Seminar
Wednesday, October 5 • 1-2PM • Quiet Reading Room (IC Room 317)
Have you ever wondered if negative political ads are actually effective? Join Professor Joan Phillips, Loyola Quinlan School of Business, as she discusses if negative political ads really work and how.
Election Research Workshop (U.S. Political Stats)
Wednesday, October 12 • 3-3:30PM • IC Room 120
Thursday, October 20 • 4-4:30PM • IC Room 120
Want to dig into statistical information for better election decisions, use U.S. political stats! USPS has data on demographics, campaign finances, and past election notes. This workshop will explore some of the useful policy data available in this powerful resource.
Election Research Workshop (CQ Researcher)
Tuesday, November 1 • 4-4:30PM • IC Room 120
Friday, November 4 • 4-4:30PM • IC Room 120
Major issues come up in every election, gun control, crime, health care reform, immigration. It's hard to understand the history of these issues without research. CQ Researcher consolidates research on political issues to allow better decision making.
2016 Race to the White House: Its Highs, Lows, and Historical Precedents
Friends of the Loyola Libraries Speaker Series
Monday, November 7 • 6PM • McCormick Lounge, Coffey Hall
Were the 2016 election's gaffs, one-liners, and memorable moments historical firsts or repeats from the past? Please join us as we welcome Dr. Elizabeth Tandy Shermer, assistant professor of history at Loyola University Chicago, who will take us through the highs and lows to consider how unprecedented this unforgettable race has been and how it might be remembered. Please register here.
Election Day!
Tuesday, November 8