So many historic and surprising things happened in the world of soccer* this year: Jurgen Klinsmann was fired, Big Sam was fired, the USA hosted the Copa America Centenario, the entire soccer world came together after the tragic Chapecoense airplane crash, Landon Donovan un-retired, Leicester City won the EPL at 5000 to 1 odds, Bob Bradley became the first American coach to coach in England, Paul Pogba's transfer to Man U broke records. But the following eight events are indisputably the most important and iconic in the soccer world in 2016.
8. Fake Iceland facts reported as real.
"Son" at the end of Icelandic names means elf. Eiður GuðjohnSEN does not believe in elves. "Sen" means farm dog. #icefact #engice #emísland

— Dagur Hjartarson (@DagurHjartarson) June 27, 2016
Iceland made an absolutely insane run to the quarterfinals of the Euros this summer. They finished 8th, having lost only one game and surprising literally everyone. Twitter user @DagurHjartarson took advantage of everyone's scramble to find out more about the tiny nation and its soccer program. He tweeted out fake facts which were picked up by several media outlets and reported as true.
7. Irish fans are the best part of the Euros.
This is a collection of moments, but it's definitely worth breaking the rules of this list. While the Russian and English fans were almost banned for hooliganism, the Irish fans were busy having fun, being polite, and singing. They sang a baby to sleep. They sang Abba. They sang with their opponents. They sang the Lord's Prayer to a nun. They sang to cops. They cleaned up the streets after they were done partying (while singing 'Oh the boys in green clean up'). When they dented a car, they not only fixed the dent, but also shoved money in through the window in case the car needed any more fixing.

6. A hipster bartender from Logan Square, a very lost child in ill-fitting clothes, and an instagram model compete for a statue of a disembodied torso.
I really can't with this one.

5. Patrice Evra wins at instagram, makes Mondays better.
Evra is a gift. His instagram is flawless. He seems genuinely surprised that people hate Mondays. And he set out to fix that by singing to all of us. Thanks, Patrice.

4. South African Goalkeeper Masuluke Oscarine of Baroka FC equalizes in the 96th minute with a bicycle kick.


Exactly what it sounds like. This happened last week, and it's so insane that it still made this list. Watch this over and over and over again, and imagine being a Baroka FC fan. I know I am, now. Especially after that goal celebration!
3. Leslie Jones discovers soccer.
I think we can all agree Leslie Jones won the Summer Olympics. Her twitter made us all so interested in competitive kayaking that we flew her down to Rio. And then, a few months ago, something magical happened: someone told Leslie Jones about MLS.
Ok y'all soccer is on today I'm gonna be looking for a boyfriend lmao pic.twitter.com/6p6A6ZfwEn

— Leslie Jones (@Lesdoggg) October 30, 2016
Her. soccer. tweets. are. the. best. Her unapologetic love of Jordan Morris makes me feel better about my secret, incredibly apologetic love of Jordan Morris. She even wore a Sounders jersey on SNL and name-checked NYCFC. All sports should be filtered through Leslie Jones. I refuse to believe that Leslie Jones didn't win the Eastern Conference Final.

2. Cristiano Ronaldo is comforted by a moth after injury in the Euro Cup Final.
Somehow, Portugal stumbled into the final game of Euro Cup against the host nation, France. They did this by barely winning any games in regulation time, failing to meet expectations, and making rude comments about other teams.
Anyway, about two seconds into this game, Cristiano got injured. He tried to keep playing but, when it became clear he couldn't go on, a tiny moth flew up and rested on his tear-stained cheek. It's unclear whether this moth gave him any advice or called the eagles to come save Portugal, Lord-of-the-Rings-style but, whatever took place between Cris and the moth, Portugal ended up winning with Cris coaching from the sidelines.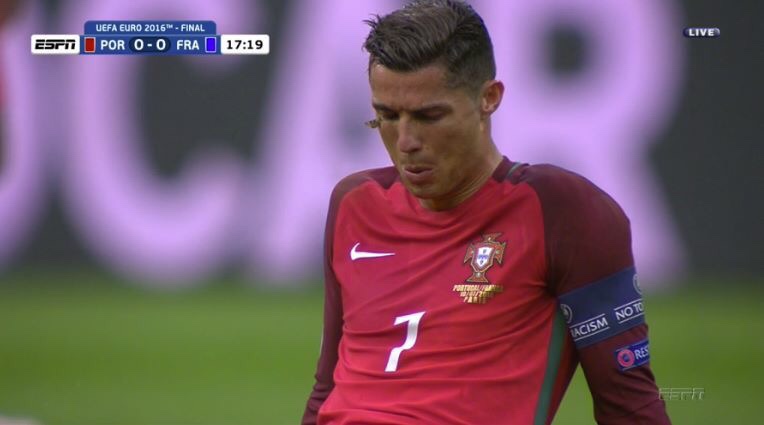 1. This picture of Lionel Messi.


Lionel Messi had a weird summer. He missed his PK in the Copa America Final. He cried on the field. He dyed his hair blonde. He blacked out the tattoo on his leg. He retired from international soccer. He quickly un-retired from international soccer. And then, towards August, he posted a picture on instagram of himself walking a huge dog in a Bulls jersey and ugly flip flops with his face pulled into a grimace that could almost be mistaken for a smile. This picture is iconic. It's the background on my phone. It truly encapsulates soccer, and maybe the world in 2016. It reminds us all that we, too, can rise from depths of our darkest summers.
*this list only includes men's soccer because women's soccer is a whole different world which has its own iconic moments.
By Katherine Paterson – Library Staff Member, exhausted grad student, Tottenham supporter, assistant coach of the Iceland National Team.

this is me taking soccer very seriously