Did You Know?
The library offers discipline-specific research guides for each major!
You've got a big research paper due for your biology/nursing/philosophy/sociology class, but you have NO idea how to start your library research. Stopping by either Reference Desk (IC 2nd floor) or Lewis Library Reference Desk (Corboy Law Center 6th floor) is a great option, but if you can't make it to the library, check out our Subject Guides!
From the LUC Libraries' website, select a subject in the Research Guides box. For every academic subject, a subject specialist librarian has curated a research guide — recommended databases to search, online scholarly journals, how to find background information, digital collections, books and so on.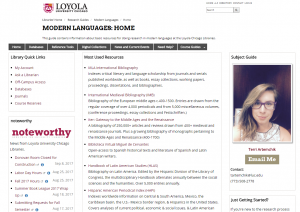 As you explore each research guide, look to the right of the homepage and your very own subject specialist librarian will be there. Feel free to contact them for individualized help or go to Ask a Librarian to request an appointment!