We do open access at Loyola in order to highlight the amazing work our faculty and students are doing, to give access to those who might not have it otherwise, and participate in a global scholarly conversation.
Highlighting Our Faculty and Students
We have more than 8,500 items in eCommons, our institutional repository. 1,153 are articles, presentations, and reports created by faculty. 6,022 are theses and dissertations going all the way back to the 1920s. You can find experts on just about any topic by searching our Faculty Gallery.
An important student initiative is the Journal of Critical Scholarship on Higher Education and Student Affairs, which is managed by students in the School of Education. They have been going strong since 2015, and publish content that exemplifies reflective scholarship grounded in social justice.
Access for All
In 2016, the Faculty Council passed a resolution to encourage open access publication by Loyola University Chicago Faculty. This resolution recognizes that making scholarship freely available is a social justice issue. For students and scholars at underresourced institutions, open access means a chance to participate equally and with dignity in the scholarly conversation. For members of the public, open access means a chance to read the medical study about a condition their child has. Loyola faculty have published a number of high profile open access journals, or made their work open access using another legal method (see this guide for how to do this).
Open access is also important in Loyola's AASE STARS ranking, recognizing the role of open access in sustainable scholarship.
Global Conversation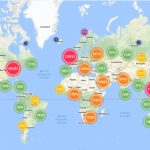 Making work open access makes it easier for international scholars and students to access work. The image  to the left shows how many times work in eCommons has been accessed globally. All continents except Antarctica have downloaded Loyola scholarship. Anyone who participates in eCommons can get an individual report about their own work just like this, which is yet another incentive to participate. You can also enjoy watching a real time view of downloads from eCommons at our readership map. Just watch for a few minutes and you'll see where Loyola work is getting used right at this moment.
Open access at Loyola is only getting better. We hope you'll enjoy exploring it the rest of the week with us.