During the month of December, Loyola Libraries staff make lists and check them twice. What are these lists about? Anything! You can look at past years here, and stay tuned for more lists all month long!
Titanic premiered in 1997 breaking all kinds of cinematic records.  We had never been so happy, so sad, or so in love with Leonardo DiCaprio in our entire lives. 
Harry Potter changed everything.  Our lives.  The appeal of public libraries.  How we felt about nerdy guys in classes. Universal studios.  Midnight movie premieres being acceptable for 8-year-olds.  How often we stood in front of our mailboxes waiting for our letters to Hogwarts.
One word: Hanson.  If you didn't know – the brothers are still making some pretty sweet music these days – but there's less awkward pre-teen mumbling and way better haircuts.
Pokémon graced our TV screens for the first time bringing anime to mass market America for the first time – and introduced us to adorable creatures, awesome catchphrases, and an infatuation that would last through the launch of Pokémon Go.   
 The Spice Girls were everywhere after the launch of their second album – including the movie theater!  Spiceworld, both the album and the movie, became instant icons of the late 90s and still remain must-play items during every sleepover.
Lovers of sarcasm, cynicism, and jaded suburbanites rejoiced at the premiere of Daria (a spin-off of Beavis and Butthead).  Watching her suffer through high school made it almost bearable for the rest of us. Her view of pizza stands up to this day.
 The fictional town of South Park, Colorado became a fixture of the American television landscape – and remains so to this day.  South Park premiered in '97 and brought crass pre-teens with irresponsible parents, and some of the best social commentary we've ever seen, into our living rooms each week. 
 Backstreet Boys came back strong with Backstreet's Back and introduced us to a whole new level of choreographed boy dancing, frosted tips, soothing harmonies and some of the most 90's music videos we've ever seen.
The Selena biopic premiered, solidifying both the Queen of Tejano music and Jennifer Lopez as permanent global pop-culture icons.  20 years later, we still can't nail those dance moves.
Katie Ledecky and Simone Biles were both born, only 3 days apart, making it one of the most epic weeks for future Olympians. 
_______________________________________________________________________________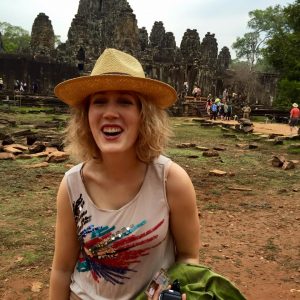 Abby Annala is the business and communication librarian at Loyola University Chicago. On the weekends she likes to walk around Rogers Park with her dog, Thomas Jefferson. She cried a bit when the Cubs won the world series in 2016, and can't go three days without eating Mexican Food.