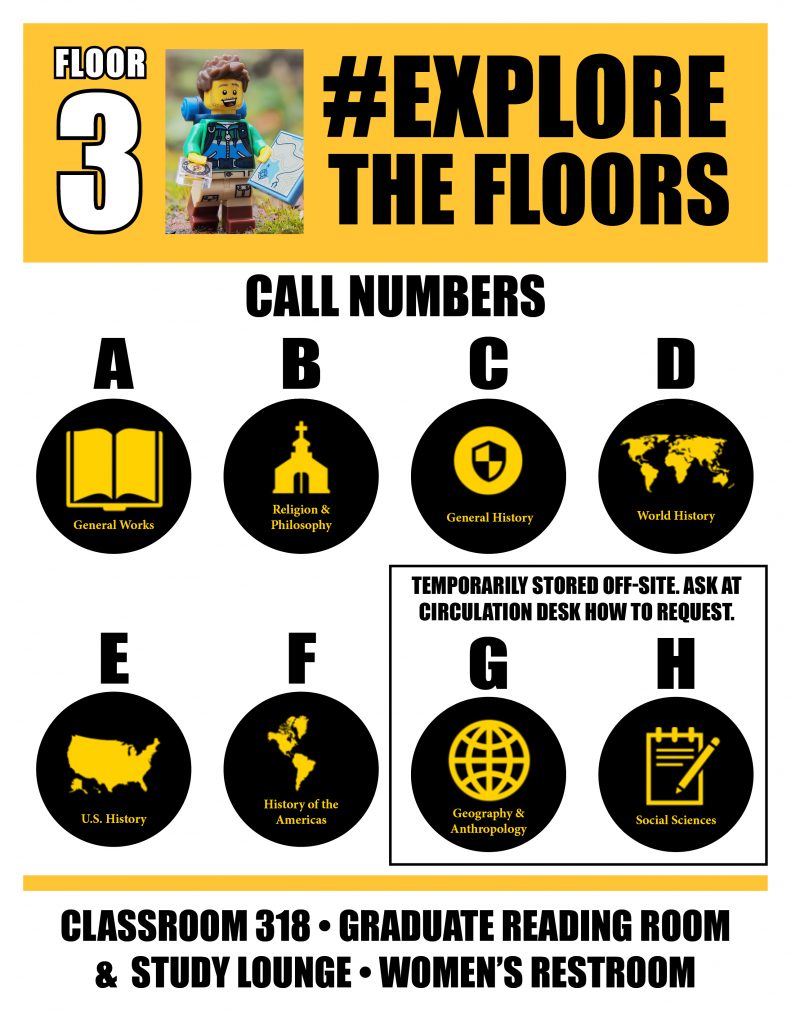 We've made it all the way to the top floor of Cudahy! Here's what you can find on the third floor of the library: 
Main Stacks: Call Numbers A-F 
The third floor of Cudahy is where the Library of Congress call numbers begin! If you're confused by call numbers, you can check back to our earlier post which explains how they work. Most books on this floor relate to religion, philosophy, and history.  
But… Where Are Book with Call Numbers GB-H? 
Besides books with call numbers classed G, GA, and GN, all books with G or H call numbers have been temporarily moved to the Library Storage Facility. For now, you'll need to request them using the library catalog, and pick them up at the circulation desk once they arrive (usually about 24-48 hours) 
Graduate Reading Room & Study Lounge 
Are you a grad student looking for a comfortable place to study?  Try the graduate reading room in the Southeast corner of the third floor, or the study lounge on the Southwest side! 
Classroom 318 
This classroom can be found on the southeast side of the building. If you're coming out of the elevator, take a left until you reach the graduate reading room. Then take another left down the hallway. 
Women's Restroom 
The restroom is located on the southwest side of the floor. Men's restrooms can be found on the first and second floors of Cudahy Library.  
Thanks for joining us on our exploration of Cudahy Library! Come on in to #ExploreTheFloors yourself and if you get a little lost, remember that the library staff are always here to help!