Confused by call numbers? Baffled by where the books are? Stumped by study space? Lost when it comes to locations? Confounded by course reserves?
We're here to help you #ExploreTheFloors of Cudahy Library!
Maybe you've noticed some new signs in Cudahy, or maybe you haven't been to visit us in a while because last time, you got lost. Over the next few weeks, we'll be posting more about #ExploreTheFloors —what you can expect to find on every floor of Cudahy Library, where you can go to get help, and the study spots that'll best fit your needs.
Today, let's take a look at one of the signs: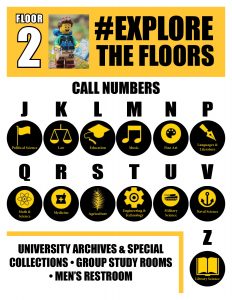 On every floor, you'll find a sign which explains what exactly is on that floor. For example, the second floor is home to the University Archives, and it also has the stacks which hold books with call numbers J through Z. In later posts, we'll explain how to read a call number, what you can find at the circulation desk, and all sorts of other things.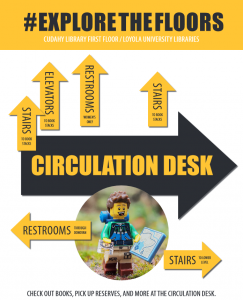 On the first floor, you'll also find this handy sign with all sorts of arrows pointing all over the place.
If you get to the first floor and think, "Okay, but this is a library. Where are all the books?", go ahead and follow the arrows that read "elevators to book stacks" or "stairs to book stacks"!
If you're looking for course reserves, check out, or just a friendly library employee to answer your questions, head for the circulation desk.
Other signs around the library will tell you where to find study space—either quiet or collaborative. They'll also let you know where to find restrooms, the photocopier, and all sorts of other things.
Stay tuned for more information in later posts and
please join us as we #ExploreTheFloors!
* Call Numbers, Locations, and Circulation
* Cudahy Study Spaces
* Accessing Other Floors
* Cudahy First Floor
* Cudahy Lower Level
* Cudahy Second Floor
* Cudahy Third Floor