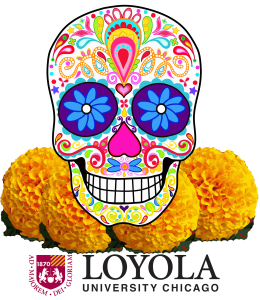 Join the Libraries' Diversity Committee in remembering and honoring lost loved ones with our interactive altar. Everyone is invited to decorate sugar skulls and to contribute dedications to display on our altar.
Lake Shore Campus
Wednesday, October 31st
Information Commons, 1st Floor • 12PM – 2PM
More Information Here
Water Tower Campus
Thursday, November 1st
Lewis Library • Corboy Law Center, 6th Floor • 3PM – 5PM
More Information Here
Join us in learning about a Hispanic cultural ritual known today as Día de los Muertos, or Day of the Dead. Originally an indigenous ritual that merged with Catholic Theology, to make the ritual more Christian, the Spaniards moved it to coincide with All Saints' Day and All Souls Day (October 31st through November 2nd), which is when it is celebrated today.
Today, Day of the Dead is celebrated in Mexico and in certain parts of the United States and Central America, and those celebrations differ depending on where you are. In Mexico, people visit the cemetery where their loved ones are buried. They decorate grave sites with marigold flowers and candles, sit on picnic blankets next to gravesites, and eat the favorite foods of their loved ones.