Monday, November 2nd, 2020
Each month, we will post a selection of recently-acquired books, from new releases to old classics, which have been added to our catalog and are available for use by the Loyola community. This series is inspired by The Seminary Co-op's "The Front Table" publication: https://www.semcoop.com/.
This month's edition includes ebooks only. Links are included in the descriptions.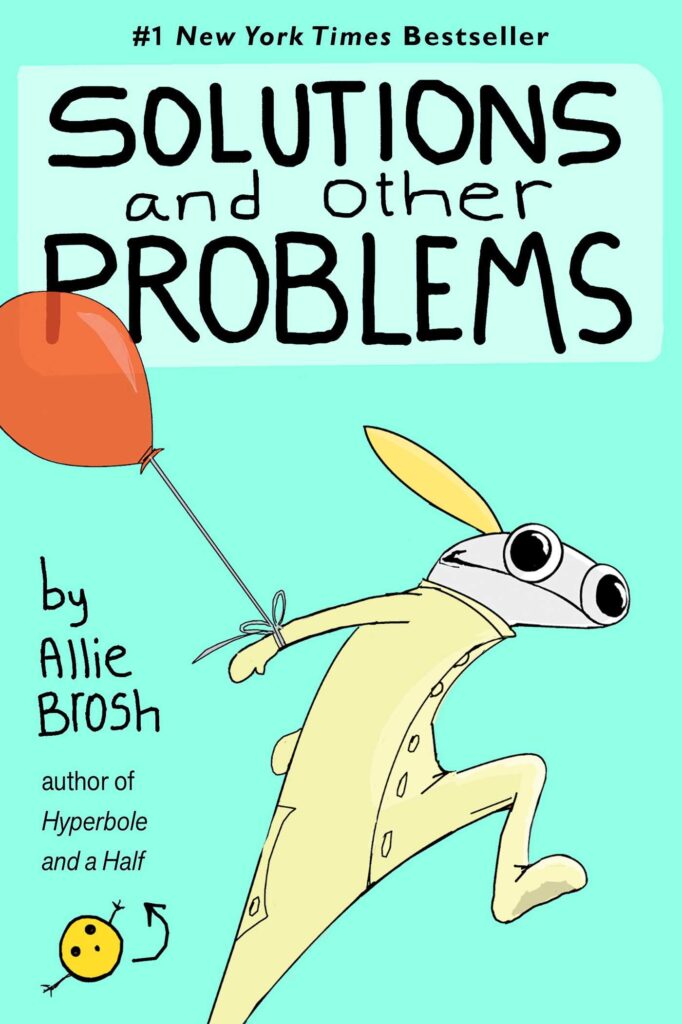 Allie Brosh. 2020. Solutions and Other Problems. New York: Gallery Books. https://search.ebscohost.com/login.aspx?direct=true&db=nlebk&AN=2374571&authtype=sso&custid=s8448101&site=ehost-live
For the first time in seven years, Allie Brosh—beloved author and artist of the extraordinary #1 New York Times bestseller Hyperbole and a Half—returns with a new collection of comedic, autobiographical, and illustrated essays. Solutions and Other Problems includes humorous stories from Allie Brosh's childhood; the adventures of her very bad animals; merciless dissection of her own character flaws; incisive essays on grief, loneliness, and powerlessness; as well as reflections on the absurdity of modern life. This full-color, beautifully illustrated edition features all-new material with more than 1,600 pieces of art.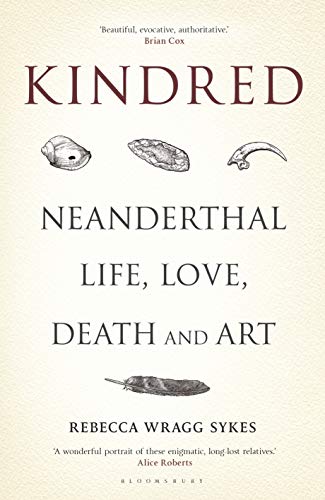 Wragg, Sykes, Rebecca. Kindred : Neanderthal Life, Love, Death and Art, Bloomsbury Publishing Plc, 2020. ProQuest Ebook Central, https://ebookcentral.proquest.com/lib/luc/detail.action?docID=6284565
Since their discovery more than 160 years ago, Neanderthals have metamorphosed from the losers of the human family tree to A-list hominins. In Kindred, Rebecca Wragg Sykes uses her experience at the cutting-edge of Palaeolithic research to share our new understanding of Neanderthals, shoving aside clichés of rag-clad brutes in an icy wasteland. She reveals them to be curious, clever connoisseurs of their world, technologically inventive and ecologically adaptable. They ranged across vast tracts of tundra and steppe, but also stalked in dappled forests and waded in the Mediterranean Sea. Above all, they were successful survivors for more than 300,000 years, during times of massive climatic upheaval. At a time when our species has never faced greater threats, we're obsessed with what makes us special. But, much of what defines us was also in Neanderthals, and their DNA is still inside us. Planning, co-operation, altruism, craftsmanship, aesthetic sense, imagination, perhaps even a desire for transcendence beyond mortality. Kindred does for Neanderthals what Sapiens did for us, revealing a deeper, more nuanced story where humanity itself is our ancient, shared inheritance. It is only by understanding them, that we can truly understand ourselves.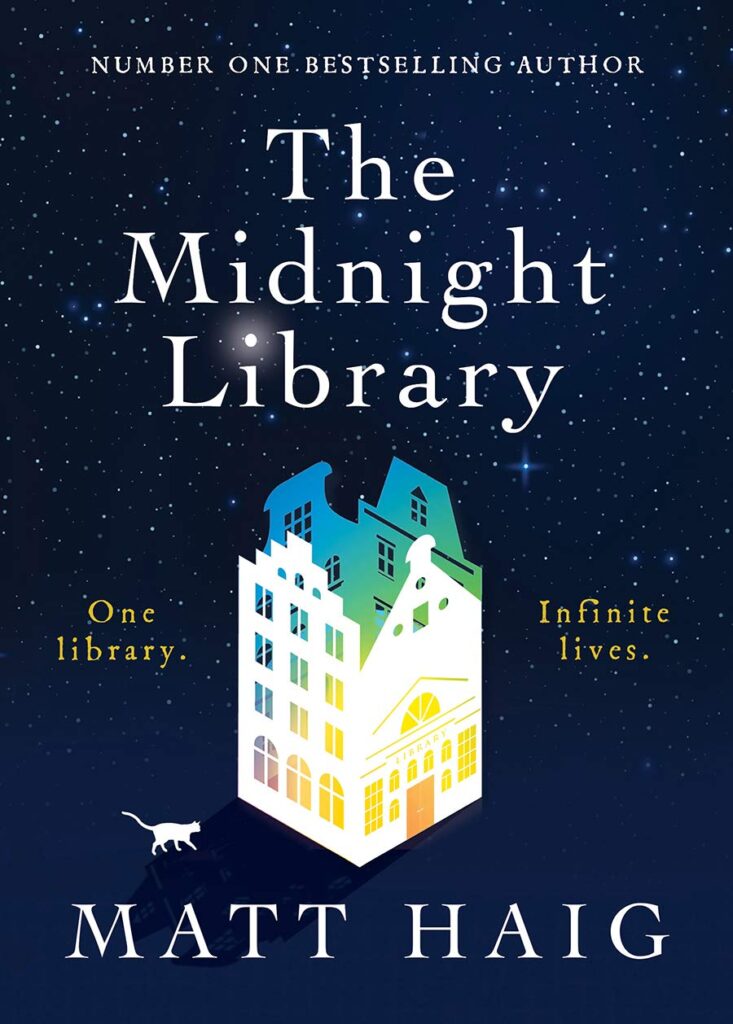 Matt Haig. 2020. The Midnight Library : A Novel. New York: Viking. https://search.ebscohost.com/login.aspx?direct=true&db=nlebk&AN=2383488&authtype=sso&custid=s8448101&site=ehost-live
Between life and death there is a library, and within that library, the shelves go on forever. Every book provides a chance to try another life you could have lived. To see how things would be if you had made other choices… Would you have done anything different, if you had the chance to undo your regrets? A dazzling novel about all the choices that go into a life well lived, from the internationally bestselling author of Reasons to Stay Alive and How To Stop Time. Somewhere out beyond the edge of the universe there is a library that contains an infinite number of books, each one the story of another reality. One tells the story of your life as it is, along with another book for the other life you could have lived if you had made a different choice at any point in your life. While we all wonder how our lives might have been, what if you had the chance to go to the library and see for yourself? Would any of these other lives truly be better? In The Midnight Library, Matt Haig's enchanting new novel, Nora Seed finds herself faced with this decision. Faced with the possibility of changing her life for a new one, following a different career, undoing old breakups, realizing her dreams of becoming a glaciologist; she must search within herself as she travels through the Midnight Library to decide what is truly fulfilling in life, and what makes it worth living in the first place.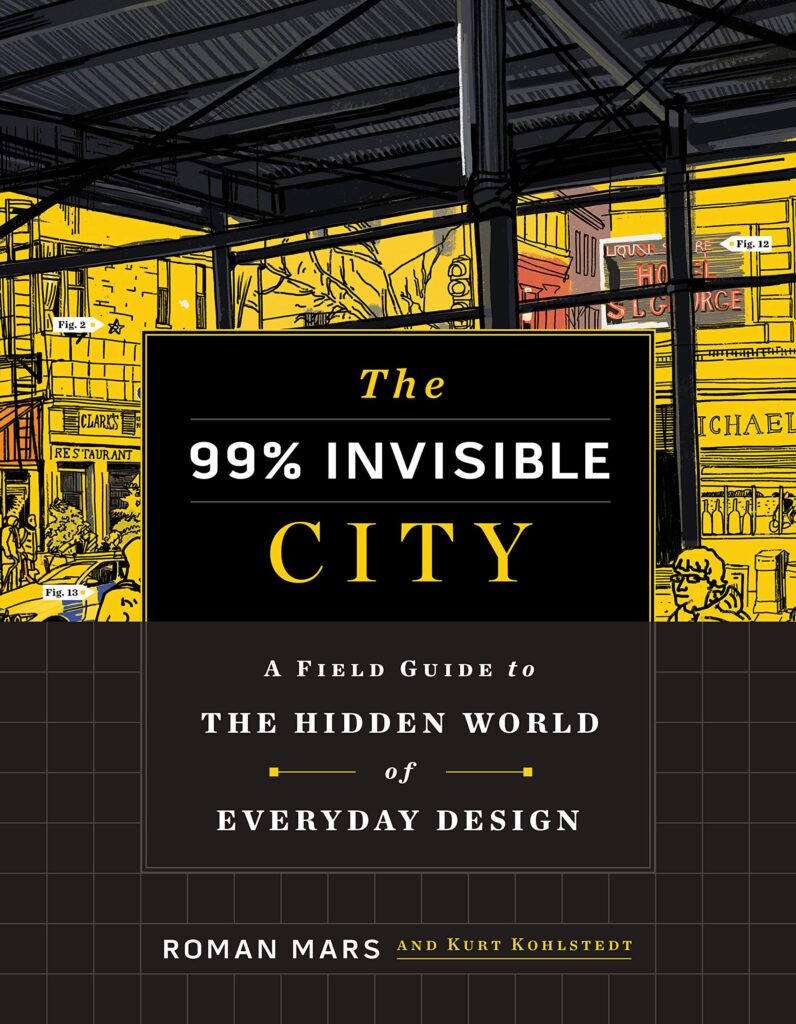 Roman Mars, and Kurt Kohlstedt. 2020. The 99% Invisible City : A Field Guide to the Hidden World of Everyday Design. Boston: Houghton Mifflin Harcourt. https://search.ebscohost.com/login.aspx?direct=true&db=nlebk&AN=2435998&authtype=sso&custid=s8448101&site=ehost-live
A beautifully designed guidebook to the unnoticed yet essential elements of our cities, from the creators of the wildly popular 99% Invisible podcast. Have you ever wondered what those bright, squiggly graffiti marks on the sidewalk mean? Or stopped to consider why you don't see metal fire escapes on new buildings? Or pondered the story behind those dancing inflatable figures in car dealerships? 99% Invisible is a big-ideas podcast about small-seeming things, revealing stories baked into the buildings we inhabit, the streets we drive, and the sidewalks we traverse. The show celebrates design and architecture in all of its functional glory and accidental absurdity, with intriguing tales of both designers and the people impacted by their designs. Now, in The 99% Invisible City: A Field Guide to Hidden World of Everyday Design, host Roman Mars and coauthor Kurt Kohlstedt zoom in on the various elements that make our cities work, exploring the origins and other fascinating stories behind everything from power grids and fire escapes to drinking fountains and street signs. With deeply researched entries and beautiful line drawings throughout, The 99% Invisible City will captivate devoted fans of the show and anyone curious about design, urban environments, and the unsung marvels of the world around them.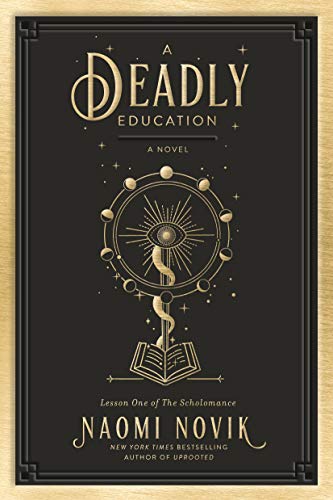 Naomi Novik. 2020. A Deadly Education : A Novel. Scholomance. New York: Del Rey. https://search.ebscohost.com/login.aspx?direct=true&db=nlebk&AN=2349981&authtype=sso&custid=s8448101&site=ehost-live.
From the author of Uprooted and Spinning Silver comes the story of an unwilling dark sorceress who is destined to rewrite the rules of magic. "The dark school of magic I've been waiting for." Katherine Arden, author of Winternight Trilogy. "I decided that Orion Lake needed to die after the second time he saved my life. Everyone loves Orion Lake. Everyone else, that is. Far as I'm concerned, he can keep his flashy combat magic to himself. I'm not joining his pack of adoring fans. I don't need help surviving the Scholomance, even if they do. Forget the hordes of monsters and cursed artifacts, I'm probably the most dangerous thing in the place. Just give me a chance and I'll level mountains and kill untold millions, make myself the dark queen of the world. At least, that's what the world expects. Most of the other students in here would be delighted if Orion killed me like one more evil thing that's crawled out of the drains. Sometimes I think they want me to turn into the evil witch they assume I am. The school certainly does. But the Scholomance isn't getting what it wants from me. And neither is Orion Lake. I may not be anyone's idea of the shining hero, but I'm going to make it out of this place alive, and I'm not going to slaughter thousands to do it, either. Although I'm giving serious consideration to just one." With flawless mastery, Naomi Novik creates a school bursting with magic like you've never seen before, and a heroine for the ages—a character so sharply realized and so richly nuanced that she will live on in hearts and minds for generations to come.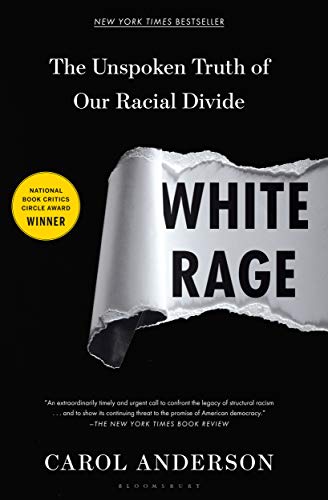 Carol Anderson. White Rage : The Unspoken Truth of Our Racial Divide, Bloomsbury Publishing USA, 2017. ProQuest Ebook Central, https://ebookcentral.proquest.com/lib/luc/detail.action?docID=5235648.
From the Civil War to our combustible present, acclaimed historian Carol Anderson reframes our continuing conversation about race, chronicling the powerful forces opposed to black progress in America. As Ferguson, Missouri, erupted in August 2014, and media commentators across the ideological spectrum referred to the angry response of African Americans as "black rage," historian Carol Anderson wrote a remarkable op-ed in The Washington Post suggesting that this was, instead, "white rage at work. With so much attention on the flames," she argued, "everyone had ignored the kindling." Since 1865 and the passage of the Thirteenth Amendment, every time African Americans have made advances towards full participation in our democracy, white reaction has fueled a deliberate and relentless rollback of their gains. The end of the Civil War and Reconstruction was greeted with the Black Codes and Jim Crow; the Supreme Court's landmark 1954 Brown v. Board of Education decision was met with the shutting down of public schools throughout the South while taxpayer dollars financed segregated white private schools; the Civil Rights Act of 1964 and Voting Rights Act of 1965 triggered a coded but powerful response, the so-called Southern Strategy and the War on Drugs that disenfranchised millions of African Americans while propelling presidents Nixon and Reagan into the White House, and then the election of America's first black President, led to the expression of white rage that has been as relentless as it has been brutal. Carefully linking these and other historical flashpoints when social progress for African Americans was countered by deliberate and cleverly crafted opposition, Anderson pulls back the veil that has long covered actions made in the name of protecting democracy, fiscal responsibility, or protection against fraud, rendering visible the long lineage of white rage. Compelling and dramatic in the unimpeachable history it relates, White Rage will add an important new dimension to the national conversation about race in America.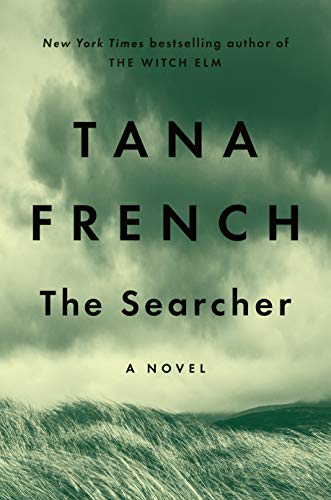 Tana French. 2020. The Searcher : A Novel. [New York]: Viking. https://search.ebscohost.com/login.aspx?direct=true&db=nlebk&AN=2403082&authtype=sso&custid=s8448101&site=ehost-live.
Cal Hooper thought a fixer-upper in a bucolic Irish village would be the perfect escape. After twenty-five years in the Chicago police force and a bruising divorce, he just wants to build a new life in a pretty spot with a good pub where nothing much happens. But when a local kid whose brother has gone missing arm-twists him into investigating, Cal uncovers layers of darkness beneath his picturesque retreat, and starts to realize that even small towns shelter dangerous secrets.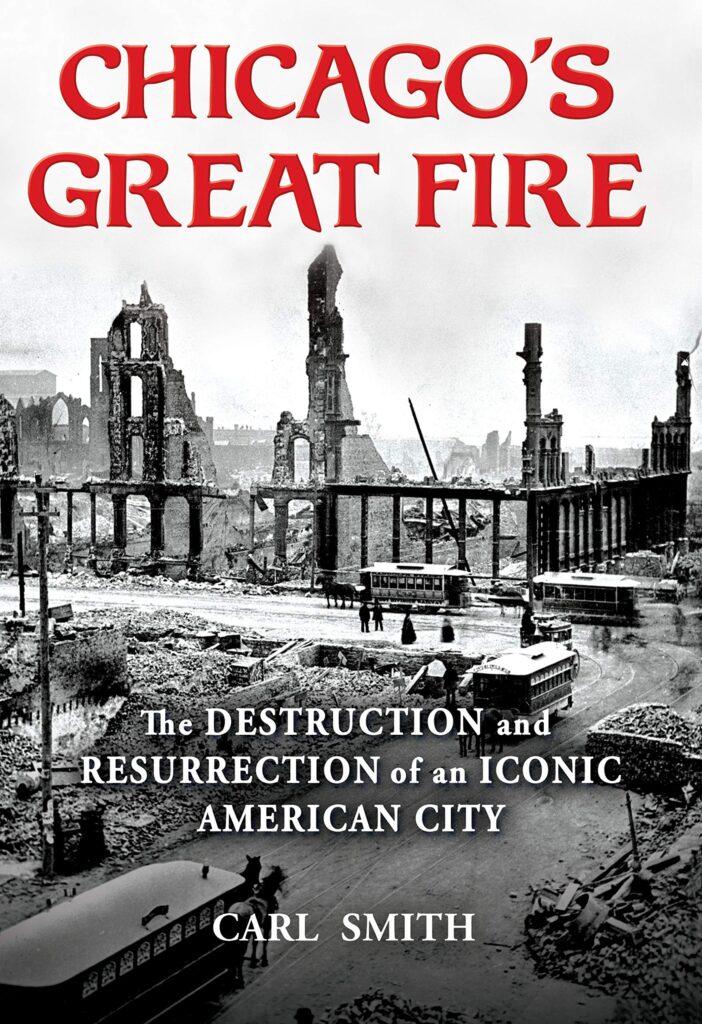 Carl Smith. Chicago's Great Fire : The Destruction and Resurrection of an Iconic American City, Grove Atlantic, 2020. ProQuest Ebook Central, https://ebookcentral.proquest.com/lib/luc/detail.action?docID=6184525.
A definitive chronicle of the 1871 Chicago Fire as remembered by those who experienced it—from the author of Chicago and the American Literary Imagination. Over three days in October, 1871, much of Chicago, Illinois, was destroyed by one of the most legendary urban fires in history. Incorporated as a city in 1837, Chicago had grown at a breathtaking pace in the intervening decades—and much of the hastily-built city was made of wood. Starting in Catherine and Patrick O'Leary's barn, the Fire quickly grew out of control, twice jumping branches of the Chicago River on its relentless path through the city's three divisions. While the death toll was miraculously low, nearly a third of Chicago residents were left homeless and more were instantly unemployed. This popular history of the Great Chicago Fire approaches the subject through the memories of those who experienced it. Chicago historian Carl Smith builds the story around memorable characters, both known to history and unknown, including the likes of General Philip Sheridan and Robert Todd Lincoln. Smith chronicles the city's rapid growth and its place in America's post-Civil War expansion. The dramatic story of the fire—revealing human nature in all its guises—became one of equally remarkable renewal, as Chicago quickly rose back up from the ashes thanks to local determination and the world's generosity.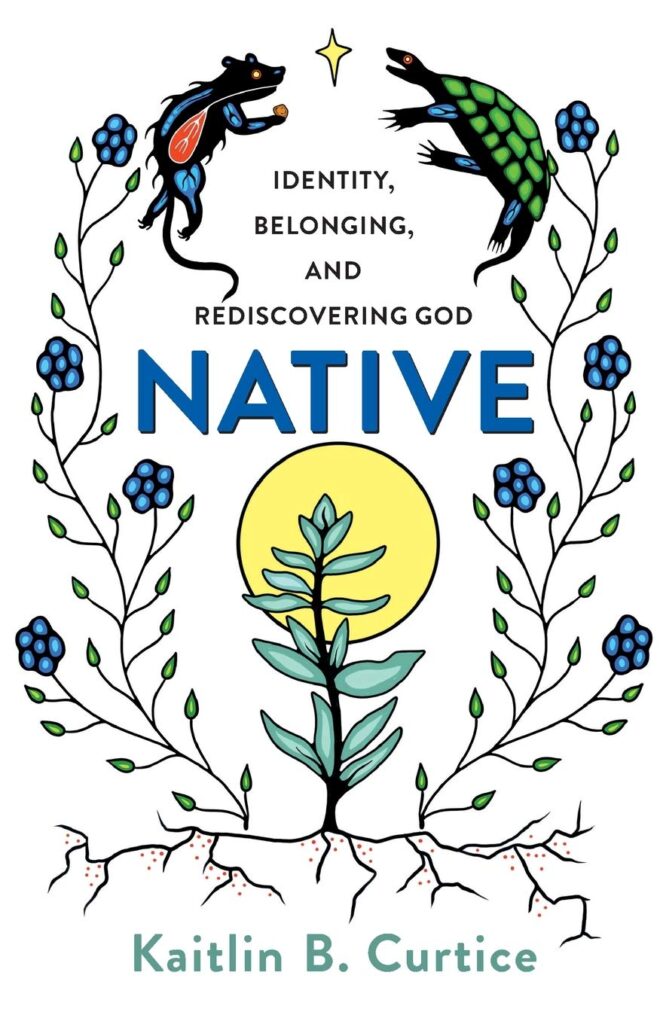 Kaitlin B. Curtice. Native : Identity, Belonging, and Rediscovering God, Brazos Press, 2020. ProQuest Ebook Central, https://ebookcentral.proquest.com/lib/luc/detail.action?docID=6146966.
Native is about identity, soul-searching, and the never-ending journey of finding ourselves and finding God. As both a citizen of the Potawatomi Nation and a Christian, Kaitlin Curtice offers a unique perspective on these topics. In this book, she shows how reconnecting with her Potawatomi identity both informs and challenges her faith. Curtice draws on her personal journey, poetry, imagery, and stories of the Potawatomi people to address themes at the forefront of today's discussions of faith and culture in a positive and constructive way. She encourages us to embrace our own origins and to share and listen to each other's stories so we can build a more inclusive and diverse future. Each of our stories matters for the church to be truly whole. As Curtice shares what it means to experience her faith through the lens of her Indigenous heritage, she reveals that a vibrant spirituality has its origins in identity, belonging, and a sense of place.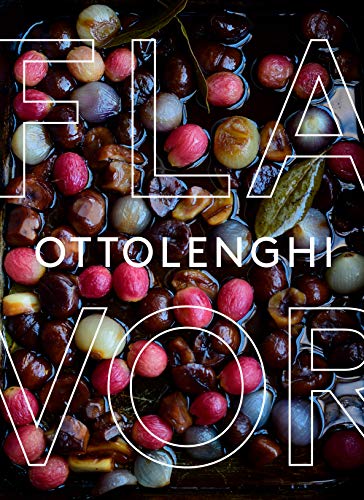 Yotam Ottolenghi, and Ixta Belfrage. 2020. Ottolenghi Flavor : A Cookbook. New York: Ten Speed Press. https://search.ebscohost.com/login.aspx?direct=true&db=nlebk&AN=2356729&authtype=sso&custid=s8448101&site=ehost-live.
The author of Plenty teams up with Ottolenghi Test Kitchen's Ixta Belfrage to reveal how flavor is created and amplified through 100+ super-delicious, plant-based recipes. In this groundbreaking cookbook, Yotam Ottolenghi and Ixta Belfrage offer a next-level approach to vegetables that breaks down the fundamentals of cooking into three key elements: process, pairing, and produce. For process, Yotam and Ixta show how easy techniques such as charring and infusing can change the way you think about cooking. Discover how to unlock new depths of flavor by pairing vegetables with sweetness, fat, acidity, or chile heat, and learn to identify the produce that has the innate ability to make dishes shine. With main courses, sides, desserts, and a whole pantry of "flavor bombs" (homemade condiments), there's something for any meal, any night of the week, including surefire hits such as Stuffed Eggplant in Curry and Coconut Dal, Spicy Mushroom Lasagne, and Romano Pepper Schnitzels. Chock-full of low-effort, high-impact dishes that pack a punch and standout meals for the relaxed cook, Ottolenghi Flavor is a revolutionary approach to vegetable cooking.