The University Libraries' hours for Thanksgiving week and end of the semester are posted below. While access to buildings and physical spaces are limited, our librarians and staff are always ready to help. Please contact us or check our Library Services Continuity page for additional information about the University Libraries' current efforts and updates for the fall semester.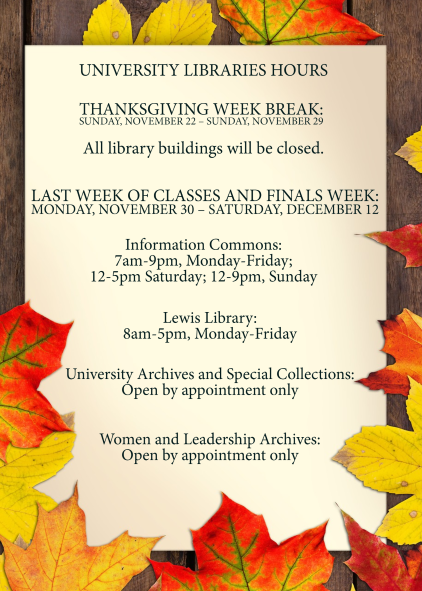 Thanksgiving Week Break:
Sunday, November 22 – Sunday, November 29
All library buildings will be closed.
Last Week of Classes and Finals Week:
Monday, November 30 – Saturday, December 12
Information Commons:
7am-9pm, Monday-Friday; 12-5pm Saturday; 12-9pm, Sunday
Lewis Library: 8am-5pm, Monday-Friday
University Archives and Special Collections: Open by appointment only
Women and Leadership Archives: Open by appointment only: