During the month of December, Loyola Libraries staff make lists and check them twice. What are these lists about? Anything! You can look at past years' lists here and stay tuned for more lists all month long!
We all love k-pop dance practice music videos (mv's), but the most special subgenre of k-pop dance mv's are those where our beloved idols don often ridiculous and unwieldy costumes for our amusement. The majority of these mv's are gifted to us around Halloween (Halloween: a k-pop fan's true Christmas), but many others are released to coincide with the run of a popular k-drama or movie, to celebrate other cherished holidays or to reference an inside joke only the fandom would understand. While there are older alt-costume k-pop mv's that could be counted among the great monuments of world culture, I have selected five specifically from 2020 to prove that this year has not been a complete disappointment.
Dreamcatcher "Boca" (K-Zombie version)
Dreamcatcher is famous for their dark "gothic" concepts, and while the official mv for "Boca" gave us a more exciting color palette than we are used to from these seven amazing women (though still a temporary 6 in this mv while Handong remained quarantined in China during "Boca" promotions), the Halloween release of the K-Zombie dance version proved dark concepts will forever be closest to Dreamcatcher's collective heart.
WayV "Bad Alive" (Princess version)
My heart goes out to Yangyang as Ariel because that costume must be VERY HARD to dance in. As the maknae I assume he drew the short straw. Xiaojun rocks the midriff-baring Jasmine costume, perhaps a nod to the midriff idol trend of 2020 most exemplified by EXO's Kai. I love how boy group leaders like Kun here tend to choose the Snow White avatar, as the oldest Disney princess in the canon, for Disney princess concepts (k-pop groups do this a lot and it could be considered its own subgenre) because Snow White was also the princess of choice for VIXX's N…though curiously BTS's Taehyung donned the venerable gown, possibly signaling an attempted power grab??? Army, discuss.
The Boyz "The Stealer" (Trick version)
All 4 of the non-k-pop fans who have gotten this far in this list will undoubtedly during this mv intro ask themselves, "how can there possibly be this many humans in one k-pop group?" Of course true k-pop fans won't even bat an eyelid at the 11-boy roster (pour one out for Hwall's tragic departure last year, but be sure to catch him in his BL drama debut later this year!), but it's nice that this mv lets you see all the boys (and Road to Kingdom champs!) pre-dance so you know who's in what costume. I'd like to highlight the many k-pop boys who chose the gender-bending Harley Quinn costume this Halloween and pulled it off fabulously (here it's Younghoon…my possible bias, I cannot pick just one with these guys).
Itzy "WANNABE" (Hero version)
Itzy doing what Itzy does best: rocking this spectacular girl-power song and squealing adorably while fighting over the better costumes. This is our first non-Halloween entry (this was posted in April) proving that fun costumes are really an everyday habit for idols. Many younger k-pop fans were impressed by Itzy dancing in high heels, because you didn't live through the traumatic Second Wave k-pop days like I did (I'm old) where that was all girl idols were allowed to dance in (of course they did it very well but it was still terrifying to watch…imagine if we had been robbed of present-day Sunmi because of a horrible stiletto-heel related tumble during a Wonder Girls festival performance on a wet stage???) Lia rocks the strawberry as only Lia could; still not sure how a strawberry is considered a hero but I'll go with it…
BTS "Dynamite" at Gyeongbokgung
Chuseok is the popular Korean harvest festival that takes place typically in mid-September/early October and bestows upon k-pop fans a veritable bounty of gorgeous hanbok dance versions from many groups. I have to include a BTS mv as tribute to Army, and this one from October is absolutely gorgeous. They're in modern hanbok, and dancing in front of Gyeongbokgung, which was the Korean royal palace during the Joseon Dynasty. BTS was the first k-pop group I saw dance in traditional hanbok (it was this "Danger" dance practice a million k-pop years ago https://www.youtube.com/watch?v=rvj2O-O6JGQ ) and they have always done an amazing job showcasing elements of Korean culture in their music and performance.
HONORABLE MENTION: ATEEZ "Black Cat Nero" (Halloween version)
This is an honorable mention because it is not an ATEEZ song! This song by Turbo is old, like so old I don't even think I knew what k-pop was when it came out (fact check: OMG I was in high school when this song came out which means Kim Jong Kook, one of the hottest men alive, is probably like 60 and definitely has an amazing plastic surgeon and personal trainer). ATEEZ (a group for whom I still have an active hi-touch ticket just dying to be used) performed this k-pop classic for Immortal Songs this year and then released this amazing full mv on Halloween for lucky ATINY (still wish they'd picked Treasure for their fandom name…). As per usual with ATEEZ performance videos, the k-pop world was blown away by their energy.
SECOND HONORABLE MENTION: TXT "Run Away" (Halloween version
Yes, this is from 2019 BUT LOOK HOW ADORABLE THEY ARE IN THEIR HOGWARTS ROBES?!?! Also this was before we all knew how problematic JK Rowling's opinions on trans rights were, so we can all pretend we live in a past where it was totally fine to unabashedly love Harry Potter dance practices. This was one of the best k-pop songs of 2019 and these babies (now elder babies, thanks to ENHYPEN) nail this dance practice with very thematically appropriate costumes and killer synchronized moves as per usual. Also, YEONJUN SLYTHERIN, SAME!!!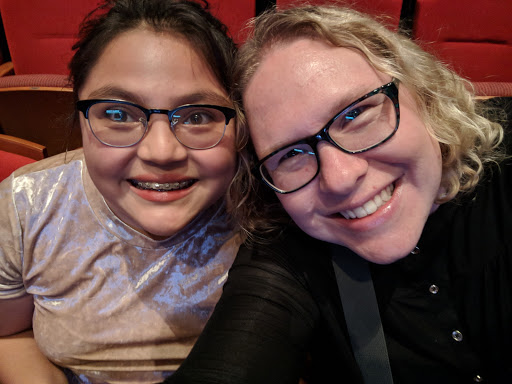 Emma has been a k-pop fan for an extremely long time thanks to her best friends Leila and Corinne. She is a Shawol/Starlight/Inspirit probably in that order, and a proud former Baby (RIP B.A.P). She feels absolutely no shame sharing an intense love of k-pop with a billion 13-year old girls around the world because 13-year old girls are our future. She has hi-touched BTS twice. She is also a librarian #bestcareerever. Here is a picture of the author and her amazing goddaughter (age 13) at a Monsta X show.