With the spring semester, my role here at the WLA changed, and I became a Sesquicentennial (150th) Scholar. To mark Loyola's 150th anniversary, the other Scholars and I have been researching and creating a timeline of 150 years of student life at Loyola and Mundelein College.* What seemed like a straightforward task has had me digging through files of every kind at the WLA in search of a dynamic photo, a newspaper clipping, or a good story from Mundelein's past students.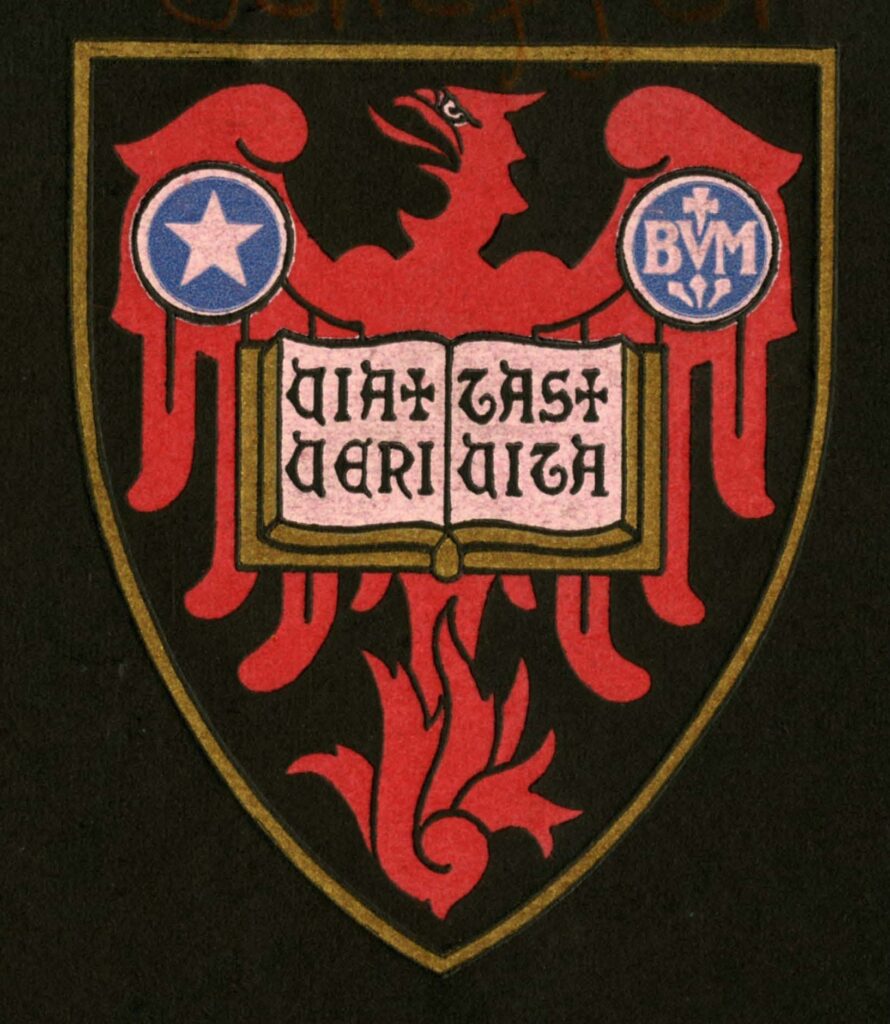 On top of Loyola's 150th, this coming fall will also mark 90 years since the first classes began at Mundelein. Much of my work is trying to grasp the nature of over 60 years of student life at Mundelein, from 1930 to its affiliation with Loyola in the 1990s. Flipping through papers and photos in the Mundelein Records, I am fascinated by the students and teachers who passed through Mundelein, their goals and creations, their views of the world, and their shifting understanding of their role in society. Newspapers from the 1930s, mobilization efforts for World War II, fashion shows, scathing poetry, picnic fliers, snapshots of bewildering theater productions, or photos of students on strike…
How to represent even a glimpse of over 60 years of student life?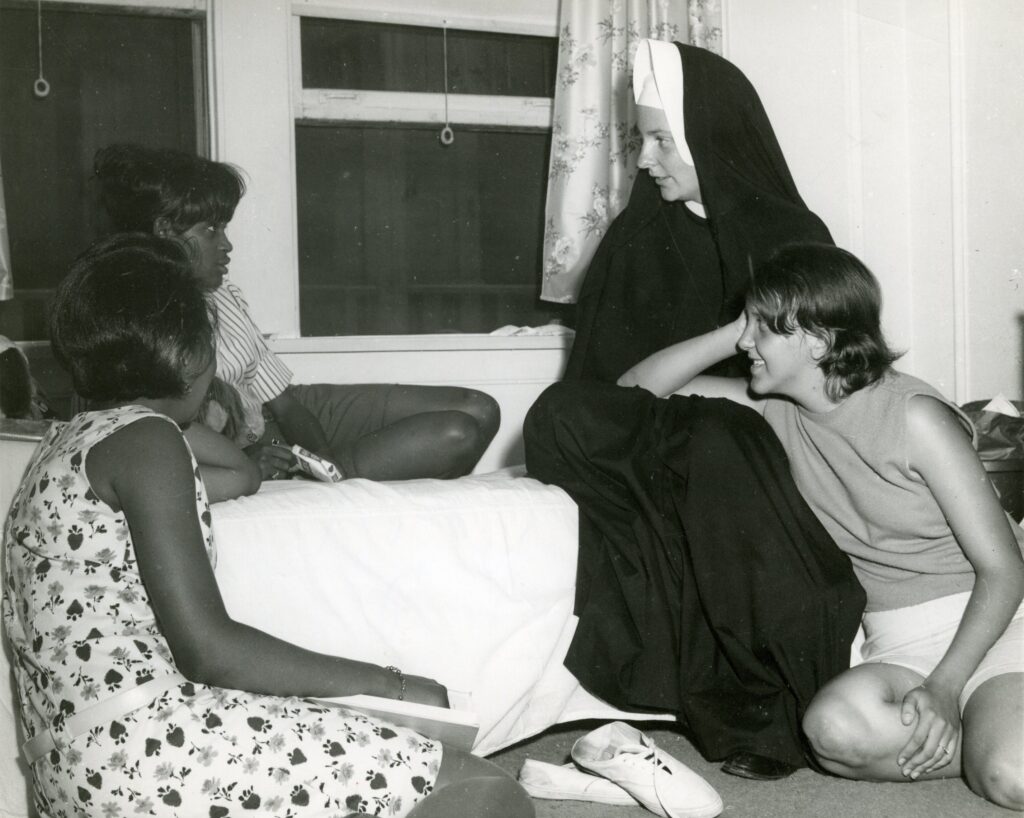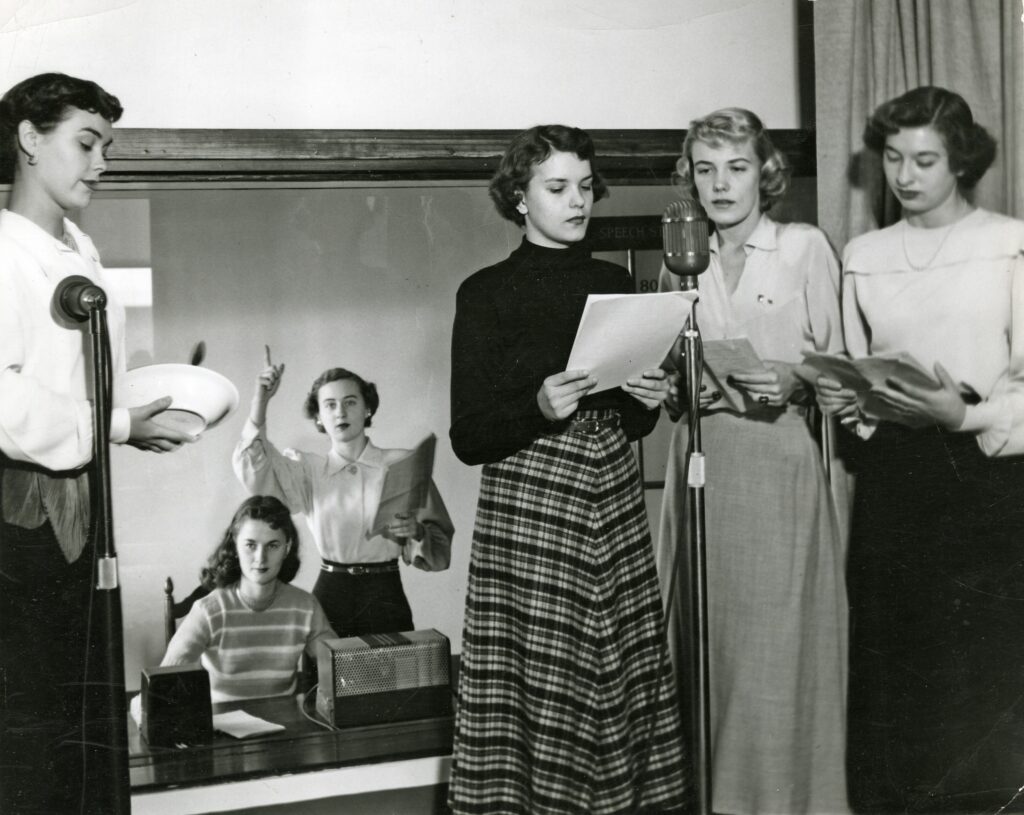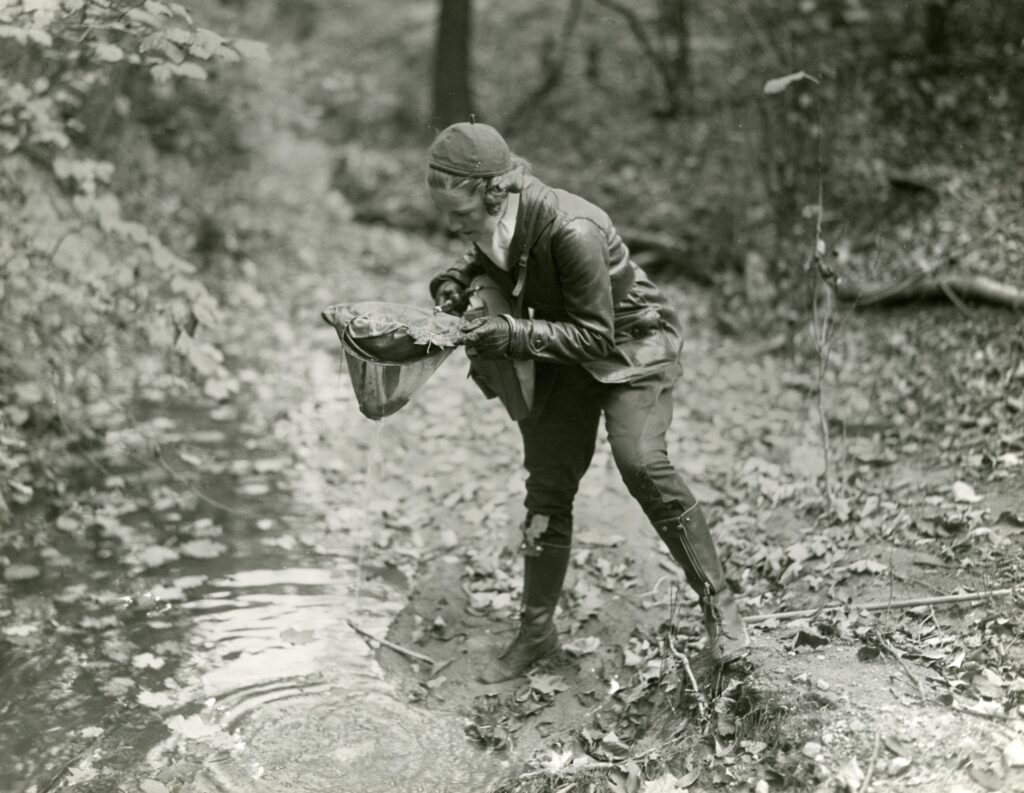 Sometimes, the past represented in these papers feels impossibly distant. News articles cover colonies that have long since won independence. Student editorials profess outdated opinions, or contain perplexing slang. Yet other records grab you with how immediate they feel. In photos, students study, laugh, or walk to class. They open the same heavy doors I've swung open dozens of times. They protest injustice and debate how to effect change. In meeting minutes, staff and students confront the same issues of equality that we debate today. Students compete at sports, perform music, grapple with scientific instruments, relax with friends, or pose with family. It can be either unsettling or comforting to find that some aspects of student life have changed a great deal, while some remain deeply relatable.
To commemorate Mundelein's 90th anniversary, I took a look back at how Mundelein celebrated its 25th anniversary in 1955. Though I haven't found any record of how, or if, students celebrated on their own, I did stumble upon papers pertaining to the official celebration held downtown at the Conrad Hilton Hotel—including the menu. As a student of food history, I loved the idea of highlighting something that couldn't be captured in the timeline—and what better than food?
A sumptuous meal for up to 1400 people was in order. The menu included "canapé of crabmeat ravigote," "consommé imperial," "prime filet mignon" with mushrooms, and "pompadour salad." For dessert, the hotel served a "silver jubilee bombe illuminated en parade"—with sabayon sauce. In his letter, the Hilton's catering manager elaborated: "on each bombe a silver '25' Petit Fours will be iced in yellow with red 'M' decorated with silver sugarballs. The parade is to be led by a replica of Mundelein College of which we would appreciate a picture."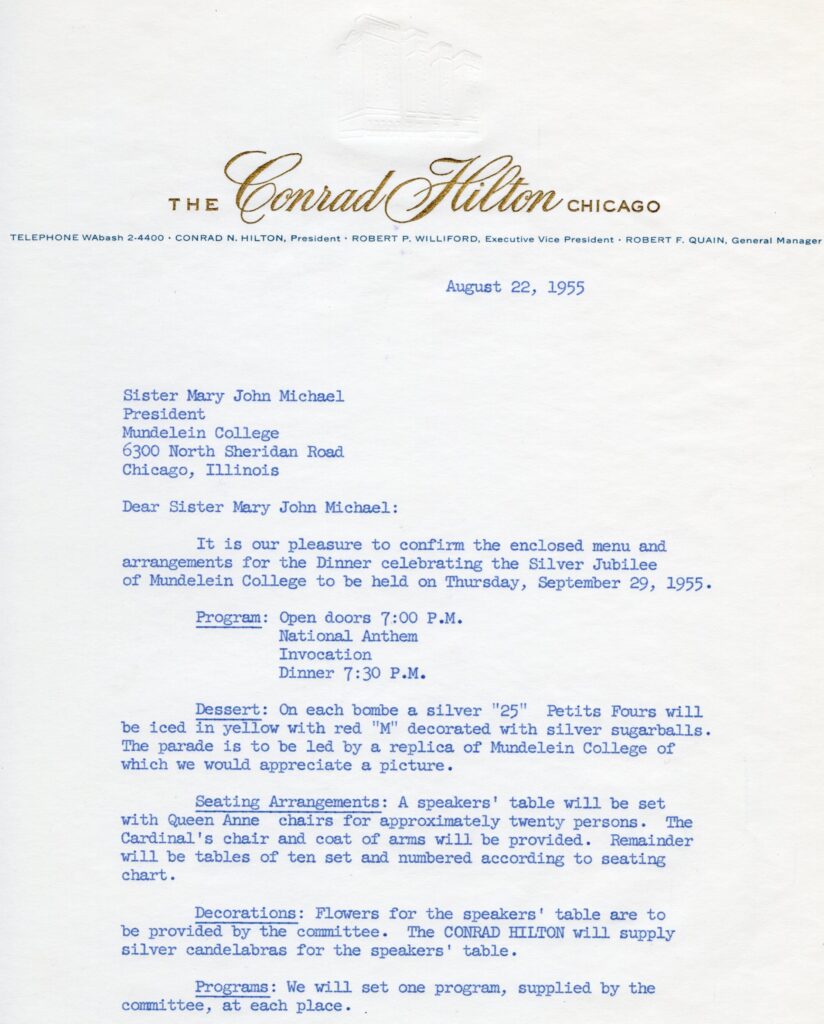 Desperate as I was to find that picture, I had no luck. The description is also frustratingly complex, but I settled on one element: petit fours, a popular mid-twentieth-century dessert. Similar to today's brightly colored French macarons, petit fours can be infinitely varied and are ideal for celebrations: bite-sized and colorful.
And, as I discovered, labor-intensive. Without any clues as to the flavors of the original, I found a recipe that included lemon raspberry jam and lemon curd to represent Mundelein's red and gold. I knew I couldn't match the Hilton's caterers' skills, but I was determined to try.
While homemade cream cheese pound cake cooled, I whisked up a homemade lemon curd, which also had to chill. Finally, hours later, the cake assembly began, carefully cutting the cake into layers, spreading lemon curd and raspberry jam, assembling the layers, and chilling them (again) before the layers could slide off. Then I cut them even smaller, arranged them on a rack, and "frosted" the tops with melted white chocolate. Once they had chilled (again!), I dyed the remaining white chocolate red and piped tiny M's on each one, and did my best to pipe a phoenix for Mundelein's crest. Finally, once the chocolate had chilled (again!!!) they were finished.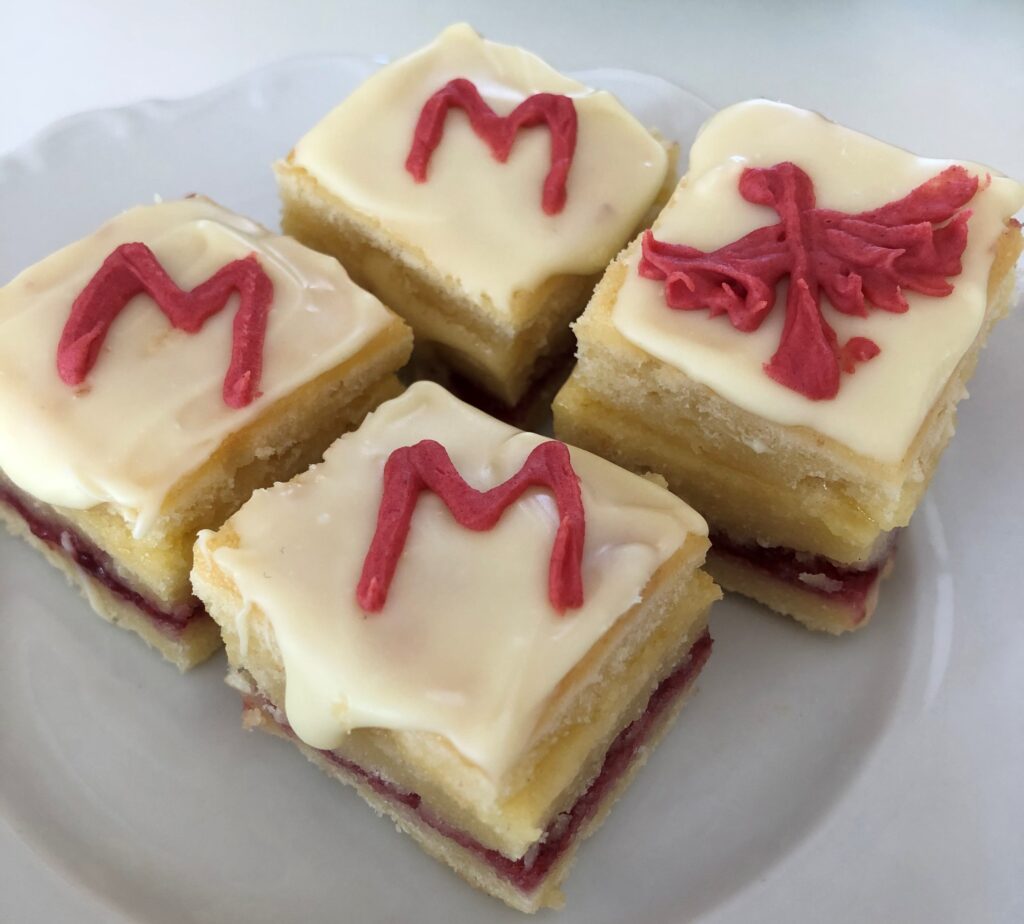 The last step, after all that work, was to celebrate. The WLA staff took a break for petit fours in honor of Mundelein, and since I made over 60 of these tiny things, the Sesquicentennial Scholars and my classmates helped take care of the rest.
Their feedback made it worth the two days of work and waiting. The bright lemon curd and raspberry provided Mundelein's school colors and balanced the sweet, heavy cake, and the patient work of piping the M's paid off. Even though I had no illuminated parade or miniature replica of the Mundelein Skyscraper, perhaps it was appropriate that commemorating 90 years of an often groundbreaking school and its vibrant student life ended up being much more work than I had anticipated. Now, when I go back to the Mundelein College Records, carefully paging through files and photos, I'm bringing along a new appreciation for what it took for both staff and students to build a school: hard work, patience, flexibility… and a readiness to share the results.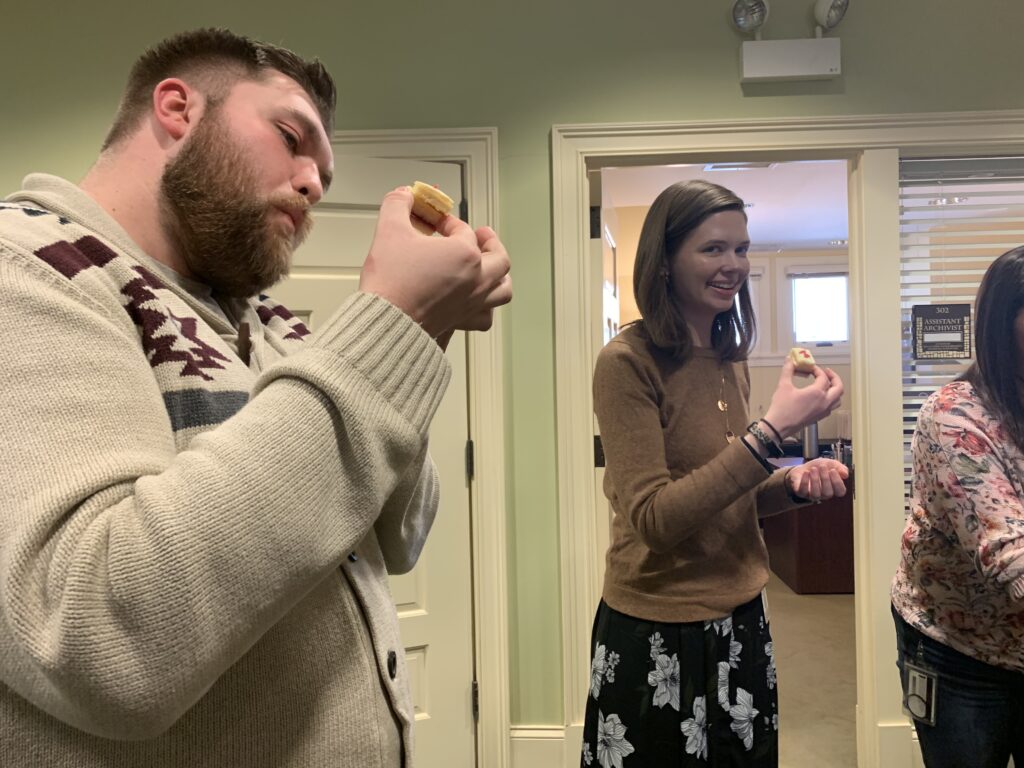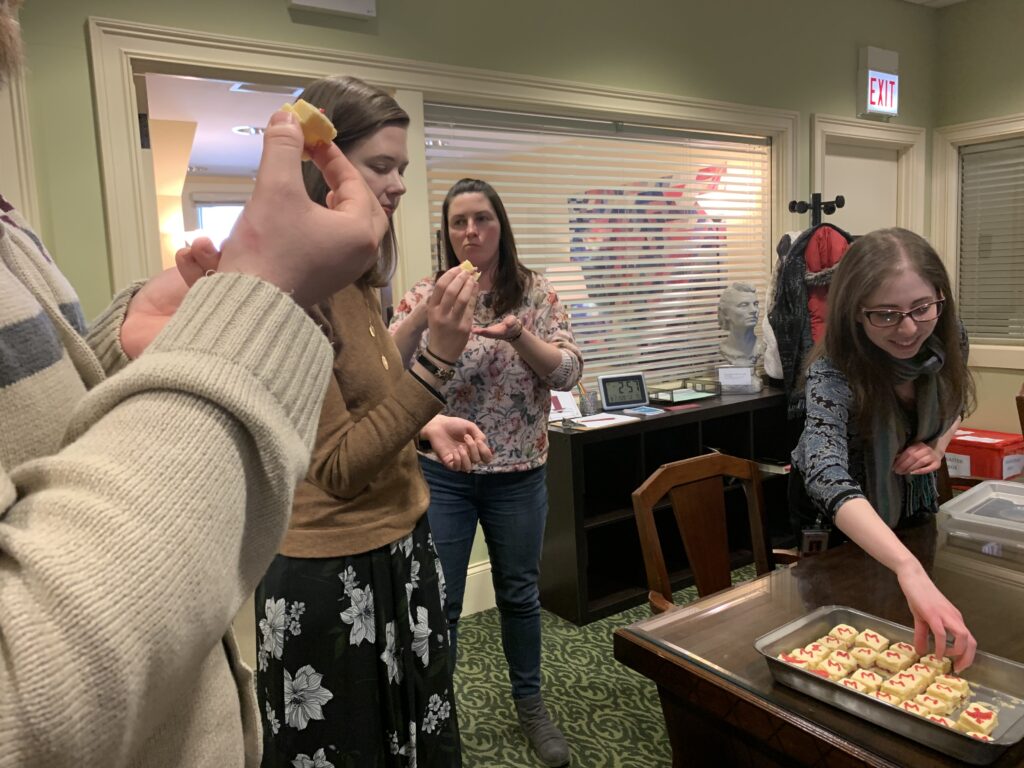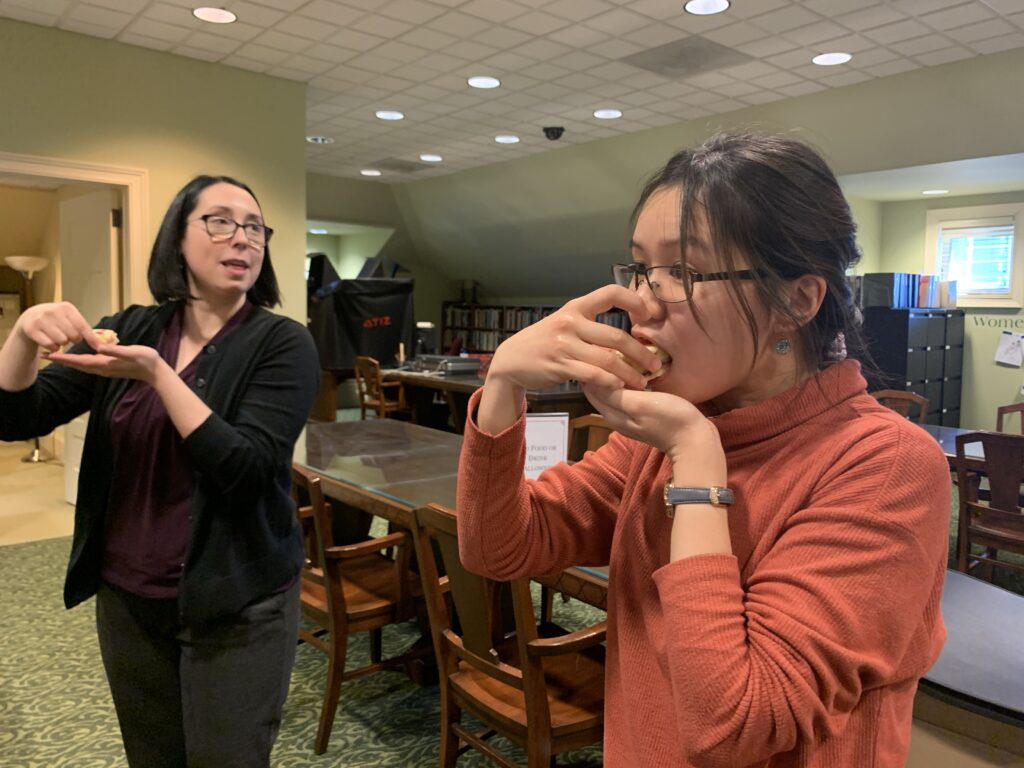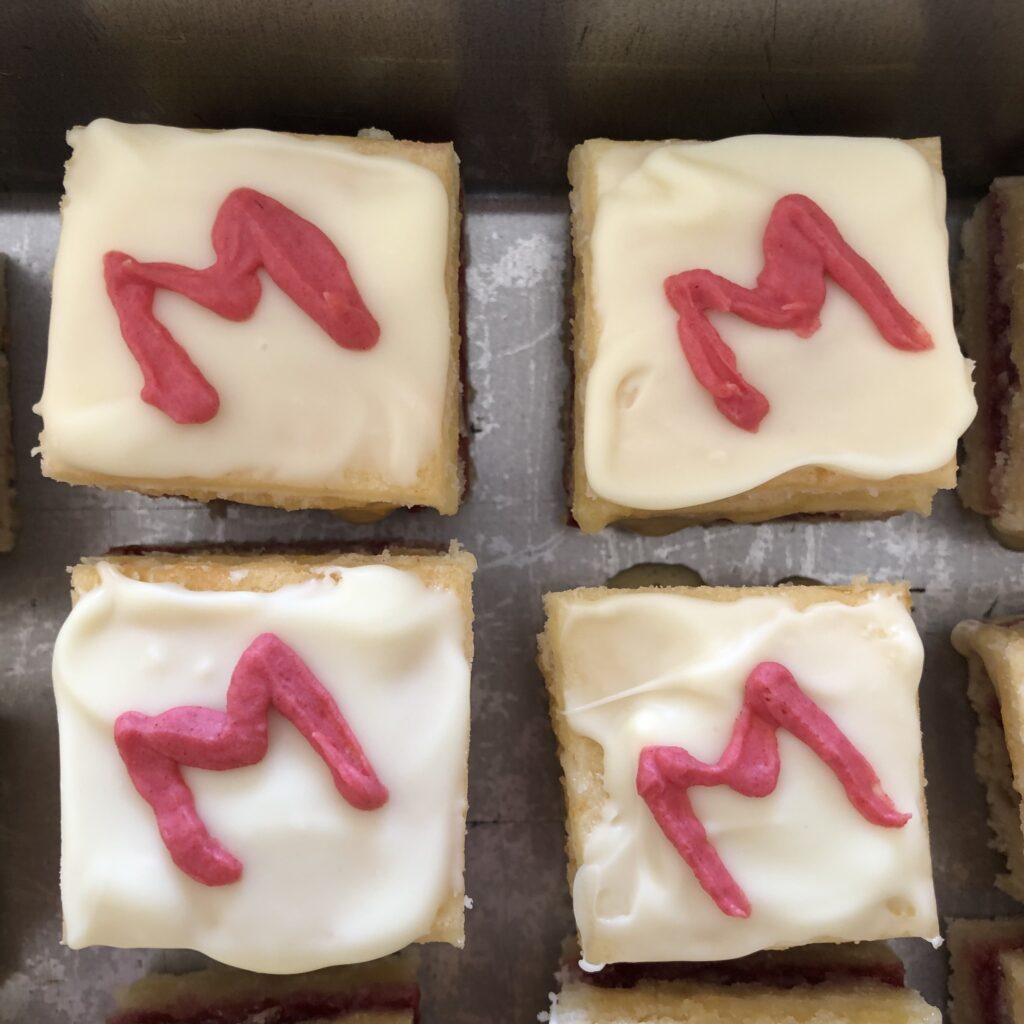 * Mundelein College, founded and operated by the Sisters of Charity of the Blessed Virgin Mary (BVM), provided education to women from 1930 until 1991, when it affiliated with Loyola University Chicago.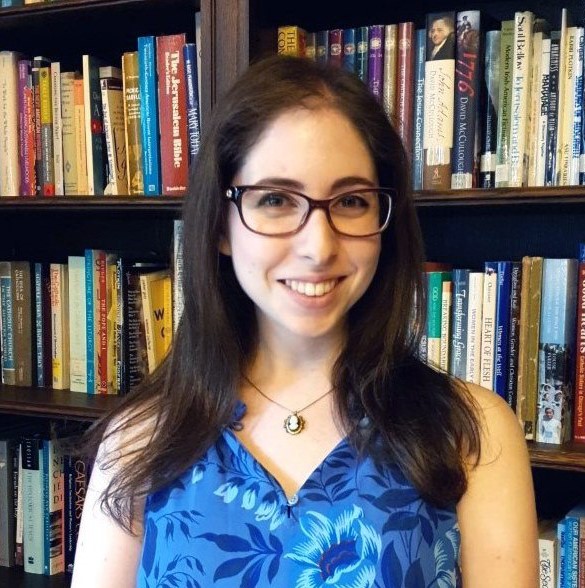 Scarlett is a Sesquicentennial Scholar at the WLA and is in the first year of the MA in Public History at Loyola University Chicago. Originally from the Chicago suburbs, she enjoys singing musical theatre and opera, and watching too much of the Great British Baking Show.
---
Loyola University Chicago's Women and Leadership Archives Blog is designed to provide a positive environment for the Loyola community to discuss important issues and ideas. Differences of opinion are encouraged. We invite comments in response to posts and ask that you write in a civil and respectful manner. All comments will be screened for tone and content and must include the first and last name of the author and a valid email address. The appearance of comments on the blog does not imply the University's endorsement or acceptance of views expressed.
---