When we decided to write a piece in honor of Pride Month, I will confess that I was rather apprehensive as I was not familiar with LGBTQIA+ history and did not want to mis-represent the community unintentionally. However, I also felt that delving into unfamiliar territory and learning more about it was better than remaining in the dark so I decided to do some sleuthing around in the WLA's holdings to see what I could find.
The first result that popped up was a column entitled The Lavender Woman. The Lavender Woman was a recurring column focusing on lesbian issues that ran in the feminist publication, The Feminist Voice; it became a newspaper of its own in 1972. Poems were also sometimes featured. This column piece, penned by Linda Shear (1948-), a singer-songwriter and piano player, is particularly rich in highlighting not only the struggles that the lesbian community faced within the Women's Movement in Chicago but also the reasons for the formation of The Lavender Woman as an independent newspaper.
"I cannot be a sister to most of the straight women–I can be only a name—Lesbian"
In this piece, Shear wrote passionately about her frustrations with "much of the Woman's Movement in Chicago." Although her concerns with women were "strong on many levels" and personal struggles just as "draining" as those of her heterosexual counterparts, Shear pointed out that these had been largely overlooked and even silenced in the Chicago Women's Liberation Union (CWLU), where the presence of lesbians had not even been acknowledged.
To illustrate her point, Shear pointed out that in the first issue of Womankind, a paper by the CWLU that began publication in September 1971, the members of CWLU were still being defined "in terms of her man – past, present, or future", silencing the existence of lesbians within the union. Nor had outreach been made to lesbian members of the CWLU. The series of questions that Shear raises are especially poignant, and I invite you to look at it again in detail: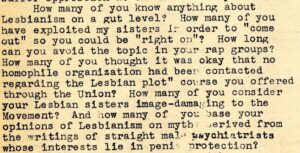 "Getting It Together"
The inclusion of another piece, "Getting It Together" by Susan Moore, right next to Shear's indicates that the lesbian community was cognizant of the pressing need to carve out a niche to make their voices heard. The questions that Moore raises in her article gave me an intimate glimpse into a community navigating questions about their own identities and the actions they ought to take as members of that community. I was also struck by how the questions that Moore raised remain pertinent even today, 50 years after the Women's Movement in Chicago took place.
Is lesbianism a political issue? Does racism exist in the lesbian community? How should we deal with it? What particular problems do you experience as a lesbian? Do you consider yourself a bisexual?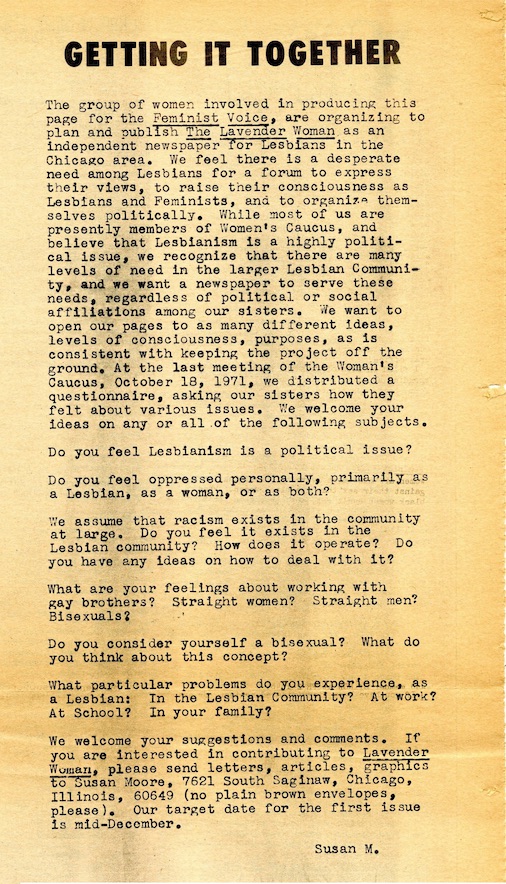 Here, I am reminded of what Kimberlé Williams Crenshaw calls "intersectionality", the concept that aspects of one's social and political identities can aggregate to result in unique forms of discrimination. For instance, a lesbian, black woman of a high socio-economic class would face different challenges in their lives as opposed to a transgender, white man of a lower socio-economic class and so on and so forth.
Applying that concept in another way, I am also reminded of a point that perhaps appears simplistic but one I feel is often overlooked – one's sexuality is not the sum of one's identity. Being a lesbian was just one aspect of Shear's identity. She was also a singer-songwriter, a writer and a political advocate. Unfortunately, I feel that in much discussion about the LGBTQIA+ community, too much (if not all) of the focus falls solely on their sexuality instead of considering them as equal stakeholders in a larger community of people that we are all a part of. As engaged citizens, I think we can do better and the first step starts with learning more about the community.
"We won't ask you to learn for us. We just keep waiting for you to want to learn for yourselves."
Fortunately, the WLA has several collections containing materials related to the LGBTQIA+ community such as the Women & Children First Bookstore Collection, the Michelle Feuer (Fire) Papers and the Connie Kiosse Collection, which is where this Lavender Woman column was taken from.
Connie Kiosse was a founding member of The Feminist Voice, one of Chicago's first feminist papers in the 1970s. She also started the Chicago Women's Reading Group (now in its 37th year) and currently tutors students in reading and substitute teaches. The collection contains issues of The Feminist Voice, Lavender Woman and other feminist collections. You can check out some of these publications even while the archives are closed by accessing the digital collection here.
May this June be a time of learning, about the world, for ourselves.
---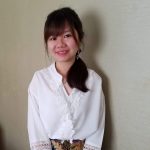 Regina is a Sesquicentennial Scholar at the WLA and in the first year of her M.A. in Digital Humanities at Loyola University Chicago. She graduated from Yale-NUS College, Singapore, with a degree in History and enjoys reading and cooking. 
---
Loyola University Chicago's Women and Leadership Archives Blog is designed to provide a positive environment for the Loyola community to discuss important issues and ideas. Differences of opinion are encouraged. We invite comments in response to posts and ask that you write in a civil and respectful manner. All comments will be screened for tone and content and must include the first and last name of the author and a valid email address. The appearance of comments on the blog does not imply the University's endorsement or acceptance of views expressed.
---