In March of 2020, the onset of COVID-19 swept through the United States bringing with it a sense of insecurity and fear, and to protect the WLA staff we transitioned to work from home. Before that happened, we heard rumors that a shutdown may occur but nothing more than three weeks. Well, here we are a year later and still nowhere near back to normal. However, WLA staff is coming back in a hybrid basis. Graduate workers are able to come back to work in-person once a week. So let me walk you through a day in the life of a graduate assistant in the age of COVID-19.
There has been a slew of regulatory changes for students coming back to campus and this is no different for your beloved graduate assistants. One such change is mandatory testing for COVID-19. Graduate students are required to get tested once a week if they are on campus for class or work. Each day I come to campus I get tested for COVID-19 before I head to work. It's the saliva test, which is quick and painless. Once I complete my test, I contact my on-site supervisor to let me into Piper Hall.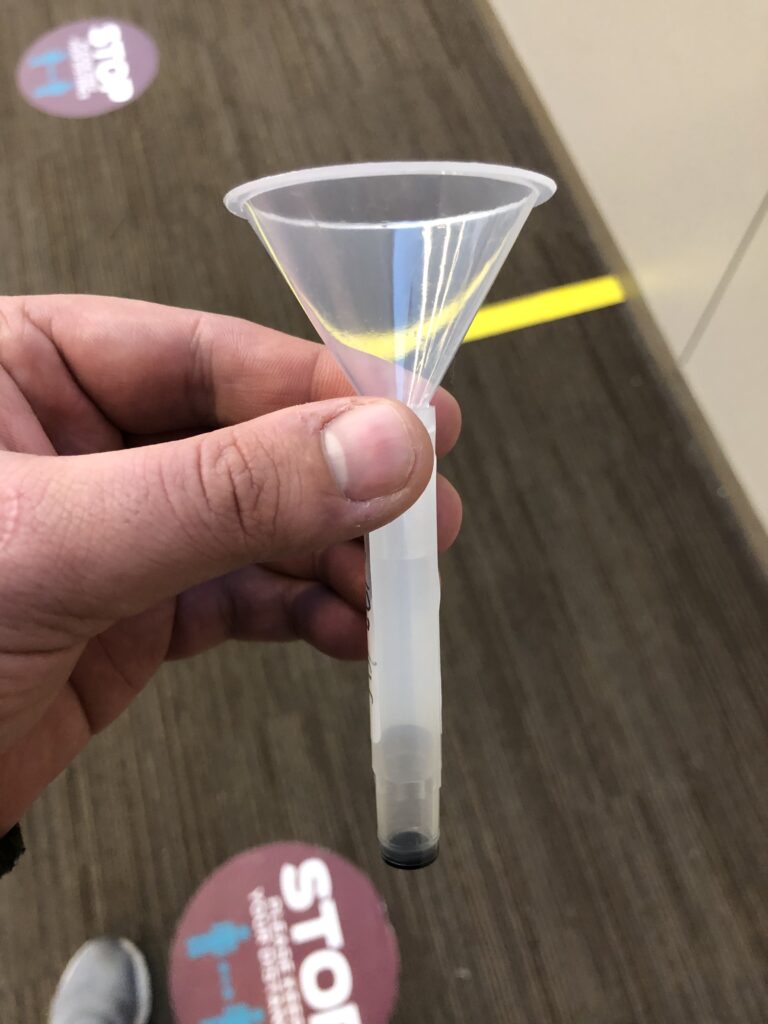 Once inside, I go to my newly assigned workspace, the classroom on the second floor of Piper. The second floor is home to the Gannon Center for Women and Leadership, but it's currently being utilized by the WLA for social distancing. We have taken every precaution to make sure the staff is safe, including separating our workspaces by a floor. It is definitely different from being in person last year when we were physically closer. Although the distance between us has increased the new operation has made working in person much safer. I am rarely in the same space as another person, and it gives graduate assistants more room to spread out their work. I have taken advantage of this layout for my current in-person project.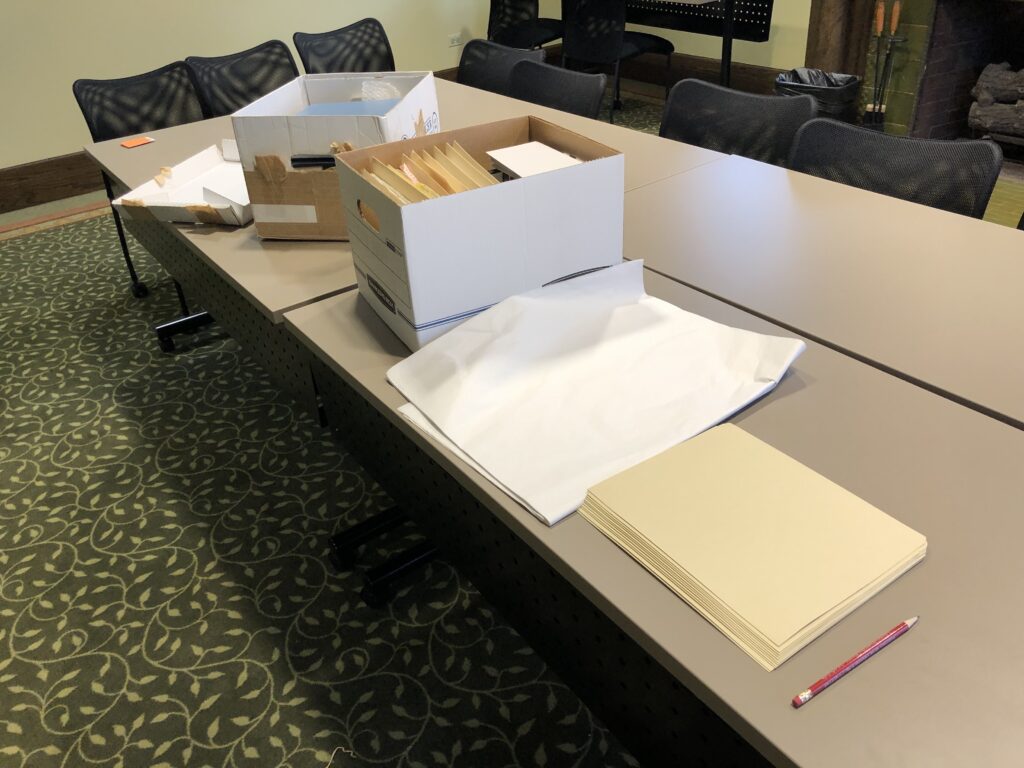 This is especially useful for rehousing a collection and creating a preliminary container list. Container lists are sections of finding aids that let us know what kind of materials are in boxes when using collections, such as correspondence and advertisements. After setting up my workspace, I head back to the reading room to retrieve my cart which holds all the tools I need for a day at work including acid free paper, acid free tissue, acid free folders, brand new boxes, and most importantly the collection I am working to rehouse. I am rehousing a new donation to the Women and Leadership Archives, the National Women Martial Arts Federation Records. So far, I have completed rehousing four of the twelve boxes in the donation and have gotten to explore some incredible documents such as promotional materials, a stuffed teddy bear, and commemorative t-shirts.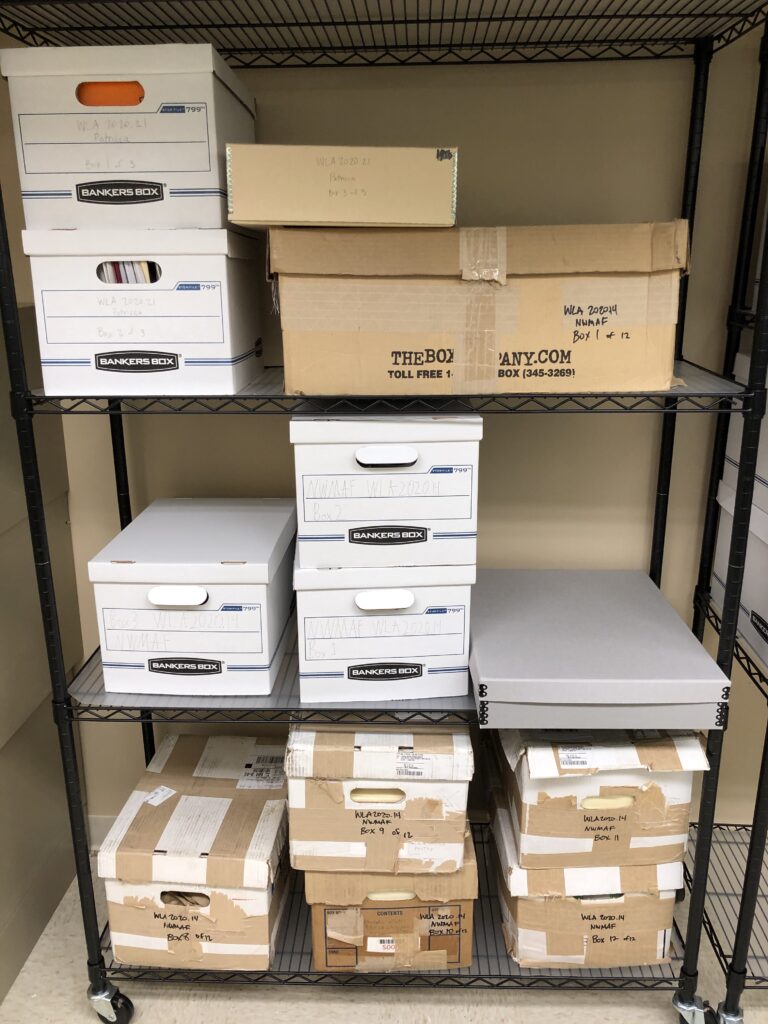 Now some of you may be wondering, "Casey, what is rehousing?" and I am glad you asked. Rehousing is a vital step in making sure new and old collections stay at their best quality. In this process, archives staff moves the donations into archival folders and boxes. While doing this, we begin to take more detailed notes on what materials are in the donations, and these notes help us when we fully process the collection. Processing is the work of making collections ready for public use through arranging and describing.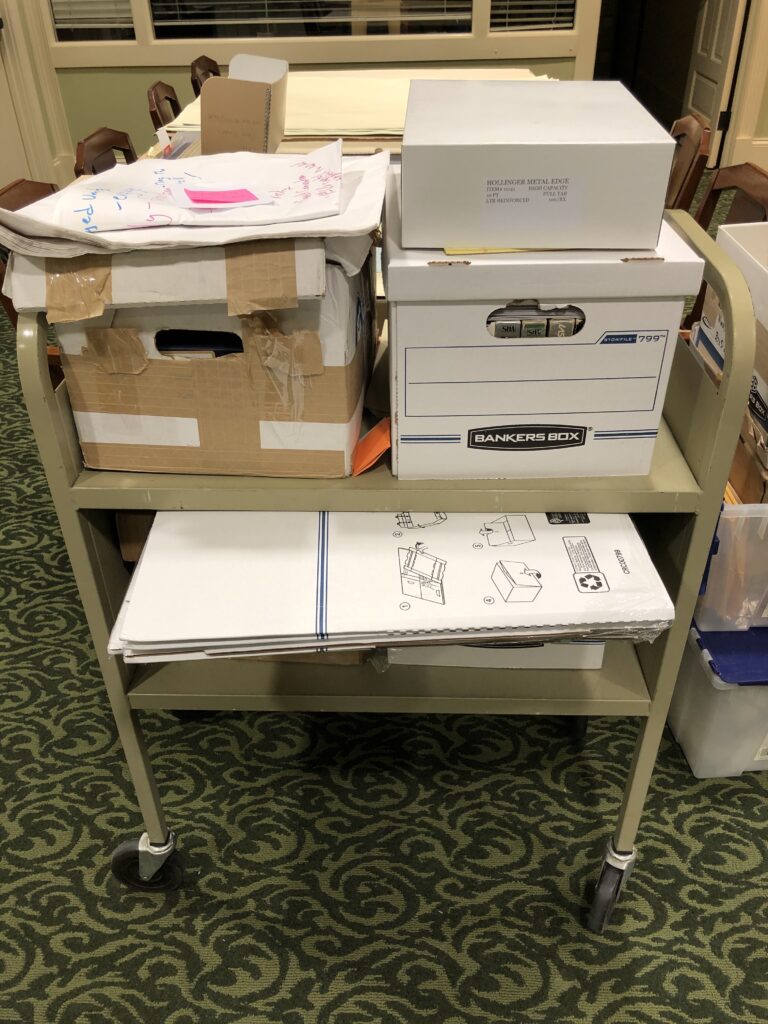 After I finish my work for the day, I carefully pack up my collection and make a note so I can pick up where I left off. Then I take it all back up to the reading room, turn in my elevator key, and wait to do it all again the next week. Thank you for joining me for a day in the life of a graduate assistant. Being back in person has been a light for me in these bizarre COVID times and has reminded me why I love this field so much. I am so thankful that the WLA has allowed us to come back into work in the safest possible environment.
---
Casey is a Graduate Assistant at the WLA and is in the final year of Loyola University Chicago's MA in Public History. He has his bachelor's degree in History and Digital Media from Valparaiso University Valparaiso, Indiana. Casey enjoys early modern history, comics, and knitting.
---
---
---
Loyola University Chicago's Women and Leadership Archives Blog is designed to provide a positive environment for the Loyola community to discuss important issues and ideas. Differences of opinion are encouraged. We invite comments in response to posts and ask that you write in a civil and respectful manner. All comments will be screened for tone and content and must include the first and last name of the author and a valid email address. The appearance of comments on the blog does not imply the University's endorsement or acceptance of views expressed.