After several years of voluntary archival work, my first official appointment as a Digitization and Metadata Assistant at the Women and Leadership Archives came at the perfect time. At the tail end of my graduate education in Public History and Library Science, I gained incredibly useful knowledge and experience in a field I wanted so badly to be part of while working with a rich and compelling collection. With only brief and tangential previous archival experience, I felt nervous about my ability to do this kind of work well. Not only did my time at the WLA confirm my ability to do archival work well, but it has also reassured me that my career is absolutely headed in the right direction.
Digitization
The digitization process for the Mundelein College Photograph Collection required me to tap into my problem-solving skills. I love this aspect of archival work. As I worked out the idiosyncrasies of digitizing this collection, I was asked to make updates to the written scanning instructions used for this project, a small but concrete contribution I would leave behind.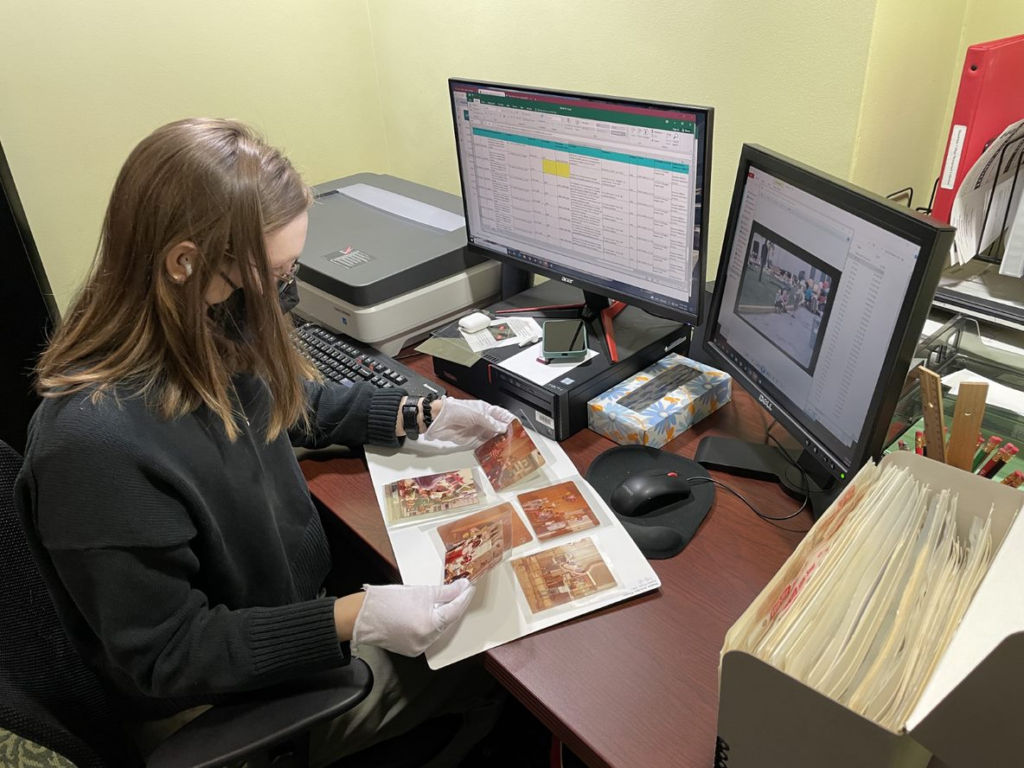 The benefit of staying on the project for two terms was the chance to relay the best methods I had learned to coworkers joining the project efforts in the summer. My familiarity with the collection meant that I could show my coworkers the methods that worked best for scanning distinct kinds of items, from the simplest black-and-white printed photograph to the most over-exposed negative. The need for problem-solving never ended, and my co-workers also shared their findings with me as we made our way through the collection. This collaboration allowed us to move efficiently (and more quickly than expected) through the phases of the Mundelein at 90 project.
Metadata
My mantra while writing metadata for this collection has been "consistent and concise" — which is quite useful for the practice of writing metadata in general. As someone with a vivid imagination, this mantra helped me focus. I could write paragraphs about some photographs whose stories jumped out to me, but instead, I just focused on the facts—the who, what, when, and where. My coworkers and I began to develop a common language and vocabulary for our metadata as we cross-referenced one another's work.
Writing metadata requires one to think differently than they would about writing other kinds of content. This process requires thinking in terms of searchability and accessibility. I always saved the photograph descriptions for last, preferring to first fill in the more straightforward dates, file sizes, formats, and other identifiers column by column. Then, I would turn on my researcher brain and think about how I would search for a particular item or subject, and what information I would want to have on an item to find it useful. I also thought about the best way to describe the context of an image in only a sentence or two for someone who may be unable to see it.
Mundelein at 90
After working on the Mundelein at 90 project for the last two terms, I have become quite familiar with the Mundelein Collection, especially the photographs and publications. I can identify Sisters of the BVM by their image alone, or the name of a Mundelein College building by the architecture and design of one room. I have even subconsciously memorized the graduation years of several alums that show up picture after picture. I have spent hours analyzing poetry as I wrote metadata for scans of Quest and Pace, two amazing student publications dedicated to the creative work of Mundelein students.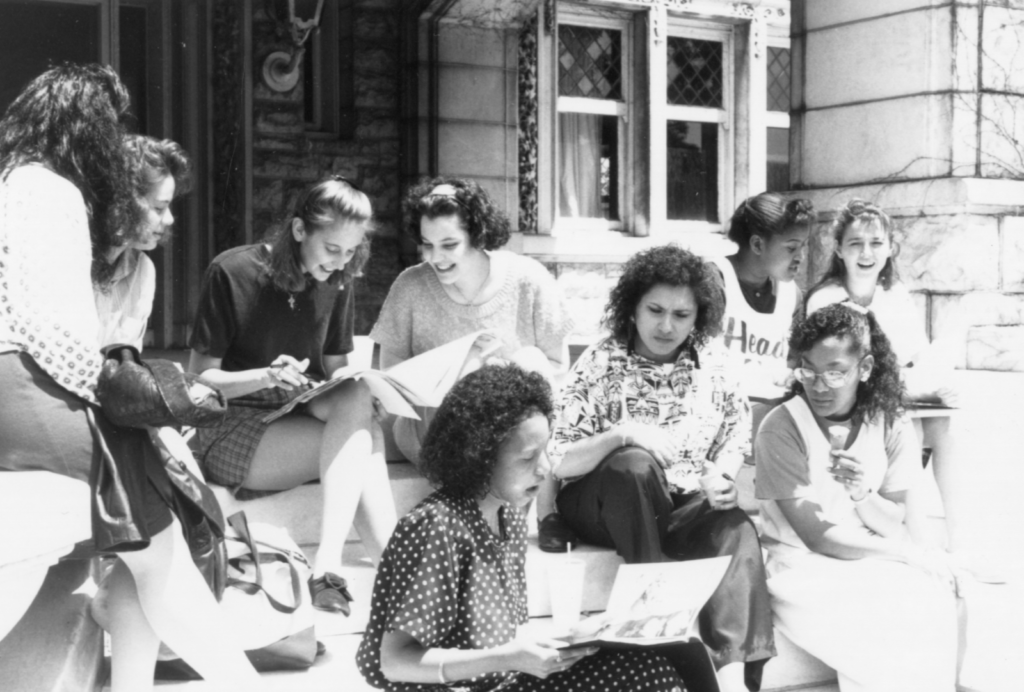 I now hold a deep appreciation for the history of Mundelein College. My time working with the collection has given context to my own education at this Lakeshore campus. To see documentation of students from the 1930s through the 1990s lounging by the lakeshore, climbing the steps of Piper Hall, and using the Mundelein Skyscraper's iconic art deco elevators, just as I have done for two years, gives me a sense of legacy that I never felt before. As a first-generation college student, I did not know I was missing this feeling of pursuing something historically meaningful. Through photographs, I watched so many young women attend a groundbreaking institution dedicated to their unconventional education, thoroughly enjoy every opportunity presented to them there, and speak up against injustices they saw on campus and in the world at large. I might not have been a legacy at my undergraduate institution, but these Mundelein College students are my ancestors.
---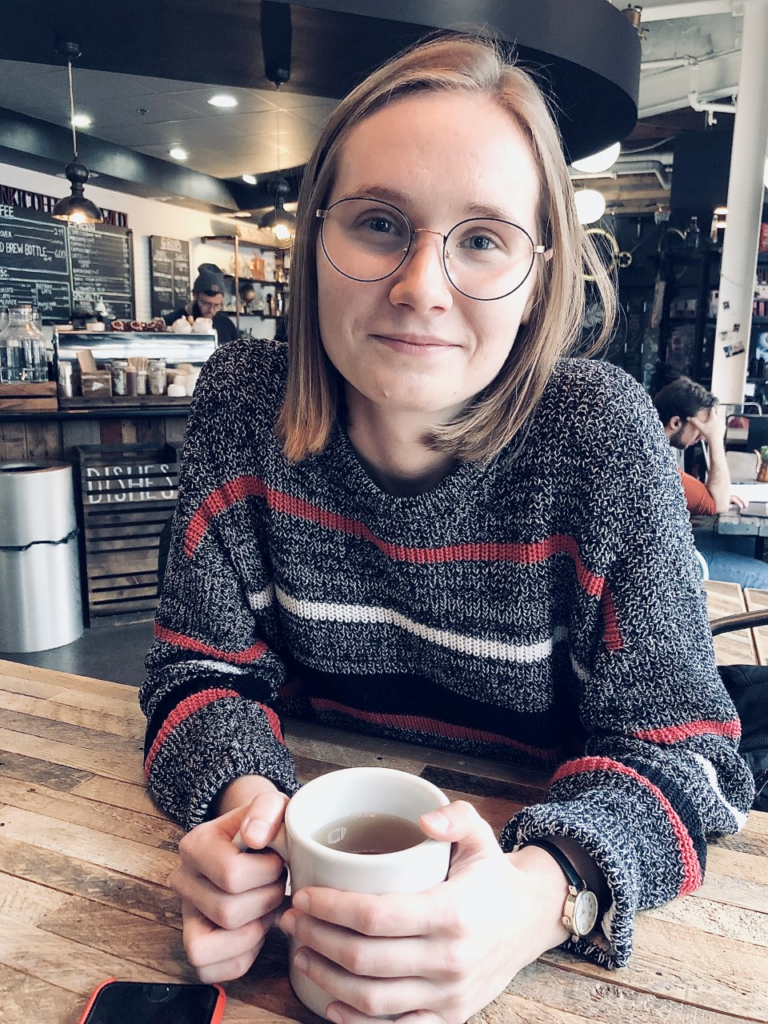 Karis (she/her/they/them) is a recent graduate of Loyola's dual Master's in Public History and Library Science program. Karis enjoys leading tours at the Frances Willard House Museum, reading books of every genre, rewatching her favorite TV shows, and giving their dog, Nancy, all the attention she deserves.
---
---
Loyola University Chicago's Women and Leadership Archives Blog is designed to provide a positive environment for the Loyola community to discuss important issues and ideas. Differences of opinion are encouraged. We invite comments in response to posts and ask that you write in a civil and respectful manner. All comments will be screened for tone and content and must include the first and last name of the author and a valid email address. The appearance of comments on the blog does not imply the University's endorsement or acceptance of views expressed. Questions? Please contact the WLA at wlarchives@LUC.edu.
---