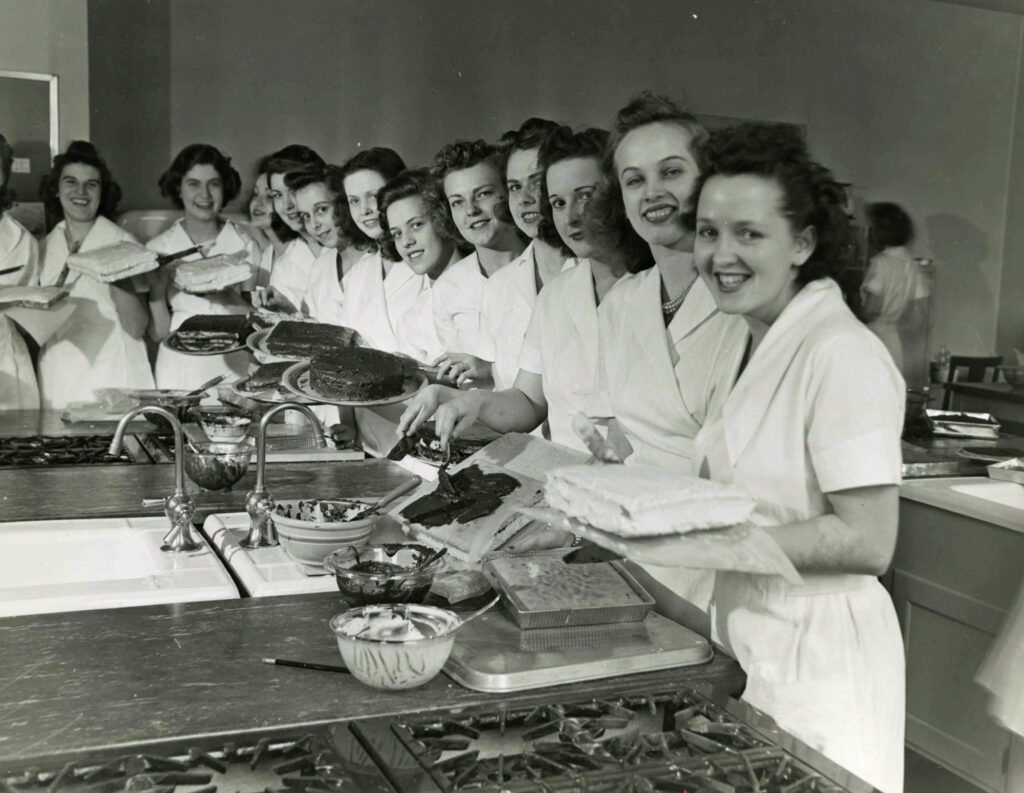 The phrase "Home Ec" conjures scenes of students crowded around stoves, struggling with sewing needles, or caring for imitation babies. Middle and high schoolers, usually girls, learning basic life and housekeeping skills. Something of a dying art in our modern world, it's rare to see Home Economics programs at secondary schools, and rarer still to see them at the collegiate level, but there was a time where Home Economics was a thriving field and popular choice for undergraduate study. Mundelein College was no exception. In fact, Mundelein just so happens to have had one of the best programs in the country. But what does an undergraduate program in Home Economics look like? I explored some of the WLA's records from Mundelein College to learn more.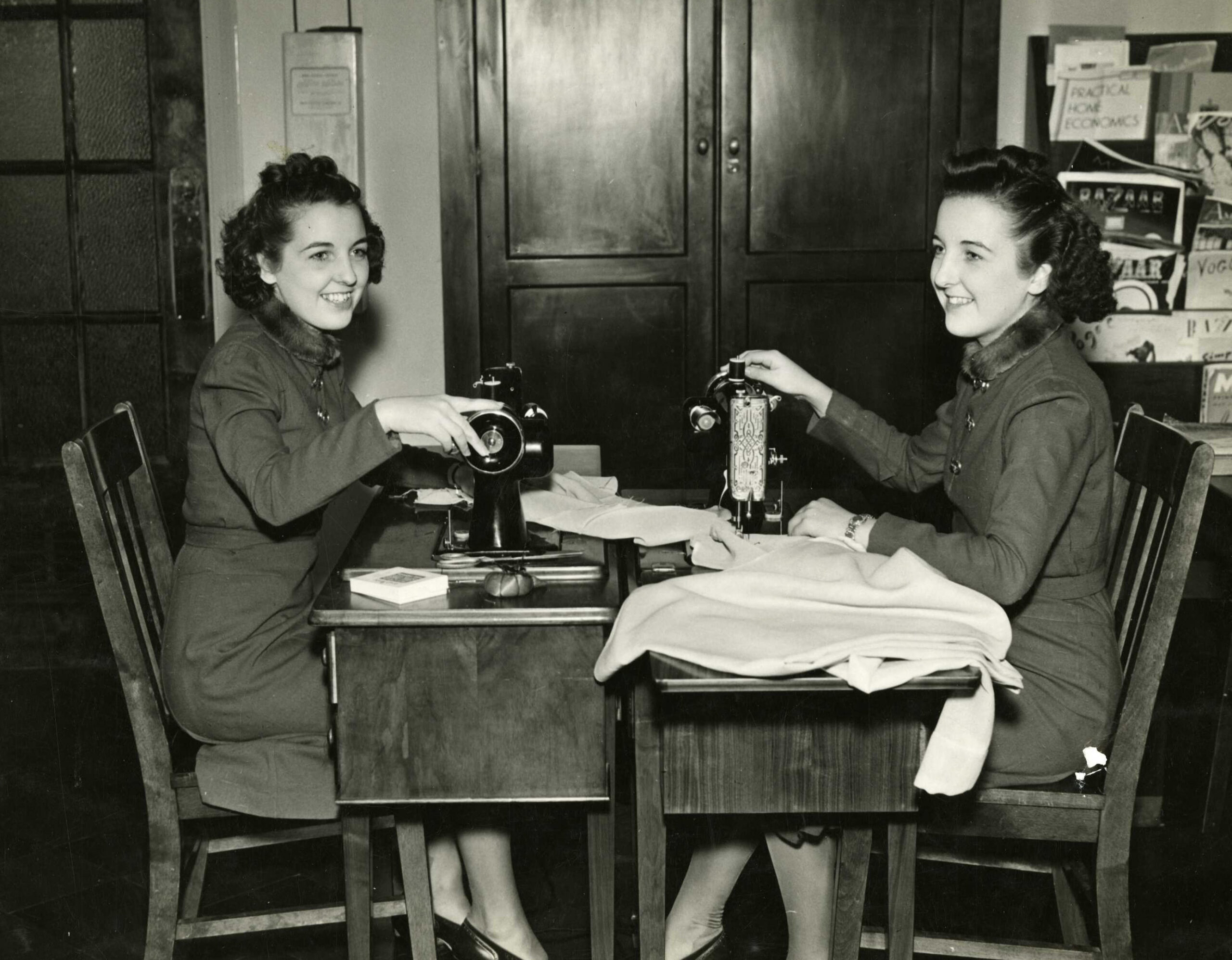 The WLA's collection features photographs, oral histories, and department and faculty records that tell the story of a Home Economics program that, over the years, enriched the lives of students, empowered them to seek out fulfilling careers, and pushed the field forward. In the early years of Mundelein, there were a variety of subjects that fell under the umbrella of Home Economics. From department reports from the 1930s, we can see that the program offered courses on dietetics and nutrition, cooking, fashion, cosmetics, home management, personal finance, and interior design. Many of these courses take a scientific, historical, or market research approach to the subject at hand, providing not only manual training, but also a thorough understanding of the how and why behind the work. Coursework in nutrition was especially robust and was a common specialization for Home Economics majors to choose.
While many of the subjects offered were traditional homemaking skills, the program did not exist to exclusively train women for housewifery. Employment outside of the home was a focus for the program as well, with regular field trips and events centered on professional development. Students and faculty in the department also represented Mundelein at regional Home Economics conferences, developed exhibits for various associations and events, and gave back to the community through service events and projects.
Professors and staff were passionate about how this field of study enriches the lives of not only the students, but also the world at large. No one was more passionate about the inherent value of Home Economics than Sister Mary Pierre Flynn, BVM who was chairwoman of the department from 1933 to 1962. Devoted to her faith and to the field of study, Flynn believed that Home Economics was essential for Catholic women and their families as they navigate changing social structures, and hoped to "imbue her students with reverence for the home and the virtues of love and loyalty without which it cannot exist". [1] Oral history interviews of Mundelein Home Ec Alums show some of the high praise that students had for Sister Mary Pierre. Kay Heerey Sullivan, class of 1938, said "The knowledge that I received from Sister Mary Pierre – I'm ever so grateful. Many a day I think about [her]. She was a wonderful woman. She was not just a wonderful teacher, but she was a good friend, and we were her girls."
As the program grew and matured over the years, there was an increased focus on professional development and academic rigor in the coursework, but family and the home remained strong pillars of the department's philosophy. Course offerings expanded to include new subjects like human development and advanced courses in established subjects like nutrition, fashion, and home management. As you can see below in the course offerings from the 1989-90 and the 1936-37 school years respectively, the department came a long way over 60 years.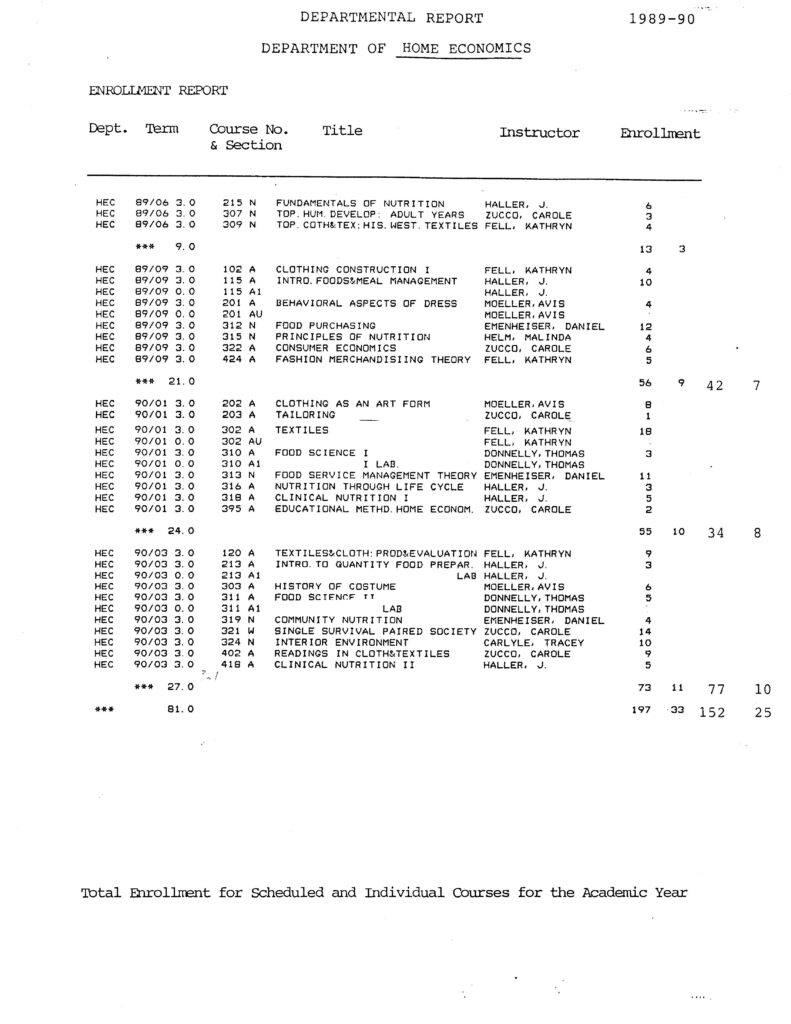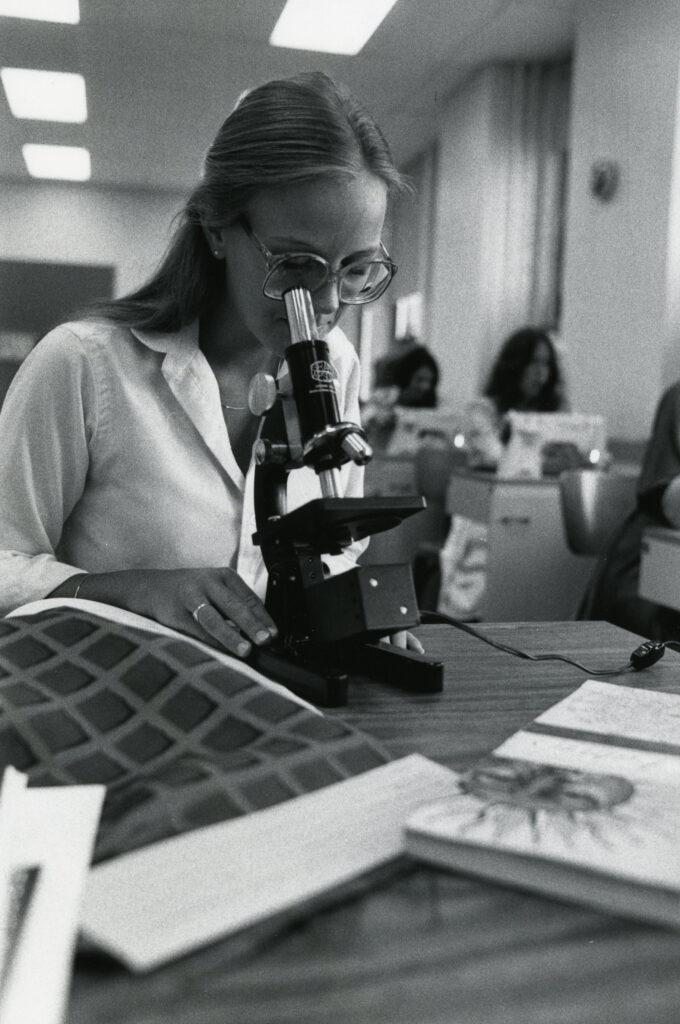 There isn't much information on what exactly happened to the program after Mundelein College affiliated with Loyola University, but I suspect that other programs were able to offer some of the courses which were previously under the Home Economics umbrella. This would have been a common fate for Home Ec classes, and it's more or less what we see today. Coursework in nutrition, cooking, fashion, design, human and family development, and consumer economics can now be found in nursing programs, trade schools, art departments, and schools of psychology and business.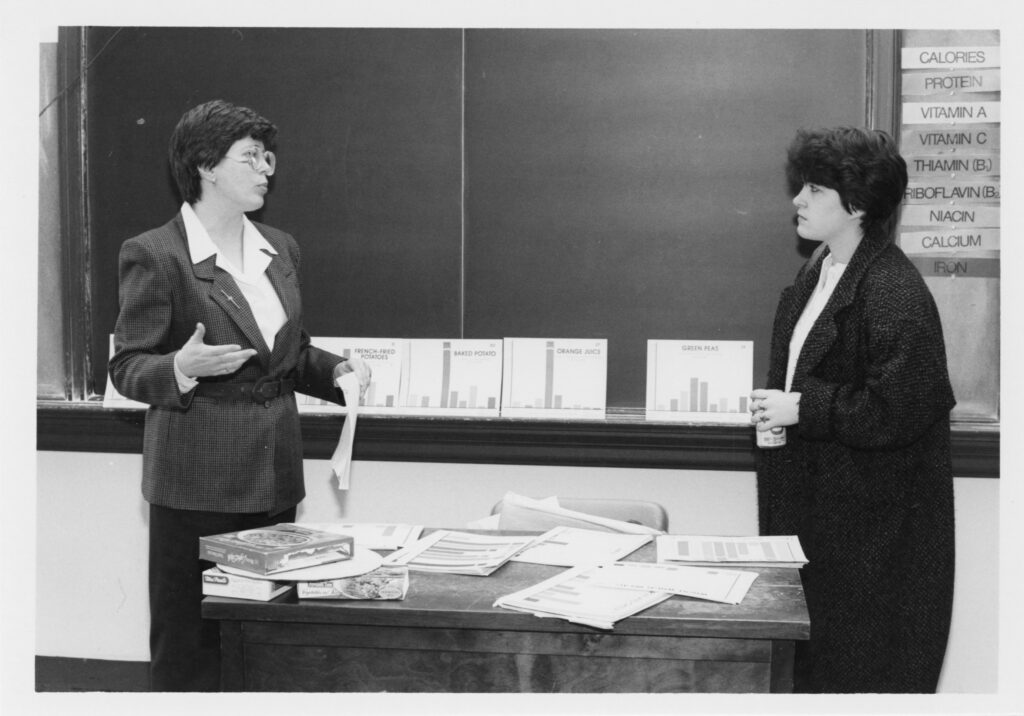 Nowadays, I think Home Economics has a reputation of being old-fashioned or outdated. There's a perception that this field of study was all about preparing young women for a life of housework, but, of course, reality is much more complex. Mundelein's Home Economics program put a high valuation on both the skills necessary to take care of the home and family and the application of those skills and level of care outside the home. Though Home Economics as a cohesive field of study has generally fallen out of style, the skills and knowledge of the field remain as relevant and important as ever.
[1] Women and Leadership Archives. Loyola University Chicago. Mundelein College Paper Records, Title. Box 28, Folder 24.
---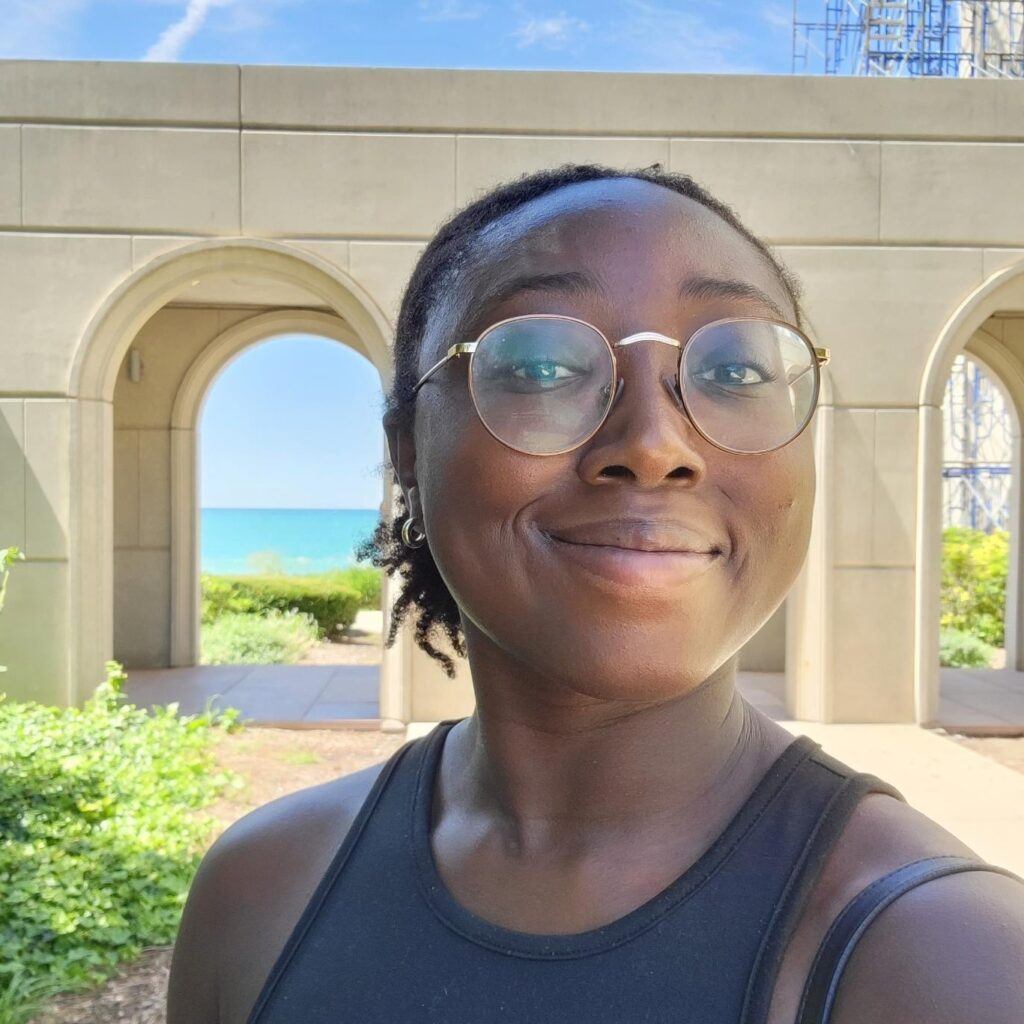 Yujay is a first-year student in the Master's in Library and Information Science MA Public History Dual Degree Program at Loyola University Chicago and Dominican University. She is a graduate assistant at the Women and Leadership Archives with research interests in post-war American material culture and photography. In her free time, she enjoys cooking, drawing, and collecting vintage postcards and magazines. 
---
Loyola University Chicago's Women and Leadership Archives Blog is designed to provide a positive environment for the Loyola community to discuss important issues and ideas. Differences of opinion are encouraged. We invite comments in response to posts and ask that you write in a civil and respectful manner. All comments will be screened for tone and content and must include the first and last name of the author and a valid email address. The appearance of comments on the blog does not imply the University's endorsement or acceptance of views expressed. Questions? Please contact the WLA at wlarchives@LUC.edu.
---