This summer, the Loyola Libraries are excited to bring you the World Cup of Books, an interactive program to encouraging reading books from other countries. Show your support for your favorite team by reading books from and about their country!
Today's match-ups include Poland v Senegal, Colombia v Japan, and Russia v Egypt.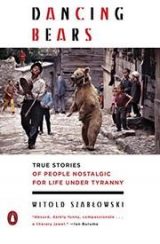 Poland:
Dancing Bears: True Stories of People Nostalgic for Life Under Tyranny by Witold Szablowski translated by Antonia Lloyd-Jones
The unsettling transition from socialism to democracy leaves many people longing for the past. Polish journalist Szablowski (The Assassin from Apricot City, 2013), winner of journalism awards in his native Poland as well as an English PEN award, investigates the effects of newfound freedom on individuals who spent their lives under authoritarian rule. Some of those individuals are bears: captured, tethered, and trained to dance in order to provide a livelihood for their Romani owners. In 2007, when Bulgaria joined the European Union, keeping these bears was outlawed; they were removed from captivity and sent to a wildlife refuge where they could roam free. Freedom, though, proved a challenge: having been plied with alcohol and candy, "they were used to having somebody do the thinking for them," and they became aimless and depressed. The bears' difficult adjustment to freedom serves as an analogy for humans in countries that emerged from communism. –Kirkus Reviews
Request it here, or on display at the IC!


Senegal:
Fisherman's Blues: a West African community at sea by Anna Badkhen illustrated by Anna Badkhen
For nearly 20 years, journalist Badkhen (Walking with Abel: Journeys with the Nomads of the African Savannah, 2015, etc.) has reported on daily life in Africa and the Middle East in six books of nonfiction and articles in venues such as the New York Times and the New Republic. But she had never focused on a population utterly dependent on the ocean. "How," she asks, "does the shifting demarcation line between earth and sea define the way we see the world, shape our community and communality"? For a season, she lived and worked in the West African port of Joal, Senegal, joining in the "primordial sloshing" aboard handcrafted boats that, day and night, in calm or storm, set out into the depths of the Atlantic Ocean for fish. During night fishing, she sailed for 20 hours at a time; on land, she writes, "I dream I am growing gills." – Kirkus Reviews
Request it here, or on display at Lewis Library!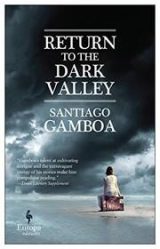 Colombia:
Return to the Dark Valley by Santiago Gamboa translated by Howard Curtis
"Cities are bad and they lie in wait for people." So says a police officer to a hospitalized victim of a street beating in Madrid, a city embroiled in all sorts of madness, including a wave of jihadi violence and economic unrest. That victim is a priest and former guerrilla who has been trying to distance himself from a past that is catching up with him, just as Manuela Beltrán, at the center of Colombian writer Gamboa's swirling kaleidoscope of a novel, struggles to come to terms with her own: a poet, student of philology, and an all-around sort of mystery woman, she yearns to avenge childhood abuse even as she keeps questionable company in the Spanish capital and uses literature as an escape. – Kirkus Reviews
Request it here, or on display at Lewis Library!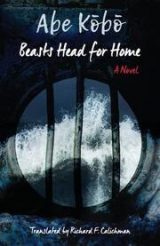 Japan:
Beasts Head for Home: A Novel by Kōbō Abe translated by Richard Calichman
In a scenario reminiscent of European contemporaries Wolfdietrich Schnurre and Friedrich Dürrenmatt, eminent Japanese novelist Abe (1924-93) imagines a liminal and forlorn compatriot who has grown up somewhere in Manchuria, the child of colonists who now, as Japan's Asian empire crumbles into dust at the end of World War II, must somehow find his way to a homeland that is alien to him. As this slim novel, originally published in 1957, opens, Kuki Kyuzo, still a teenager but now without parents, is in the hands of not unfriendly Soviet occupiers in a kind of no-man's land between Siberia, Mongolia, and China. He tucks away matches, a little food, a bottle of vodka to make good an escape. But from what, and to what?—Kirkus Reviews
Request it here, or on display at the IC!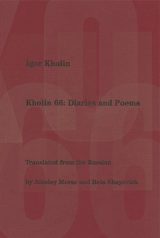 Russia:
Kholin 66: Diaries and Poems by Igor Kholin translated by Ainsley Morse
Kholin 66 is a trampoline into underground Soviet poet Igor Kholin's life and work through the window of a single autumn. In a string of acerbically related non-adventures excerpted from his 1966 diary, Kholin moves to the country, sleeps a lot, drinks and debauches among Moscow's literary underground, and eventually moves back to the city. Broke and bitter, he details his bemusement in terse, absurdist prose. The selection of Kholin's poems features self-deprecating self-portraits, bleak views of the Moscow outskirts, and strange visions of life on other planets. Illustrated with Ripley Whiteside's drawings of Kholin and his friends. –Ugly Duckling Press
Request it here, or on display at the IC!
Egypt:
Using Life: a novel by Aḥmad Nājī translated by Benjamin Koerber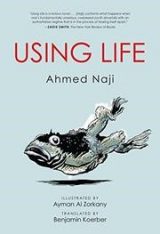 Bassam Bahgat is, he says, "a professional kiss-ass," adding, "What else could you expect from an economics and political science major?" He's not the only one: though narrating from the vantage point of an old man living in a time of worldly cataclysm, he recounts a whole generation forced to bow down in order to accommodate those in power. He's landed a gig far from what he really knows how to do, and now he's making a documentary film about a secret Cairo, one whose buildings themselves are instances of control and social engineering, one in which the entire city becomes a living creature, and not necessarily a friendly one at that. "If you're just a little mouse of a man spinning inside that Great Wheel, you never get to see the big picture," he reflects.
Request it here, or in the Cudahy Main Stacks!