This summer, the Loyola Libraries are excited to bring you the World Cup of Books, an interactive program to encourage reading books from other countries. Show your support for your favorite team by reading books from and about their country!
Today's quarter finals match-ups include France v Uruguay and Brazil v Belgium.
France:
Such fine boys by Patrick Modiano, translated by Mark Polizzotti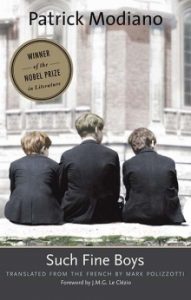 As a boarding school student in the early 1960s, Patrick Modiano lived among the troubled teenage sons of wealthy but self-involved parents. In this mesmerizing novel, Modiano weaves together a series of exquisitely crafted stories about such jettisoned boys at the exclusive Valvert School on the outskirts of Paris: abandoned children of privilege, left to create new family ties among themselves. Misfits and heroes, sports champions and good-hearted chums, the boys of Valvert misbehave, run away, get expelled, and engage in various forms of delinquency and disappearance. They emerge into adulthood tragically damaged, still tethered to their adolescent selves, powerless to escape the central loneliness of their lives in an ever-darkening spiral of self-delusion and grim consequence.

A meditation on nostalgia, the pitfalls of privilege, and the vicissitudes of fate, this book fully demonstrates the powerful mix of sadness, mystery, wonder, and ominous danger that characterizes Modiano's most rewarding fiction.—Yale University Press
Find it here!
Uruguay:
Little Indiscretions by Carmen Posadas, translated by Christopher Andrews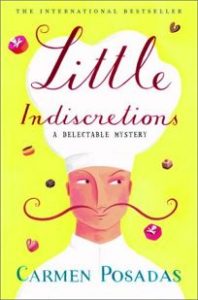 The death of a manipulative, mischievous pastry chef sets the stage for this insouciant whodunit, with its humorous and philosophical narrative voice, from Spanish author Posadas. When the frozen body of Nestor Chaffino, who had been hired to cater a party at art dealer Ernesto Teldi's Costa del Sol summer house, turns up in the kitchen "cool room" the morning of the party, the evidence, including a nonworking alarm button in the freezer, points to murder. And why was the victim clutching a scrap of paper with a fragmentary list of dessert recipes? In a series of flashbacks, the author adroitly lays out the "little indiscretions," adulterous and otherwise (recorded by the conniving Nestor in his moleskin notebook), that bind Ernesto, his wife, a naïve young Czech kitchen helper, a renegade waitress, a widowed judge and various other distinctive and unusual characters. The action proceeds with all the inevitability of a Greek tragedy to a denouement both hilarious and horrifying.—Publishers Weekly
Find it here!

Brazil:
Graciliano Ramos and the making of modern Brazil: memory, politics and identities edited by Sara Lucia Amelia Brandellero and Lucia Villares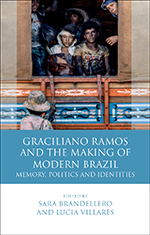 Brazilian writer Graciliano Ramos (1892–1953) is a key figure in understanding the making of modern Brazil, and this collection gathers the most up-to-date criticism and analysis of his work. Contributors consider issues such as Ramos's dialogue with literary tradition, his legacy for contemporary writers, and his treatment of racial discrimination and gender inequality. The book also addresses his involvement in politics, offering fresh perspectives on what can be gleaned of his political thinking from his work and engagement.—The University of Chicago Press Books
Find it here, or on display at the IC.
Belgium:
Pétronille by Amelie Nothomb, translated by Alison Anderson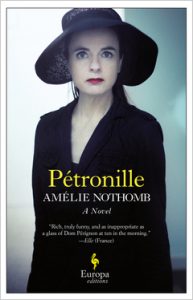 Employing wry humor and a deceptively simple style, Amélie Nothomb, the author of over twenty-three bestselling novels (over exactly twenty-three years!) writes about twin abiding passions: one for champagne, and the other for a riotous friendship between her protagonist and Pétronille Fanto, a woman who refuses to drink alone. This is a funny, moving, "exotic" novel about travel, France, Champagne, and, above all, about women's friendship. The on-again/off-again friendship between Petronille and the main character in the book, a writer by the name of Amélie Nothomb, gives the story it verve and the novel its heart. This is literary Thelma & Louise, with a little bit of French panache and a whole lot of champagne thrown into the mix. Amélie Nothomb is one of Europe's most successful and talked about authors. Hygiene and the Assassin, her first published novel, was published when she was only twenty-five and since then she has become a cult figure, occupying a unique position in the world of French and European fiction. Delightful and witty, Pétronille is further proof of Nothomb's versatility and brilliance.—Europa editions
Find it here, or on display at the IC.