This summer, the Loyola Libraries are excited to bring you the World Cup of Books, an interactive program to encourage reading books from other countries. Show your support for your favorite team by reading books from and about their country!
Today's quarterfinal match-ups include Sweden vs England and Russia v Croatia
Sweden: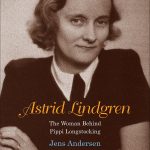 Astrid Lindgren: the woman behind Pippi Longstocking by Jens Andersen, translated by Caroline Waight
No one expected Sweden to get this far, just as no one expected Astrid Lindgren would become one of the most famous Swedish writers of all time. If the Swedish national team want to make it through to the semifinals, they'll need to take a page from Lindgren (and maybe even her iconic character, Pippi Longstocking's) book and work for it.
Insightful, elegantly written biography of the beloved author of the Pippi Longstocking tales, a complex woman of parts. Born into a family of farmers who instilled in her the virtues of hard work and a certain Nordic stoicism, Lindgren started off as a teenager fresh out of school working as a journalist—and quickly became pregnant by the mercurial editor, who, though "neither a journalist nor an author…could hear the difference between good and bad storytelling." One wishes for Lindgren's sake that he had been a better man, but the editor clearly knew that Lindgren had a gift. It was, Andersen writes, a gift laden with psychological insecurities. Lindgren wrote in a range of genres, including books for grown-ups that included crime stories, comedies, and fables as well as her famed writings for young readers; many, as Andersen recounts, had a political edge as well as a psychological dimension, some specifically anti-Nazi. Readers who grew up on Lindgren's stories will find this excellent book irresistible—and often surprising. –Kirkus Review
Request it here, or grab it from the Cudahy Main Stacks
England:
Dunbar by Edward St Aubyn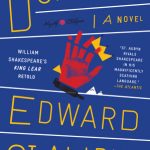 For an English team which has already re-written history, we suggest this modernized version of King Lear, which (like Harry Kane and the rest of the England squad) stands out for both its brilliance and its originality. Steeped in the tradition of its predecessors, Dunbar and the current England team are nonetheless strong enough to stand on their own.
A brilliant reworking of William Shakespeare's King Lear for our day. Henry Dunbar, bearing a proud Scottish name and lamenting declining fortunes and capacities, may or may not be "more sinn'd against than sinning." At the outset of St. Aubyn's retelling, shuffling the order of the play, Lear is in a pricey English sanitarium, fuming that his hydra-headed business has been wrested from him. As in the original play, Dunbar is a sputtering font of righteous rage, indignant that daughters Abby and Megan have outmaneuvered him, incapable of separating out his "good" daughter, Florence, from all those he reckons have done him wrong; Florence, meanwhile, compounds his wrath by gladly living on her own out in the wilds of Wyoming, cut out of profits and out of the will. There's but one thing to do, Dunbar decides, and that's to bust out of psychiatric prison, go off the meds, and range the moorlands to work out a horrific realization: "there was no one else to blame for the treachery of everything; the horror, in the end, the horror was the way his mind worked." A superb, assured reminder that as flies to wanton boys are we to the gods—and that ain't good. –Kirkus Review
Request it here, or grab it from Cudahy Main Stacks
Russia: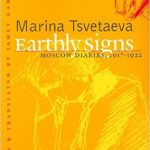 Earthly signs: Moscow diaries, 1917-1922 by Marina T͡Svetaeva, translated by Jamey Gambrell
This choice may seem a little bleak, especially when one considers the fact that the host nation has made it further than anyone ever expected. However, though we've all loved the drama and the splendor of this world cup, it would be irresponsible to forget entirely the corruption and scandal which preceded Russia 2018. As we celebrate with the Russian people, these essays and poems will do well to remind us of the struggles the country has faced in the last century, many of which persist today.
Marina Tsvetaeva (1892-1941) ranks with Anna Akhmatova, Osip Mandelstam and Boris Pasternak as one of Russia's greatest 20th-century poets. Her suicide at the age of 48 was the tragic culmination of a life beset by loss and hardship. Events and individuals are seen through the lens of her personal experience – that of a destitute young woman of upper-class background with two small children (one of whom died of starvation), a missing husband, and no means of support other than her poetry. These autobiographical writings, sources of information on Tsvetaeva and her literary contemporaries, are also significant for the insights they provide into the sources and methodology of her difficult poetic language. In addition, they supply an eyewitness account of a dramatic period in Russian history, told by a gifted and outspoken poet.
Request it here, or grab it from the Cudahy Main Stacks
Croatia: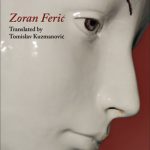 The Death of the Little Match Girl by Zoran Feric, translated by Tomislav Kuzmanovic
After a consummate performance against Denmark, Croatia are probably feeling much the opposite of the characters in Feric's haunting novel. And yet, the writer's subtle and twisting uses of anticlimax may echo the strangeness of a win on penalties leading to a match against the host nation. To get through this stage, Luca Modric and his teammates will have to twist and turn through the strength of the Russian team, just and Feric's novel twists its plot.

Set in a fairytale-like atmosphere on the Adriatic island of Rab, The Death of the Little Match Girl begins with the tragic scene of a little girl's funeral only to transform into an eerie investigation of the murder of a prostitute nicknamed "the little match girl."

The story's creepy settings, bizarre exchanges, dark humor, and deep sarcasm reflect the absurd grotesqueness of the war raging on the mainland, and the despair of a country that seems to have lost its bearings in space and time. –Autumn Hill Books
Request it here, or grab it from the Cudahy Main Stacks
Have you read any of these books, or a book from another country participating in the 2018 World Cup? Add a review of a book from a participating nation to our bracket here! You can also fill out our quick form here, and we'll add your review to the bracket board. Your review may appear in a future blog post!