It has been a pleasure to bring you the World Cup of Books this summer! We hope you've enjoyed reading about some of the amazing books in translation we hold at the Loyola Libraries, and reading along with us through this dramatic World Cup.
The 2018 World Cup Final will take place today, July 15th, at 10am CT between France, who won the World Cup on home soil in 1998, and Croatia, who have made the final for the first time since the tournament began in 1930.
France:
The Heart by Maylis de Kerangal, translated by Sam Taylor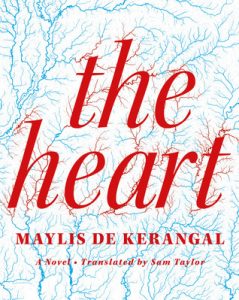 The subject of this novel seems like a grim choice for the elation of a World Cup final: a 19-year-old boy named Simon is declared braindead after a car crash, and his parents must come to terms with the donation of his organs, particularly his heart. Ingrained in this novel is loss and death—we know from the outset that Simon will not survive, just as we know from the outset of this match that only one team will end the game victorious. But it is a story about humanity, what makes us so glaringly human—a question of if "the heart is more than the heart," just as we've been asking ourselves if soccer is more than soccer.
Kylian Mbappe, France's latest superstar, is the same age as Simon. Though Mbappe cuts a much less tragic figure, there are similarities. In the novel, Simon's mother describes her son as generous, which has "little to do with their son's generosity … he was more catlike, lighthearted and selfish … This 'yes' is more a description of Simon as a whole, lifting him up to let him shine, a modest, direct boy who devoured the intensity of his youth." The passage rings with truth not just about Mbappe, but many of the other players on this young, diasporic French team. Throughout the tournament, they have showed the intensity of their youth. They have carried the hopes of their nation and, in many cases, the hopes of the nations of their ancestors. They have been direct and determined. And no matter what happens today, they have shown us that soccer can be more than soccer.
Find the novel here or grab it from the Cudahy Main Stacks
Croatia:
The banquet in Blitva by Miroslav Krleža, translated by E. D Goy and Jasna Levinger-Goy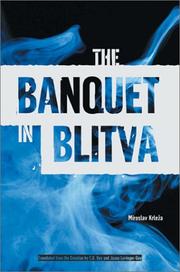 This novel, written by one of Croatia's greatest authors, was published in 1939, long before Croatia became an independent nation. Krleža was condemned as a leftist and was reviled by the fascist government. He did not live to see Croatia gain its independence in 1991, but this novel masterfully dissects the dangers of xenophobia and the creeping specter of fascism.
Luka Modrić, who has delighted and impressed in every game at this World Cup, was born six years before Croatia gained its independence, and his upbringing reflects the turmoil of the Croatian War of Independence. At the age of six, he became a refugee after his grandfather was executed by Croatian Serb rebels and his village was burned to the ground. Modrić learned to play soccer in the parking lot of the hotel where his family lived for seven years with other refugee families.
His story is not the only such story on this team which has, against all odds, reached their first World Cup final. But haven't done it as underdogs—they've played more minutes than any other team in the tournament and still managed to look stronger and more energetic than England in the semifinal match on Wednesday. As this young nation approaches the final, we've seen them rise to every occasion. Today should be no different.
Find the novel here or grab it from the Cudahy Main Stacks
Already missing the drama of the World Cup? Our displays will be up in the Cudahy and Lewis Libraries until August 1st. Grab a book (or two) from the country which won your heart. Happy summer and happy reading!