The Leopold and Loeb Files takes a first-of-its-kind approach to the infamous murder of 14-year-old Bobby Franks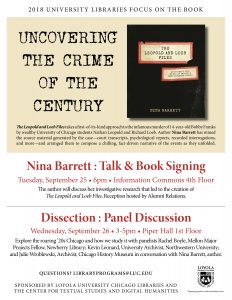 by wealthy University of Chicago students Nathan Leopold and Richard Loeb. Author Nina Barrett has mined the source material generated by the case—court transcripts, psychological reports, recorded interrogations, and more—and arranged them to compose a chilling, fact-driven narrative of the events as they unfolded.
The Loyola Libraries presents two events related to Nina Barrett's new book.
Nina Barrett : Talk & Book Signing
Tuesday, September 25 • 6pm • Information Commons 4th Floor
The author will discuss her investigative research that led to the creation of The Leopold and Loeb Files. Reception hosted by Alumni Relations. Registration is encouraged! LUC.edu/alumni/librariesspeaker
Dissection : Panel Discussion
Wednesday, September 26 • 3-5pm • Piper Hall 1st Floor
Explore the roaring '20s Chicago and how we study it with panelists Rachel Boyle, Mellon Major Projects Fellow, Newberry Library; Kevin Leonard, University Archivist, Northwestern University; and Julie Wroblewski, Archivist, Chicago History Museum in conversation with Nina Barrett, author.