During the month of December, Loyola Libraries staff make lists and check them twice. What are these lists about? Anything! You can look at past years' lists here, and stay tuned for more lists all month long!
I have been a Stephen Colbert fan for years. I watched him when he did the Colbert Report and from episode one of the Late Show with Stephen Colbert. He is hands down one of the wittiest, warm, fun, knowledgeable, and nerdiest people on television and it's great seeing him nerd out to Tolkien and get embarrassed by Nicki Minaj. He is a complete beast when it comes to political satire and these are just a fraction of my favorite moments of him. So enjoy.
10. Jeff Sessions – I do not recall
I'm pretty sure it doesn't help that he looks like a Keebler elf cookie.

9. Colbert & James Franco's Tolkien Showdown
This is only the beginning of Stephen's extensive knowledge of the Tolkien realm, but this is only a taste of what happens when you question his knowledge.

8. Tuck Buckford
There are many segments of this…segment but this is probably one of my favorites.

7. Defending John Dickerson
He basically created a new word that is inappropriate, but HA-larious!

6. Emmy Appearance
This was when Stephen and Jon were at their peak and really was digging into the political satire world and let's be honest, I'm sure no one was expecting that. His other Emmy appearances are fantastic as well but this just shows you how high the bar really is.

5. Nicki Minaj Interview
This is hands down, one of my all-time favorite interviews because of how uncomfortable Nicki was able to make Stephen. I think because of how total opposites they both are makes the interview even all the more enjoyable.

4. Joe Biden
We as the viewers are able to see a rare beauty in television today by seeing two public figures come together and have an intimate, vulnerable conversation about something many people struggle with and that's the loss of the a loved one.

3. The Hungry for Power Games
This is one of my favorite segment that Stephen does. Hands down. No question. I loved every moment of this and this clip is only a fraction of the hilariousness that Stephen brought to the table.

2. The Tables Have Turned!!
So over the Thanksgiving weekend, the Late Show was basically on a "vacation". So what they did instead of just running rerun episodes is they actually had guests interview Stephen Colbert. Jon Stewart, Neil deGrasse Tyson, and Kerry Washington all pitched in to produce this episode and what I really love is we're able to get a glimpse of who Stephen really is. In television, authenticity is rare and the fact they did this is amazing and allows us to accept that people are actually people.

1. Stephen's Dream Come True
Now, as stated; Stephen is a HUGE Tolkien fan (as am I) and Liv Tyler happen to be coming onto the show and this was awesome. His giddiness and Tolkien nerd was on 150%.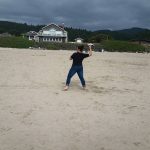 Victoria is the Interlibrary Loan Assistant and is actually a West Coast native; California born and Seattle raised. She loves kicking it at home with her daughter, fiancé, dog, and cat. And she loves tacos.