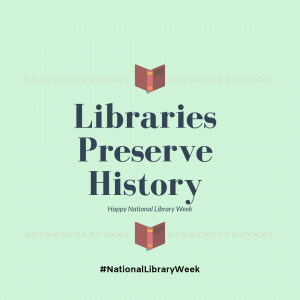 As part of our celebration of #NationalLibraryWeek, we're doing a series on what libraries actually DO to help build strong communities. Check back throughout the week for more!
Libraries preserve history, but they also do a lot more in the process. Over the past several years I've had the opportunity to work on or observe several preservation projects that Loyola's libraries have helped create. A common thread among these projects was that they involved collaboration between departments, faculty, staff, students, and in some cases the general public, resulting in finished projects far greater than the sums of their parts.
One of the projects I was directly involved with as a public history graduate student at Loyola was the Jesuit Libraries Provenance Project (JLPP). The project—now in its final stages—investigates Catholic intellectual history at Loyola through an examination of its oldest surviving catalog (c.1878). The recreation and examination of the catalog has been done through the creation of a virtual library system (VLS), and through its flickr site designed to create "a participatory community of bibliographers, academics, private collectors, alumni, and students interested in the origins of Jesuit-held books" with the hope that it will "reconstruct important aspects of the Catholic intellectual tradition" (JLPP Blog). Of course, preserving the old catalog and the more than 1,750 extant books from the library's early collection—some even found to still be in general circulation—would have been a worthwhile undertaking by itself. However, collaboration between faculty, staff, and student workers across the university's libraries, archives, Public History and Digital Humanities Departments, combined with the crowd sourced knowledge of an interested public, has helped make the Jesuit Libraries Provenance Project both an exercise in the preservation of specific artifacts, and in the preservation of the systems of thought and education that were valued by Chicago's late 19th century Jesuit community.
The creation of the Voices from Mundelein: Media Portal (VFMMP) and its twenty-seven interviews spread across seven online collections is another example of a collaborative project from Loyola's Women and Leadership Archives and history graduate students that was sponsored by Loyola's University Libraries. The collections of digitized interviews available through the online portal give voice to the faculty, staff, and students of Mundelein College—established as "a modern educational institution for women"—between the years 1930 and 1991, the year Mundelein was incorporated into Loyola. Taken together, these collections of interviews place Mundelein's Sisters of Charity of the Blessed Virgin Mary (BVMs), faculty, staff and students in local, national, and international contexts including the civil rights march from Selma to Montgomery, as well as protests against the Vietnam War, the US intervention in Cambodia, and the Kent State shootings.
Most recently, Loyola has been preparing for its 150th anniversary through another collaborative project between the University Libraries, University Archives, Women and Leadership Archives, Center for Textual Studies and Digital Humanities (CTSDH), and the Public History Program. A recent grant has been received by the university to provide "funding to research the University's history, digitize important materials, and create digital projects that begin to interpret how the University has evolved through its first 150 years" (CTSDH). A portion of the grant will also go towards funding four graduate students selected from Loyola's public history and digital humanities programs who will use the skillsets from their respective programs to help bring the project to fruition.
While these projects are helping to save certain discrete aspects of Loyola's history for posterity, they are also helping to contextualize the university's history in broader local, national, and international historical narratives. At the same time, Loyola students participating in these projects have gained invaluable professional experiences and skills that they will take with them as they move forward in their careers. While libraries have done well to preserve on their own, they preserve even better when they collaborate.
This post was written by Reference Intern Adam Widera.
To help support the Loyola Libraries, please consider donating to help us continue this work at http://www.LUC.edu/LibraryWeek2019