Lewis Library: Now & Then
Each year, National Library Week occupies a time and space in April. Themes are chosen to represent how libraries impact our lives, usually many months before the actual week. That's why, this year's theme may have seemed a bit ironic (don't you think?) due to the current pandemic that's engulfing the world. "Find Your Place at the Library" implies a physical space, but libraries impact us wherever we are, especially at home! While our doors maybe closed, our services and staff are still available to help you wherever you sheltered in place. Our digital resources span from eBooks, streaming services, databases, and Ask a Librarian chats. This week we had weeklong trivia contest with great prizes and Knit w/ the Libraries Zoom session to continue our normal programming events. Through our Social Media platforms, we strive to reach you everywhere and pass along relevant information and fun memes! As library workers, our mission goes beyond physicality and brings us right into your homes!
While we are stuck at home, it is also a great time to reflect on how our services have changed over time. Review our past work and plan for future improvements. Some of our staff went through old photos and found some from 1994-1995! Did you know this was when Lewis Library, as we know it, opened? Do you know where Lewis Library was located before the move? Well, we interviewed some staff to find out a little bit more.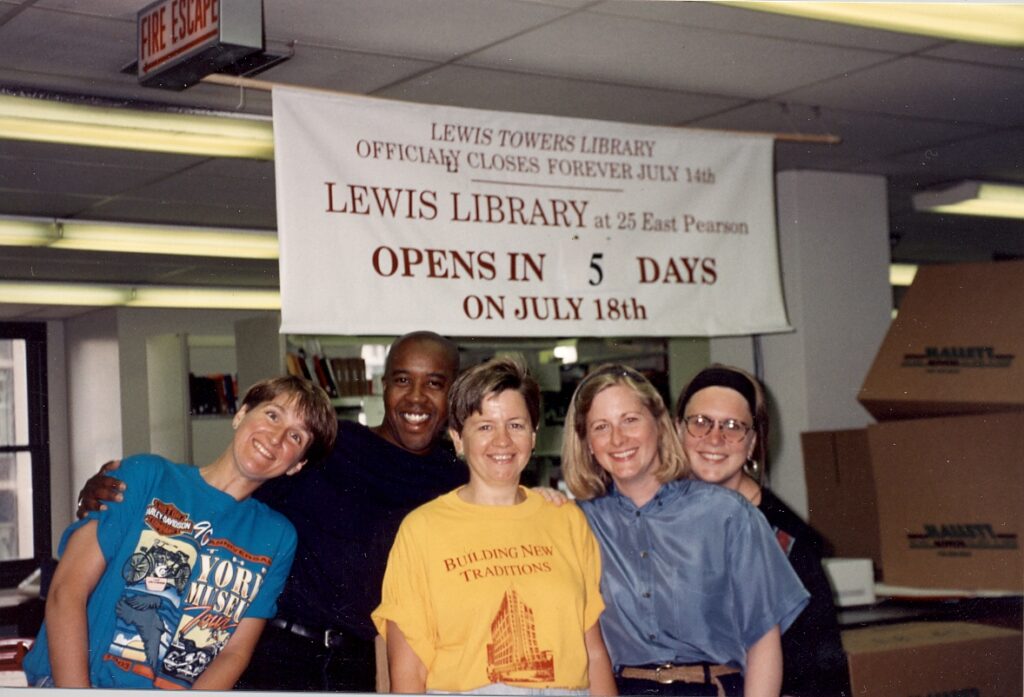 When did Lewis Library open? How long was the renovation? Where was the library located before/during the renovation?
Vanessa:
Lewis Library I believe officially opened in July of 1994. It probably took at least a year to build the building though I don't really remember for sure.
The renovation was actually a new build/new library as 25 East Pearson was built to accommodate the Business school.
Before the move, the library was called Julia D. Lewis Library for the wife of Frank J. Lewis (the family that donated the building to Loyola). The library was located at 820 N. Michigan Avenue. In that space the library occupied, the 10th through the 13th floors of the Lewis Towers building, with the entrance to the library on the 12th floor. [Originally built as the Illinois Women's Athletic Club, it also housed several stores and offices, all of which catered to women.]
I arrived at the Lewis Library in 1977 and started working at the circulation desk as a student worker. I do not know how long the library had been in that space.
Yolande:
Lewis library was located in the Lewis Towers building from the 1940's till July 1994. I don't recall when construction began for the new building which is now called Corboy Law Center. Lewis Library opened in Corboy Law Center on July 18, 1994.
Bernie:
Lewis Library opened on July 18th, 1994. I don't know how long the renovation took, but During the renovation the library was located at 820 N. Michigan Avenue on the 12the floor of the Lewis Towers Building.
Terry:
Lewis Library, where it stands today opened in 1994. At that time, there was no assigned name to the building. As I recall, 25 E. Pearson housed Lewis Library and the School of Business.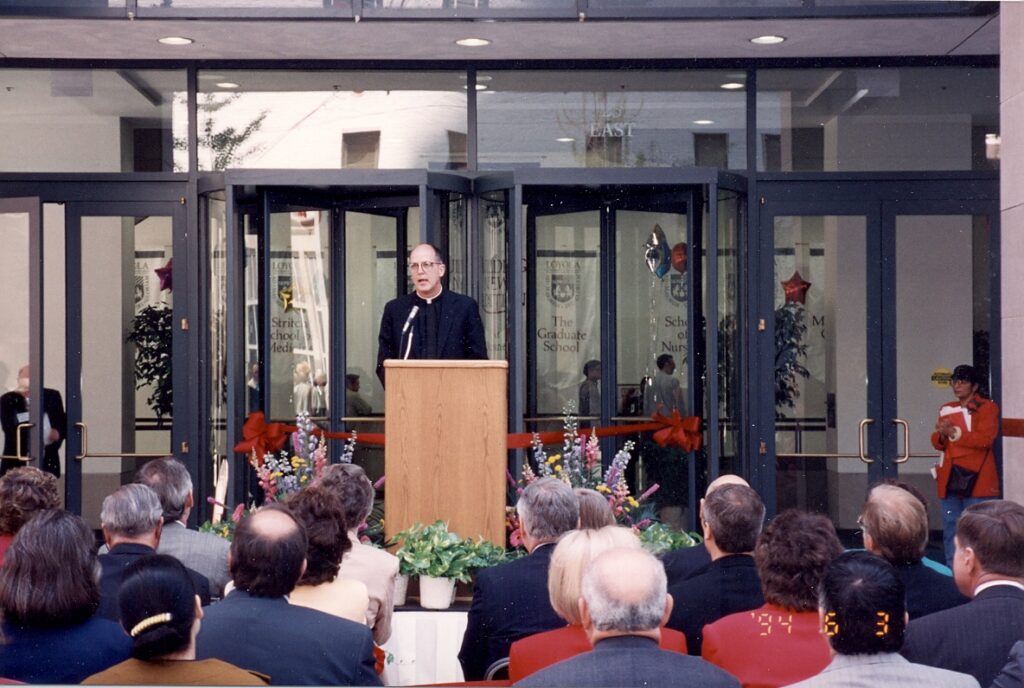 Did the libraries host a grand reopening event? What was it like? How did our patrons react to the new space?
Vanessa:
I know there were a lot of people around when the building opened, and there was found on 10th floor reading room, probably because it was a huge space. Either the university held part, or the library did. I think people we excited by the newness of the building and the space. Before the move (and the splitting of the Lewis collection between the new building and the Mallinckrodt Library at the Wilmette campus) the library had overflowing shelves of material, especially in the education collection.
Yolande:
Yes, we had a grand opening on the day the building was dedicated. Fr. John Piderit, S.J. was President at the time and he was at the event.
We had an open house for the entire building. Lewis Library had flower arrangements on all 6 floors of the library. There was also food served in the Reading Room on the 10th floor. With the floor-to-ceiling windows, it was a grand sight. The ALA annual meeting in 1995, was held in Chicago. There was a reception for International Librarians held in the Reading Room, 10th floor.
I remember that all library staff were impressed with the space. We had our own offices with great views (at that time, we had a direct view of the lake!). We had been so cramped in Lewis Towers and all that new space in 25 E. Pearson was such a welcome change for us.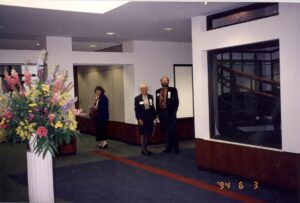 "Lewis Library had flower arrangements on all 6 floors of the library. "
Bernie:
It was the grand opening of the entire building and the full-time staff at Lewis library hosted part of that grand opening at the library. All the staff members were dressed in nice apparel and greeted everyone that were affiliated with Loyola, which also included the public because at that particular time Lewis Library was opened to the public. It was absolutely a beautiful opening and faculty, staff, and students were very enthusiastic about how spacious the library was. Although, some students missed the study hall room at 820 N. Michigan (which was a beautiful open study room with bay windows). The theme for Lewis library opening which was "Building New Traditions"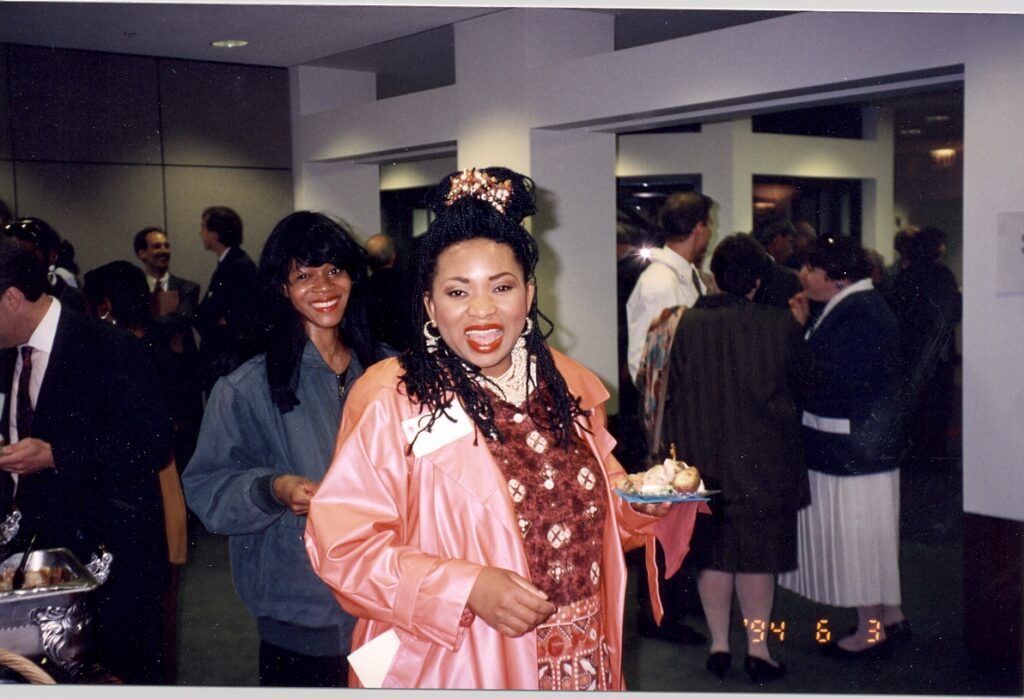 "All the staff members were dressed in nice apparel and greeted everyone that were affiliated with Loyola…"
Terry:
Yes, there was a grand ribbon cutting celebration. There were many dignitaries. I recall seeing Jayne Byrne, former mayor of Chicago. Inside, there was a catered event with servers and a quartet of musicians. It was opened to the community, so there were many in attendance.
Our patrons loved the space. At that time, the library was on floors 6-11. The 6th floor was the service area, Circulation, and the Reference Area. There was even a lounge for students with seating area and vending machines. The 7th floor was the library administration area. At the time we moved in, I did not have the position that I have now. I was a part time administrative assistant for the head of the library, David Green. In the afternoon, I would go downstairs and work for the Circulation Department as a part time Circulation Assistant. The Periodicals collections was on the 8th floor. Study areas and study rooms were located on floors 9-11. There are a balcony overlooking the 10th and 11th floors with study rooms. The spiral staircase went from floors 6 through 11. There was plenty of space for students to use.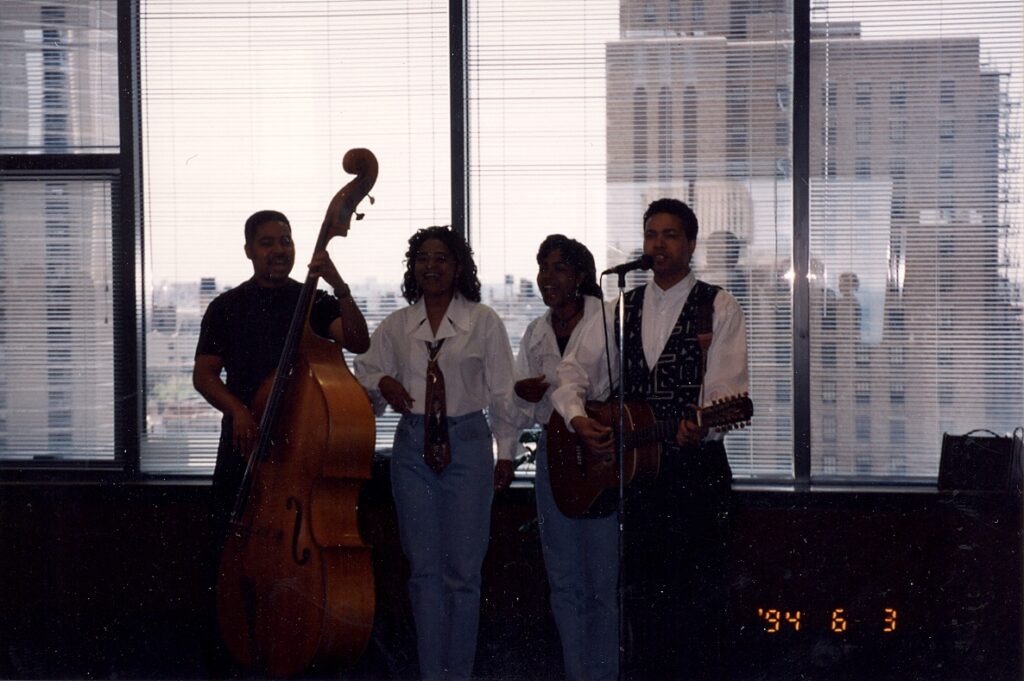 "Inside, there was a catered event with servers and a quartet of musicians."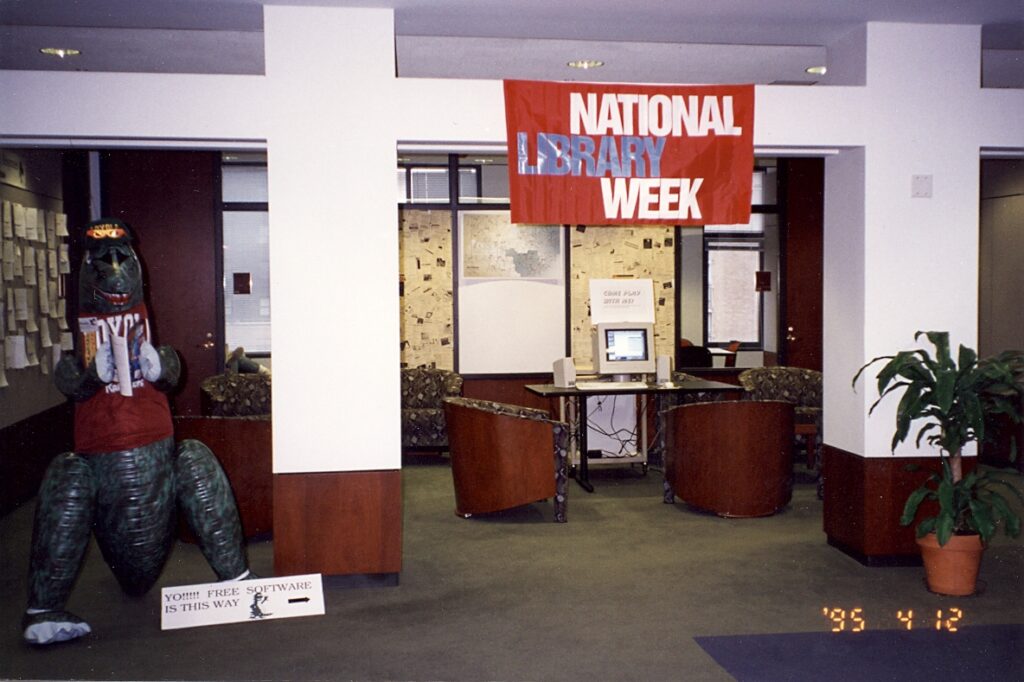 What was National Library Week like during this time? Tell us about the inflatable dinosaur? Where is he today?
Vanessa:
This took place after national library week, but for subsequent NLW's we celebrated with trivia quizzes, raffles, and puzzles, most of which I made without graphic programs on a computer.
I believe that Mozilla is in a storage room some place in the library. He's been deflated and is probably gathering dust. He was an interesting sight to see on the sixth floor. I think they put a Hawaiian shirt on him one time.
Yolanda:
I really don't remember. I do know that technology was so new, and we were giving away DVD's with library information on them. The inflatable dinosaur was in one of our storage closets for many years and finally tossed out because it was deteriorating.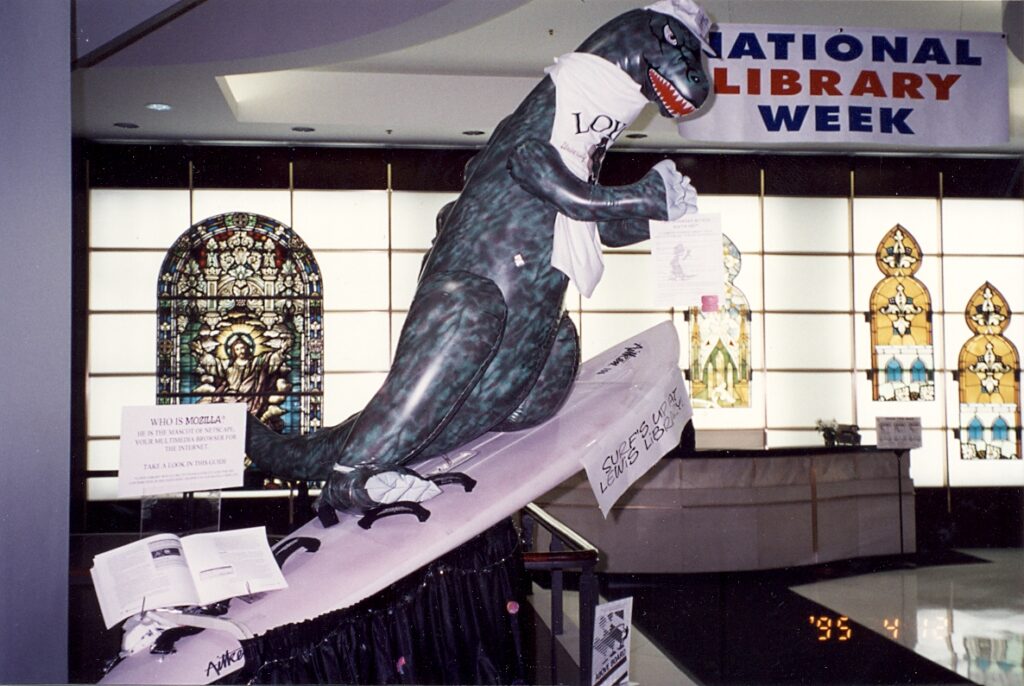 Can you tell us a little bit about how National Library Week has changed over the years?
Vanessa:
The technology has changed, but just because there was no social media. If we put the price in a highly visible location, we got participation. I just had to ask for material from ALA and I usually got it.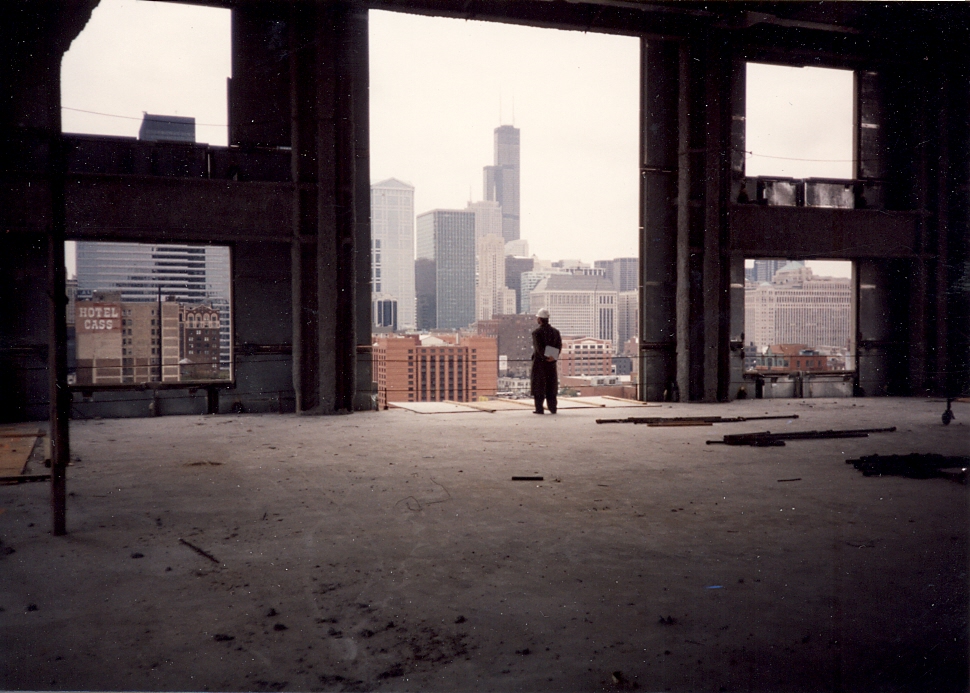 What's your favorite memory from the opening of Lewis library and/or National Library Week?
Vanessa:
I cannot think of one-off hand, except usually if the week was close to Easter, we tied in Easter candy as a prize for a contest. When Hershey's store was in Lewis Towers, we could get huge solid milk chocolate pieces like a giant Hershey's Kiss. You cannot go wrong with chocolate.
Yolande:
I remember going into my own office and admiring the view from the windows, looking at all the space I had acquired, all the bookcase space that I had.
Bernie:
My favorite memory from the opening of Lewis Library was the periodical desk (before it was removed) and the circulation desk. I was enchanted on how large the space was for both desks.
Terry:
My favorite memory was being in awe of the new library. It was beautiful. There were more elevators and more space! There were three at Lewis Towers. The space at Lewis Library was stretched to capacity and it was time to move!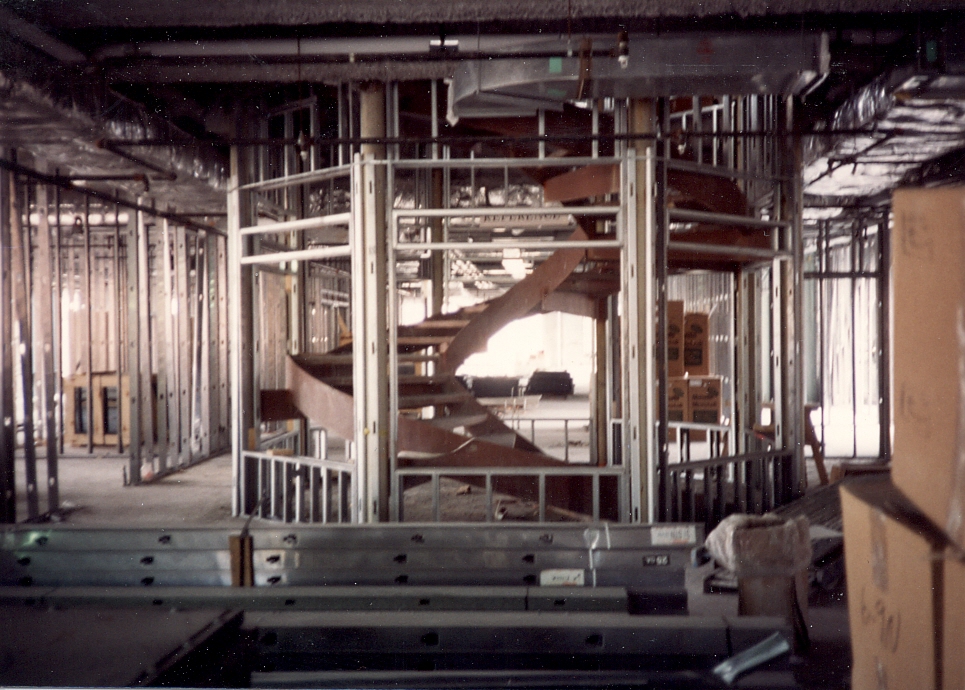 What would you like to see for the future of Lewis Library?
Vanessa:
I hope we continue and thrive in whatever direction technology and the patrons need; and that Lewis Library is a vital part of the university for a long time to come.
Yolande:
In light of the pandemic, I would like to see Lewis Library use space efficiently. By that I mean, that we should have more open spaces with comfortable furniture. Perhaps reduced print collections and expanded online access to books. Being part of a building and not a separate library building such as Cudahy/IC, we have different challenges such as hours of operation, elevator access to the library, security concerns. And I would definitely like to see the elimination of the spiral staircase 🙂
Bernie:
For the future of Lewis Library, I would like to see additional floors, so that the library will have more extended space for all the new books that are steadily coming in.