March 8th, 2015, the day before we returned from our mini vacations was International Women's day. Actually, the beginning of our spring break (the start of March), Women's History month, began the celebration of women in their progress toward the fight for equality and commemoration in their achievements throughout leadership positions. As I reflect I think of my internship at the Women's and Leadership Archives (WLA).
Archives, also known as, history's organized treasure trove. Archives have gotten a pretty bad reputation as being a collection of dusty recorded paperwork. My first day at the WLA I was unsure about archives, specifically, I was worried about damaging these important items I was so delicately handling. I walked into this internship with an interest in the field of archiving and a passion for history. The WLA called out to me in my search for the perfect internship. An organization dedicated to collecting, preserving, and recording the contributions of women and their leadership activities was something I felt was fascinating. I wanted to take my last semester at Loyola to contribute and learn from this organization.
During my time at the WLA, I have encountered an array of historical materials. I had the privilege of holding Mercedes McCambridge's Oscar from 1935 when she acted in the film All the Kings Men (she was also considered for the role of Roz in Monsters Inc.). I was able to listen personal accounts about the 1960's Civil Rights Era from Loyola's most well known celebrity, Sister Jean, along with other important faculty and staff who ran Mundelein College before it's affiliation with Loyola University Chicago in 1991.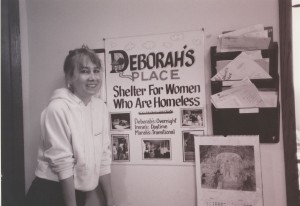 Currently, I am working with a very special collection called Deborah's Place. Deborah's Place, established in 1985 by Patricia A. Crowley, OSB, and her Mother, Patricia C. Crowley, who fought to end the cycle of female homelessness in Chicago through a continuum of housing options, comprehensive support services, and opportunities for change provided by dedicated volunteers and staff. Deborah's Place has now been serving the Chicago land community for the past 27 years.
As I sat in the WLA on my Monday afternoons, sifting through these important documents, I found myself looking into the stories and files of each participant. Deborah's Place is truly a treasure trove because of the various documents that the WLA has in possession. While my work is compiling and organizing each of these documents from the finding aid, I stopped myself and delved deep in reading reports about the health of each individual that utilized Deborah's Place. From the various expansions of Deborah's Place to the struggle to find funding, this archive tells a story of how passionate these women were in fighting for female rehabilitation and survival.
My experiences with Deborah's Place have been nothing but engaging and enriching as I build my knowledge in attaining skills that transcend outside the classroom. I have been blessed to get a glimpse into the hardships of running a women's shelter and the heart wrenching experiences of the participants. As I continue my internship at the WLA I know I hold a much stronger appreciation for women everywhere.
Adam is currently a Spring Semester intern at the WLA. He is a Senior who will be graduating with a BA in History. When Adam isn't doing homework, he is usually found in the Jewish space on campus, Hillel, engaging in the community.
---
Loyola University Chicago's Women and Leadership Archives Blog is designed to provide a positive environment for the Loyola community to discuss important issues and ideas. Differences of opinion are encouraged. We invite comments in response to posts and ask that you write in a civil and respectful manner. All comments will be screened for tone and content and must include the first and last name of the author and a valid email address. The appearance of comments on the blog does not imply the University's endorsement or acceptance of views expressed.
---