When a collection comes into the WLA, a staff member looks at all of the records and comes up with a processing plan to organize the collection and make it accessible for users. Depending on the amount of material, type of material, and how much the donor originally organized it, some collections can be processed quickly and others take months. The goal of processing is to make all of the material easy to find for the user.
Here are some of the collections you can expect to see at the WLA soon!
Angie Taddeo
Angelina (Angie) Taddeo is a former teacher and homemaker. Angie graduated from Immaculata High School in 1946 and from Mundelein College in 1950 as one of only two music majors in her year. While at Mundelein, she studied music with Catherine Wessels, BVM. Wessels read Taddeo a letter in Etude magazine about German pianist, composer, and critic Walter Niemann. Niemann needed food and clothing while prisoner in a forced labor camp. Angie was studying his pieces, so when her parents sent him clothing and food, she began to correspond with Niemann.
Angie married Loyola University Chicago alum Joseph C. Taddeo in 1951. She bought a piano with wedding gift money. After graduation, Angie taught at St. Eulalia School in Maywood, IL and took summer primary education courses at Loyola University. She would go on to teach at other Catholic and public schools in the Chicago area, such as Rezin Orr Elementary, through the 1970s.
Church Women United Elgin
Church Women United (CWU) is a denominationally inclusive Christian women's organization that strives for social justice and world peace. The Elgin chapter of Church Women United was founded in 1957 and is one of more than 100 CWU chapters affiliated with Church Women United in Illinois.
CWU Elgin took part in many national and international events that promote prayer and peace and supports many local, national, and international charities. One of the most significant contributions to the Elgin community was the creation of Meals on Wheels in 1972. Created and led by Shirley Minks, CWU Elgin was in charge of planning, delivery, volunteers, bookkeeping, and other administrative aspects of the program until 2013.
Marjorie Tuite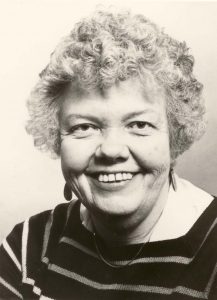 Sister Marjorie Tuite, O.P. (Order of Preachers, also known as Dominicans), was born in 1922 in New York City. She was described at her funeral as "a leading voice for an equal role for woman in the Roman Catholic Church, an advocate for the poor and an educator on a broad range of social justice issues." Tuite played a "prominent role in the civil rights, peace, and women's movements as an activist, educator, organizer and author."
Her organizational participation strongly reflects her commitment to social justice. Marjorie was the Director of Citizen Action for Church Women United as well as a leader within the organization. In addition, she was the national coordinator of the National Assembly of Church Women and the National Assembly of Religious Women. In 1971 she was one of the founders of NETWORK, a national Catholic justice group stressing social change through legislation. In 1982, she founded the Women's Coalition to Stop Intervention in Central America. In addition, Tuite served on boards of nine national peace and antipoverty programs.
In the 1980s, Tuite traveled extensively through Central America in a variety of capacities. She met with government officials, grassroots leaders, Christian atheists, and women's groups throughout the country and bore witness to the destruction of agricultural cooperatives. In El Salvador, she served as a delegate to the First Congress on Human Rights. She voiced her opposition to U.S. policy in Central America through the Catholic Church and other forums in the United States.
In 1984, Tuite and other women religious called for a dialogue within the Roman Catholic Church on a woman's right to choose to abort a fetus, and signed an advertisement in the New York Times that stated Catholics held multiple views on the ethics and legality of abortion. Such a statement ran contrary to the position of the Vatican, which held that abortion was immoral. The Vatican censured the twenty-four women religious who contributed their signatures by forcing them to recant or face dismissal from their orders.
Melissa Ann Pinney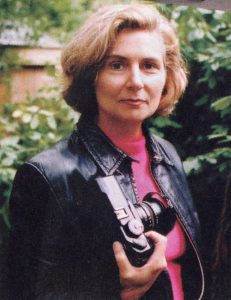 Melissa Ann Pinney is an award-winning photographer whose work has been displayed in the Art Institute of Chicago, Museum of Modern Art (NY), Metropolitan Museum of Art (NY), Museum of Fine Arts (Houston), and the San Francisco Museum of Modern Art, among countless other galleries and museums around the world. Pinney was also a member at the Artemisia gallery, a women's art cooperative that highlights the work of female arts in the Chicago area. In 1999, she was awarded a Guggenheim fellowship. Her work focuses on the life experiences of girls and women across the country.
Pinney attended Columbia College where she earned her Bachelor of Fine Arts in Photography in 1977, and went on to receive her MFA in photography from the University of Illinois at Chicago eleven years later. She is currently a professor of photography at Columbia College Chicago.
Michelle Fire
Michelle Feuer, aka Michelle Fire, grew up in west Chicago before attending University of Illinois at Chicago and earning a BA in graphic arts in 1975. Michelle goes by the last name Fire because Feuer is often misspelled and mispronounced. Throughout the 1970s and 1980s, Feuer exhibited her artwork in galleries across the city. She worked closely with the Artemisia Gallery, a women-owned art cooperative in Chicago, as well as creating exhibits with other local galleries and artists.
Feuer is a prominent supporter of the LGBTQ community in Chicago. In 1986, Michelle opened Big Chicks, an LGBTQ bar in Uptown. The bar became a welcoming place for all LGBTQ people in Chicago. Feuer also uses the space to display local artwork. In 2003, Michelle opened Tweet, a sister restaurant to go alongside Big Chicks. Tweet prides itself on its locally sourced and organic menu. Both establishments are still prominent in the Uptown neighborhood today.
Olivia Petrides
Olivia Petrides is a working artist and professor living in Chicago IL. She received her BA in English Literature from Kalamazoo College, and later received her MFA from the School of the Art Institute of Chicago where she is currently an Adjunct Associate Professor in the Painting and Drawing Department and the Visual Communications Department. Petrides' art has been on exhibit in galleries and museums in Iceland, the Faroe Islands, Scotland, Seattle, Washington D.C., and Chicago. Her works are included in the public collections of the Smithsonian Institution, the United States Park Service, the Field Museum, the Illinois State Museum, and Iceland's Hafnorborg Institute of Art. Throughout her career, she has been awarded many grants and artist residences, most notably the Fulbright Grant in 1993.
---
Molly is a Graduate Assistant at the WLA and is in the first year in the joint Public History/Library Information Science program with Loyola University Chicago and Dominican University. She enjoys running, reading by the lake, and cheering on the Cardinals despite being surrounded by Cubs fans.
---
Loyola University Chicago's Women and Leadership Archives Blog is designed to provide a positive environment for the Loyola community to discuss important issues and ideas. Differences of opinion are encouraged. We invite comments in response to posts and ask that you write in a civil and respectful manner. All comments will be screened for tone and content and must include the first and last name of the author and a valid email address. The appearance of comments on the blog does not imply the University's endorsement or acceptance of views expressed.
---