The staff at the WLA has been hard at work this year processing new collections to make them available to researchers. You can read about some of these collections that will be available soon in our previous blog post. In this post, I am going to share a sneak peek of an upcoming collection that I feel honored to be working on: The Carol Moseley Braun Papers!
Carol Moseley Braun began donating her materials to the WLA in 2012, and I had the opportunity to first meet the former senator when picking up another donation in 2014. In summer of 2017, the future collection began to take shape thanks to the work of two interns from the Black Metropolis Research Consortium's Archie Motley Archival Internship Program. One of these interns continued to volunteer her time throughout 2018 to continue processing the papers. You can read previous blog posts written by Megan Naylor and Melanie Chambliss to learn about the first stages of the project.
Like the woman who donated it, this collection will be unlike any other at the WLA. Some materials relate to Moseley Braun's time as a U.S. Senator, when she was the first African American woman Senator and the only African American serving in the Senate during her term. Other materials (including posters, buttons, and other fun memorabilia) relate to her campaigns for public office and her professional work as a lawyer and entrepreneur. Most interesting to me is the series I recently worked on that contains materials from Moseley Braun's time as a United States Ambassador to New Zealand.
In correspondence and speeches in this series of the collection, Moseley Braun repeatedly refers to her job as "Ambassador to Paradise" and it is easy to see why.
Not long after arriving at her new post in December 1999, Ambassador Carol Moseley Braun was off on a whirlwind tour of New Zealand to see every corner of her new home and learn about its people and culture. This tour also took her to the regions outside of New Zealand that she would be Ambassador to including Samoa, the Cook Islands, and Antarctica!
While organizing the papers, I found a giant binder holding information about the Ambassador's tour of the U.S. Antarctic Program's Research station at the South Pole. The schedule included a stop in Christchurch to get fitted for the proper clothing needed to endure the brutal climate. As a Chicagoan, I'm sure Ambassador Moseley Braun was not intimidated by the extreme cold!
Carol Moseley Braun was only able to serve in the Embassy in Wellington for a little over a year. Because Ambassadors are personal representatives appointed by the president, they are often replaced when a new president from an opposing political party takes office. Moseley Braun resigned her post in 2001 after George W. Bush was elected and soon moved back to Chicago to begin the next stage of her life.
Although her time in New Zealand was short, the archival records show that it was an exciting and rewarding experience for Carol Moseley Braun. I can't wait to open the collection to researchers and see what fascinating stories they discover!
---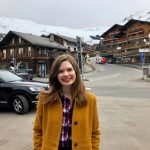 Caroline Lynd Giannakopoulos is a Project Archivist at the WLA and a graduate of the Public History Masters Program at Loyola University of Chicago. She recently finished processing the Mundelein College Records.
---
Loyola University Chicago's Women and Leadership Archives Blog is designed to provide a positive environment for the Loyola community to discuss important issues and ideas. Differences of opinion are encouraged. We invite comments in response to posts and ask that you write in a civil and respectful manner. All comments will be screened for tone and content and must include the first and last name of the author and a valid email address. The appearance of comments on the blog does not imply the University's endorsement or acceptance of views expressed.
---