Black History Month (or African-American History Month) is an annual commemoration of Black achievements and acknowledgement of their central role in the history of the United States of America. Although only officially recognized in 1976, the month-long celebration traces its origins much further back to February 1926 as a week-long celebration known as Negro History Week. Since 1996, United States Presidents have also issued commemorative annual proclamations.
In honor of Black History Month, we are highlighting three resources at the Women and Leadership Archives – documents related to the Mundelein College United Black Association (shortened to "MuCuba"), the annual "Living in Color" issues of BROAD, a student publication by the Women's Studies and Gender Studies program, and the papers of Carol Moseley Braun, the first African-American female senator.
MuCuba
Student organizations have long been an important locus of student identity and community building within a college, and MuCuba was no different. Founded by Black Mundelein students in the late 1960s, MuCuba aimed to create a unified Black presence on Mundelein's campus, as well as to raise awareness among the Mundelein community of Black culture. To that end, the organization conducted various events such as talks, annual celebrations of Black History Month (also referred to as Afro-American History Month) and annual commemorations of Martin Luther King, Jr's, birthday.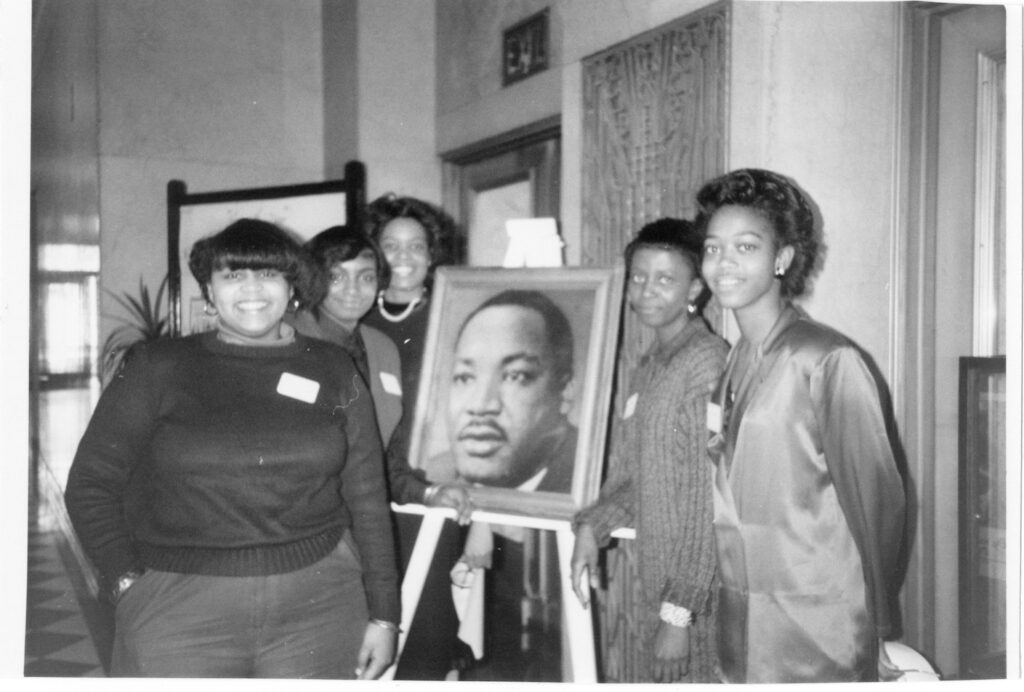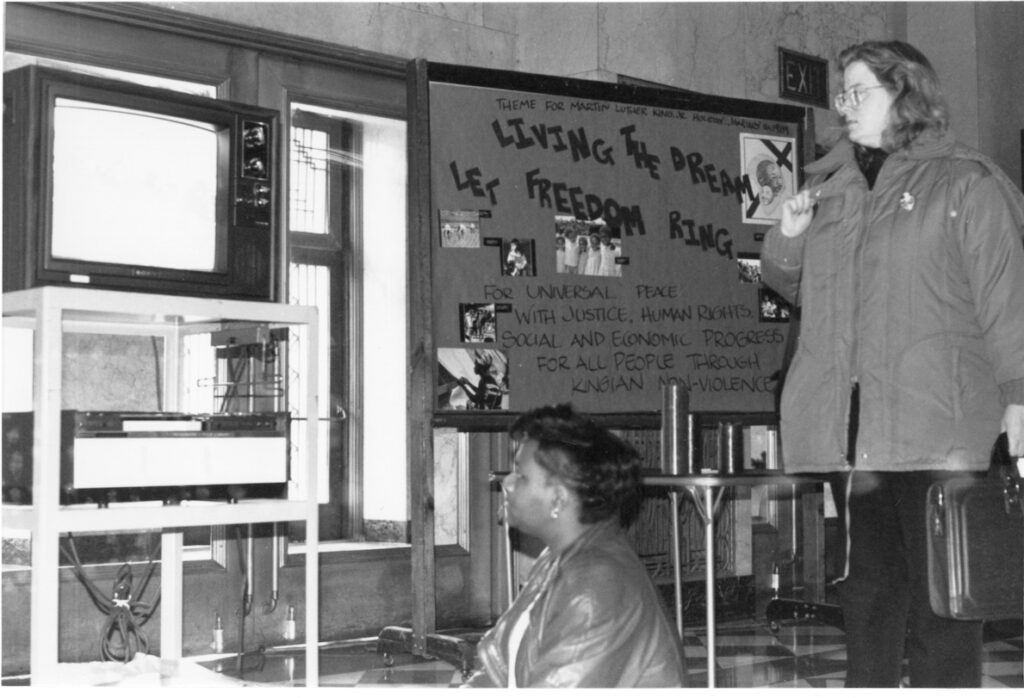 The photographs from the Mundelein College Photographs Collection, a collection of images on student life and events at Mundelein College, give us greater information on the specific activities held at these events. Gospel singing and percussion performances featured prominently during the Afro-American History Month celebrations. MuCuba also collaborated with external performing groups during these celebrations. For instance, the "African Drummers" street quartet and the Lane Tech High School African Ensemble were invited to perform during the 1991 Afro-American History Month celebrations.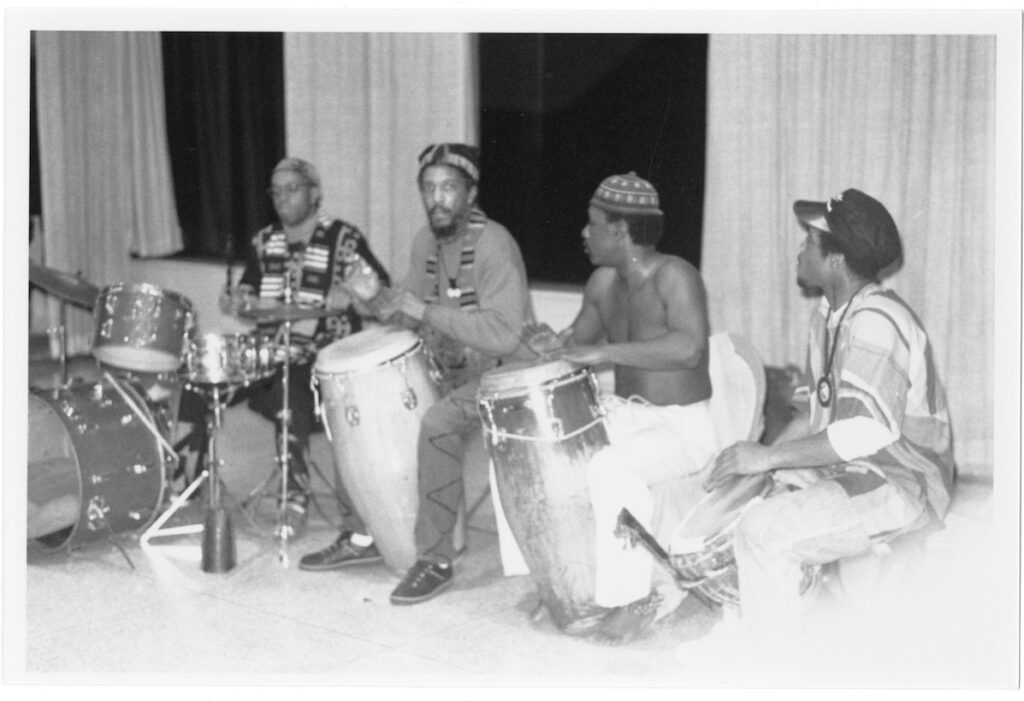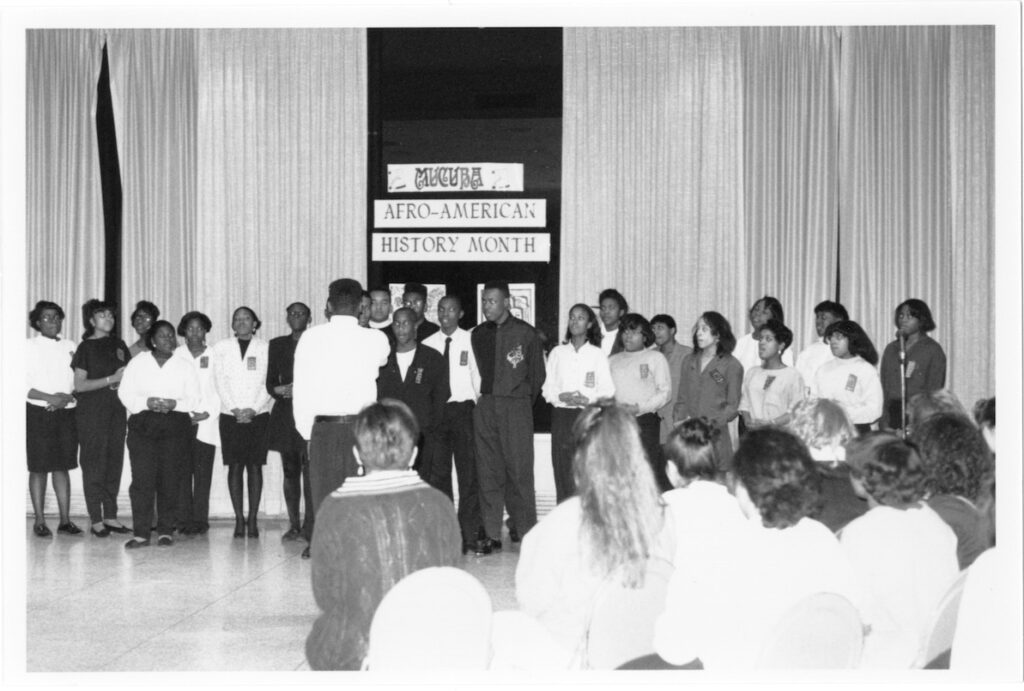 Apart from activities raising awareness of Black culture, MuCuba also advocated for institutional changes to address the institutionalized racism they had observed and experienced as people of color on a predominantly white campus. For details on these demands, the responses of then-College President Ann Ida Gannon, BVM, and the outcomes, please refer to this blog post.
Beyond planning events and calling for institutional reform, MuCuba also served as an indispensable resource for Black students to learn about navigating their college years and life after graduation. In the 1981 issue of PACE, a Mundelein student publication, Kathy D. Stephens wrote about how her double minority status as an educated, Black woman presented unique challenges differing from those facing a Black man and MuCuba's role in helping her negotiate those challenges. Confronted with "resentment of less fortunate blacks and other opposing forces", MuCuba offered a space for Black women to seek the company of other educated Black women and form a stable identity of their own.
MuCuba was not without its critics. Some Mundelein students criticized its policy of restricting membership to Black students a form of "reverse discrimination" and contended that such a policy defeated MuCuba's own aim. In response, Stephens emphasized that this was not because MuCuba wanted to remain separate from students of other races, but rather that it was necessary since MuCuba needed to "discover and know itself before it could relate to others who already had established identities."
Learn more about MuCuba by checking out the following in the Mundelein College Paper Records:
Box 304, Folder 3
Issues of PACE in Subseries 18.3: Student-Produced Literature
If you are unsure what the references to box, folder and subseries mean, you can watch our newly released video on finding aids!
"Living in Color"
As Stephens' article in PACE shows, student publications are an important medium for students to speak about their lived experiences in their own voices. The Women Studies and Gender Studies program's student publication, BROAD, is another example of this. Founded in 2010, BROAD is a Web-based magazine published monthly, featuring a large range of topics through a feminist lens.
Since 2013, BROAD has published an issue on the theme of "Living in Color" every February. The special issue investigates the topics of "race, ethnicity, color, privilege, culture, and intersectionality" and examines the impacts of these issues on individual experiences and societal institutions.
Reflective pieces on one's lived experiences, a conversation conducted through a text-messaging application, and art pieces are just some examples of the rich variety of contributions for this special issue. The diversity of these pieces invites consideration of the following important questions. How can one talk about race meaningfully? What is the role of art (media, literature, art pieces etc.) in promoting notions of race? What can one do to dismantle institutionalized racism?
Carol Moseley Braun
Beyond resources on student organizations and publications, Carol Moseley Braun's papers are also another important resource for learning more about Black history. Elected to the U.S. Senate in 1992, Braun was the first African-American female senator, and only the second African-American senator since Reconstruction (1865-1877).
Born in 1947 in Chicago, Illinois, Carol Moseley Braun was the oldest child of Joseph J. Moseley, a policeman, and Edna A. Davie, a medical technician. She earned a B.A. in Political Science from the University of Illinois in 1969 and graduated from the University of Chicago's Law School in 1972. Following a brief stint in private practice, she served as a prosecutor in the Office of the U.S. Attorney from 1973 until 1977, winning the Attorney General's Special Achievement Award for her work in civil litigations in 1975. In 1978, she was elected to the Illinois House of Representatives, where she served for a decade, and was subsequently elected Recorder of Deeds for Cook County, Illinois in 1988.
In November 1991, Moseley Braun entered the senatorial race as a Democratic candidate and was elected in 1992, becoming not only the first African-American woman ever elected to the U.S. Senate, but also the first female Senator from Illinois. During her tenure, she worked on a wide range of issues such as school construction, women's pension equity, the North American Free Trade Agreement and the Balanced Budget Constitutional Amendment.
After losing her bid for re-election in 1998, Moseley Braun was appointed the U.S. Ambassador to New Zealand and Samoa by President Bill Clinton, where she served from 1999 to 2001. Moseley Braun went on to pursue political office in 2004 (running for the Democratic nomination for the presidency) and in 2011 (when she ran for the Mayor of Chicago), but had to grapple with media accounts of the controversies she was involved in during her Senate tenure (see this blog post for details of media reporting on Carol Moseley Braun and her attempts to correct their accounts). Following her presidential bid in 2004, Moseley Braun founded an organic foods company and is active as a business consultant.
Although there is no finding aid for Carol Moseley Braun's papers yet, you can head over to this blog post for a sneak preview of the materials it contains.
Archives and Black History
At this juncture, it is timely to consider the relationship between archives and Black history, particularly on the point of archival description. Given the large volume of materials in an archive, a user typically finds their materials by referring to a finding aid, which acts as a "representation" of a collection. This also means that if the descriptions in a finding aid neglect certain subjects or individuals, those voices will be obscured unless a user chances upon them.
Another important recent debate has been about the manner in which accounts of Black history have been represented. While recognizing the history of oppression and trauma inflicted upon the Black community through slavery and institutionalized racism, there have also been calls to celebrate the achievements of the Black community instead of only positioning them as victims.
To the first point, some archivists, librarians and allied professionals in the Philadelphia and Delaware Valley have come together to form the Archives for Black Lives in Philadelphia (A4BLiP). One of its working groups, the Anti-Racist Description Working Group, has further developed an iterative resource for anti-racist archival practices to keep archivists aware of avoiding racist practices in descriptive work.
A recent digital archive, Freedom on the Move, has been important in addressing the second point by presenting runaway slave ads as not only sources on slavery, but also accounts of enslaved individuals' experiences. Considering that many of them were unable to leave written records behind, these advertisements fill, albeit imperfectly, an important gap and allow the humanity of these freedom seekers to appear.
When working with historical sources, it is easy to lose sight that such sources are the result of lived human experiences. It is an important charge that we cannot and must not forget the humanity behind these sources, and must work toward solutions and correct instances of discriminatory practices when we see them.
---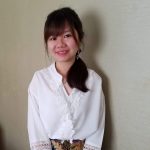 Regina is a Sesquicentennial Scholar at the WLA and is in the second year of the Digital Humanities MA Program. Born and raised in Singapore, she enjoys reading, cooking, baking and figuring out how to keep her plants alive.
---
---
Loyola University Chicago's Women and Leadership Archives Blog is designed to provide a positive environment for the Loyola community to discuss important issues and ideas. Differences of opinion are encouraged. We invite comments in response to posts and ask that you write in a civil and respectful manner. All comments will be screened for tone and content and must include the first and last name of the author and a valid email address. The appearance of comments on the blog does not imply the University's endorsement or acceptance of views expressed.
---