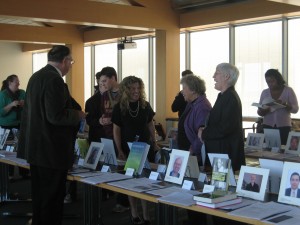 Please join us for the third annual Faculty Scholarship Celebration, which will be held on Thursday, November 3rd from 4-6 pm on the fourth floor of the Information Commons. There will be plenty of refreshments, a display of faculty publications from 2010, and a roundtable discussion with selected faculty presenting their thoughts on the research process. Faculty, staff, and students are all welcome to attend; to RSVP, please e-mail Carol Franklin at cfrankl@luc.edu by October 26.
In 2009, Dean of Libraries Bob Seal began this annual tradition of recognizing and celebrating scholarly works created by Loyola faculty. The initiative was planned to give the faculty an opportunity to be informed about the scholarly, creative, and professional achievements of their colleagues across the University. Last year, over 180 faculty submitted over 350 books, articles, plays and various other artistic works completed in 2009. We're looking forward to seeing what the faculty accomplished in 2010!
Click here to download a bibliography of faculty publications from 2010 featured in this year's celebration.