Over the course of my two years at the Women and Leadership Archives (WLA) I've had the privilege to work with a lot of the collections we hold. From academics, artists, homemakers, social justice activists, women religious, nurses, politicians, business leaders – almost any vocation or subject you could name we've got a collection in which a woman or group of women were involved and rocking at it. Though I've yet to come across a collection that didn't engage me, I have to admit that I have my favorites. What follows is my "hit parade" of my favorite collections at the WLA:
Eleanor Risteen Gordon
Eleanor's collection just might be my absolute favorite. She was a thoughtful and witty poet, a professor of rhetoric and composition, an expert on antique plastic jewelry, the daughter of a New York Times crossword author, a skilled knitter, and an accomplished bowler. Her materials are full of surprises, and reveal she must have been an eclectic, perceptive, and witty woman. Her story is one that amuses and inspires me, encouraging me to appreciate the beauty in the every day, and to pursue what interests you, even if it makes you a "bowling poet". Check out my post about her: The Bowling Poet
SisterSerpents
An anonymous art collective of radical feminist artist-activists, SisterSerpent existed from 1989 to 1998, they stated in their mission that they were "dedicated to working cooperatively to combat patriarchal attitudes through cultural means." With a signature combination of anger and humor, SisterSerpents used their creativity and skills to shed light and provoke thought on important topics concerning women. An important reminder that we can use our gifts and talents to create change, even in ways others might find unconventional. Here's my post on their history and legacy: SisterSerpents – Art as Activism
Polish Women's Alliance of America (PWAA)
The PWAA is an organization still in existence today. They were founded in 1898 at time when women in the U.S. had neither the right the vote, nor equal access to life insurance. The PWAA started in Chicago as a fraternal benefit society run by women with the mission of helping their peers become self-sufficient through access to insurance and other benefits. From those bold beginnings the PWAA  grew into a national organization and expanded its mission of aid and support to a global level, sending humanitarian aid to Poland throughout the World Wars, funding hospitals schools, creating scholarships, and all along the way celebrating their cultural heritage. They are an incredible group of women, and in October of 2017 I had the privilege to work with them to celebrate the 150th anniversary of the birth of famed Polish scientist, Marie Curie (whose research the PWAA helped fund). You can read about the PWAA and their Curie connection in my post: Marie Curie and the PWAA
Mundelein College Collection
Of course, this list wouldn't be complete if I didn't include the phenomenal collection of Mundelein College. There are so many incredible stories and materials in this collection. The Sisters of Charity of the Blessed Virgin Mary (BVM), the Catholic women religious order that founded and ran the college between 1930-1990 (when it affiliated with Loyola) created a fantastic center of learning for women and offered them a surprising number of opportunities for an institution of its size. Going through its materials is like taking a walk through American history. In the student newspaper, the Skyscraper, the young women write about and comment on the political and social happenings of the day and you see them either struggling to come to terms with changes or fighting for those changes to come sooner. An incredible host of celebrities and notable historical figures made visits to Mundelein, including Mother Theresa, Caesar Chavez, Dick Gregory, Eartha Kit, Jane Fonda, Bob Hope, Rosalind Russel, and Simon and Garfunkel, just to name a small portion. Even more fascinating, however, are the BVM Sisters and faculty members, like long-time president Sister Ann Ida Gannon, who shepherded their students through the changing times and worked to further the cause of women everywhere. There are so many amazing stories hidden throughout this collection, but here are a couple ones I had the privilege to share in previous blog posts:
Mundelein College Fathers Club
Honorable Mentions
I could include many more collections, but here are a few I never had the chance to write a post about but felt compelled to include for their fascinating materials and engaging stories. A couple of these are unprocessed (meaning they have yet to be formally organized for access), but I look forward to the day they have Finding Aids and can be easily utilized by researchers. There is a lot there for them to discover!
Madonna Kolbenshlag, H.M. – A professor, author, clinical psychologist, feminist activist who was a member of the Sisters of the Humility of Mary. What I love about Dr. Kolbenshlag's work, is that she took a feminist lens to studying mythology, fairy tales, and film. She taught film studies when that area of study was just emerging.
Jean Hunt (Unprocessed) – A professor and historian of history, particularly women's history, and a feminist and activist. Hunt was an important member of the Roslyn Group for Arts and Letters, who were responsible for bringing feminist artist Judy Chicago's provocative art installation, The Dinner Party, to Chicago for exhibition. She also helped the city of Chicago with its 150th-Anniversary celebration, promoting women's history in the city. In the summer of 2017 the WLA held a Remembrance for her, and I had the opportunity to create an exhibit from her materials.
Eleanor Foundation (Unprocessed) – The Eleanor Foundation and its clubs existed from 1898-2002 in Chicago, and offered safe, affordable housing options to single, working women who came to the city. They not only provided a place to sleep and meals, but also community and social activities. You can learn more about these remarkable clubs in this Chicago Tonight article, "Room to Grow: Chicago's Eleanor Clubs".
---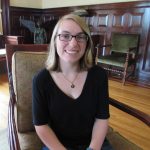 Kate is a former Graduate Assistant of the WLA and graduated in 2018 with her M.A. in Public History from Loyola University Chicago. A Colorado gal, she recently returned to her home state and began an archives position at the University of Northern Colorado. She enjoys classic films, bike riding, and all things museums.
---
Loyola University Chicago's Women and Leadership Archives Blog is designed to provide a positive environment for the Loyola community to discuss important issues and ideas. Differences of opinion are encouraged. We invite comments in response to posts and ask that you write in a civil and respectful manner. All comments will be screened for tone and content and must include the first and last name of the author and a valid email address. The appearance of comments on the blog does not imply the University's endorsement or acceptance of views expressed.