Algimantas Kezys, S.J.
Algimantas Kezys was born in Vištytis, Lithuania in 1928, but he fled the country to Germany with his family in advance of the Soviet occupation. In 1950 he emigrated to the United States and settled in Chicago. Kezys was ordained as a Jesuit Priest in 1961 and completed an MA in philosophy from Loyola University in 1966, but he began to seriously pursue photography as early as 1958. He only began to exhibit in 1964, six years later, and in 1965 his work was the subject of an exhibition at the Art Institute of Chicago. Over a 50-year career, Kezys has addessed a variety of subjects in his work and employed a range of techniques, but his photographs routinely share a sense of formal harmony and dynamic contrasts of light and shadows. Meanwhile, Kezys uses the formal structure of his images to convey metaphorical or metaphysical themes. For the ten photographs in the portfolio Society's Man (1962-69) Kezys takes the the city as his subject and explores the relationship between people and their urban surroundings. In many of these pictures, Kezys depicts an isolated figure within a rigorously geometric environment, implying a pronounced solitude within a highly ordered world. In addition to being an active photographer and serving as a Jesuit priest, Kezys has also been an active advocate of Lithuanian art. He was the founder of the Lithuanian Photo Library and the Lithuanian Library Press in Chicago, and he continues to operate a gallery in Stickney, Illinois to promote Lithuanian artists.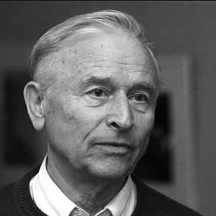 1955, B.A.; 1958, M.A.